Summer Bedroom Decorating Ideas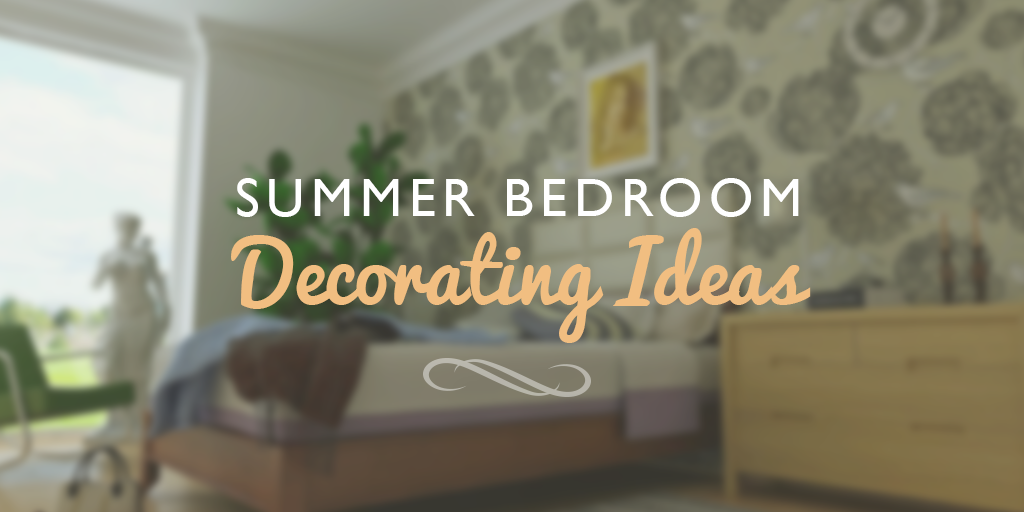 For a lot of people, the summer months make for the best time of the year, and it's not hard to see why. We get to spend more time outdoors enjoying the fresh air and sunshine, and for some it's the time to get a bit healthier and feel good. It's always nice to be proactive during the summer months, which makes it the perfect time of year to spruce the house up a little bit and do a spot of decorating.
The bedroom in particular is a great room for a makeover as you can create something that gives you that summer mood every day, from the moment you wake up. Whether it's adding some floral designs here and there, bringing in some flowers and plants, or even just switching up the bedding, it all makes the difference when making the room feel in tune with the season.
If you feel like giving it a go for yourself, here are a few pointers to help you get inspired.
OPEN UP AND LET THE ROOM BREATHE
One of the best ways to give the bedroom more of a summery feel is to create a sense of bright airiness. So, before you redecorate, look at de-cluttering the room and assess the space that's available to you. If you're struggling to work around the furniture that's in there already, have a look at this previous HIPPO blog that talked about great ideas for space-saving furniture to help with your options.
Also, consider whether stuff could be stored elsewhere in the house to help create some more space. Getting everything up off the floor, neatly tucked away, makes the room feeling larger than it is and can make all the difference.
MAXIMISE NATURAL LIGHT
To really get the bedroom beaming, you have to make the most out of any available natural light. A simple way to transform a cosy winter room into somewhere to spend your summer is to replace any heavy fabric curtains with light blinds or bright loose curtains. Blinds make a great choice as they can be light and bright which allows lots of natural light to come streaming through but, with a flick of the wrist, can also provide some privacy when needed.
MAKING THE RIGHT COLOUR CHOICE
Using bright colours is a fantastic way to bring summer in to the bedroom, and can make accessories such as bedding and curtains add some vibrancy and vitality.
Using pale pastel colours, however, can add a relaxed feel to the bedroom, which is perfect for a summer's day. The 'ice cream' coloured shades of mint-green, duck egg blue and pastel pink work perfectly as wall colours, and create a restful vibe to the room.
If you're planning on going all out with the DIY and the bedroom already has carpets, you could think about having some exposed wood flooring installed instead, which could then be painted white. This (when combined with touches such as white coloured window shutters and bedding) creates an expansive colonial feel that makes for an open and airy lightness.
BRING THE OUTDOORS, INDOORS
A sure fire way of making a bedroom feel ready for the summer is to take motifs, colours and finishing touches that help to create a sense of the great outdoors. Floral motifs inject a sense of summer brightness, and you could get even more creative with it if you're decorating a kids bedroom. Flower design stencils free you up to go mad with the paint and fill the room with colour.
Floral themed bedding is a simple and effective way to introduce a bit of nature into the room, but really there's no substitute for the real thing! Choose flowers or plants that match the overall colour scheme, and they'll not only look good, but also oxidise the room.
BE INSPIRED BY THE SEASIDE
Using colour palates and textures that you'd associate with the seaside is a great way to make a room feel summery all year round. There's plenty of scope to get creative here, as there are lots of patterns available to make this particular scheme work.
This can be done quite simply by painting the walls in sky-blue colours and using patterns such as nautical strips in red, blue and white for the bedding, curtains or cushions.
Further neat little touches that will work are things such as distressed wooden furniture, wicker armchairs, sea-glass accessories and muted colours of stone and pebble grey will all help to create the chilled out seaside vibe.
FINISHING TOUCHES
A change of patterns on some of the details in the bedroom is a great way to revive the room for the summer. Swapping pillow or cushion covers for floral, striped or geometric designs breathes new life into the overall scheme. Finally, hanging a dramatic feature such as some semi-transparent fabric over the bed in the style of a four-poster bed adds an exotic element to the room.
Whatever you choose to do this summer, be sure to have fun and get experimenting, as it's really all down to getting stuck in and feeling creative, you'll be surprised at how far even the smallest changes will make the room feel ready for the summer.