Space Saving Furniture Ideas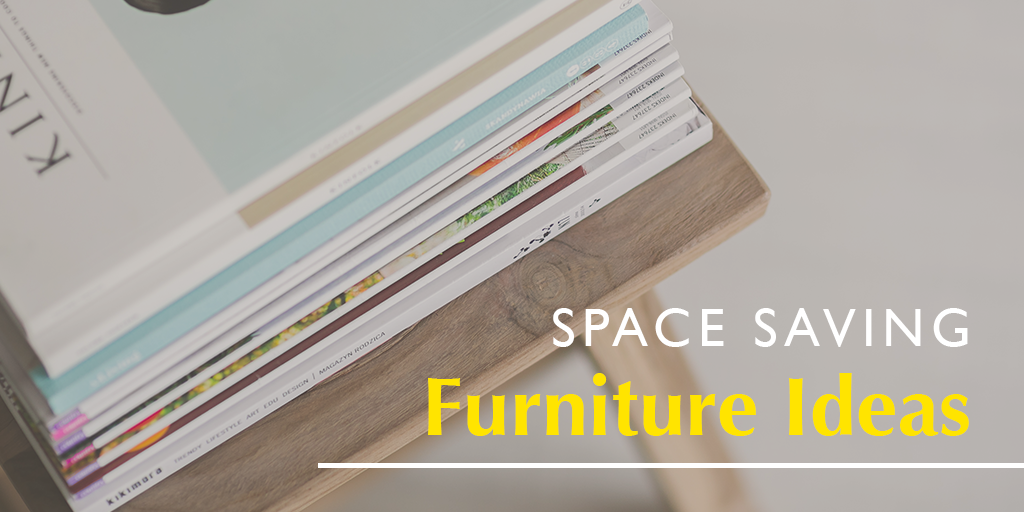 Is it beginning to feel like the house is getting a little bit too cramped in places? Have no fear; it's not uncommon to want to have more room to feel relaxed in. Thankfully, there are some fantastic options for space-saving furniture on the market that do a great job of reducing clutter and creating space.
Here are just a few ideas to get you thinking about way that you can get your furniture to work for you….
IN THE LOUNGE
The lounge is probably the most commonly used room at home. It's where we tend to spend the majority of our time with family and friends, and as such is going to feel a little cramped and cluttered from time to time. A good way to reduce clutter is by making use of furniture that has built in storage compartments, such as sofas that have drawers built in, coffee tables that double as a storage chest, or even smaller ottomans, pouffes and footrests that have handy compartments.
Also, even though having a large sofa is great, it can take up an awful lot of room if the lounge is a bit small. Corner sofas, however, have all the benefits of a really big sofa, but neatly fit in the edges of the room. This frees up floor space and makes the room as a whole feel much larger.
Don't forget that a lounge can double-up as a guest-room by using a sofa bed that can be easily folded away when not in use. Some even come with additional storage built in where duvets and pillows can be kept, freeing up other storage elsewhere in the house.
FOR THE KITCHEN
If you could ask anyone which room of their house they'd love to be made larger, you wouldn't be surprised if nine times out of ten the answer was the kitchen. Often the heart of the house, it can be difficult to make the kitchen feel larger than it actually is.
However, by using slim-line versions of typical appliances, extra space is created that would otherwise be filled by larger appliances. Also, instead of having a breakfast nook or kitchen table that's always there, whether or not it's being used, instead you could opt for a fold-down table that can be easily tucked away when not in use.
BEDROOM IDEAS
For perfect peace of mind, the bedroom is a place of sanctuary and rest and as such should feel as comfortable and spacious as possible. Some beds come with drawers built in to the sides beneath the mattress. By storing clothing and items in these, it frees up space that would otherwise be used for a chest of drawers or cupboard. If you need even more floor room, it's possible to go to the extreme and even mount the bed on a folding bracket attached to the wall!
A much simpler way to create space is by cleverly utilising storage and reducing the need for bulky furniture. Using over-the-door storage racks is a fantastic way to get everything up off the floor and can be used instead of cupboards and units. These handy racks keep things organised and tucked away neatly behind the door, in space which otherwise may not have been used.
AROUND THE HOUSE
Under-stair storage such as cupboard spaces or even stair drawers greatly reduce the need for other units and shelves and keep things tidy and looking great.When it's not storage that's the problem, but general floor space, a few simple solutions can make all the difference. For example, there are some fantastic dining room sets and patio furniture sets that neatly fold up, keeping the chairs tucked away nicely. Some tables are expandable so that when needed, they can be extended outwards making more room for people, but can also be folded back when not in use.
As for the bathroom - compact walk-in bathtubs or box shower units get the most out of a smaller bathroom or en-suite, freeing up space which you can either use for more appliances, or just to give you that lovely feeling of having the room that you need.
Finally, when it comes to where to house the computer or create office space, there are some great single unit office desks that can be used instead of needing a much larger desk space. They can even be tucked into nooks and crannies such as under the stairs to maximise space around the home.
There you have it, take a look around at the choices out there for clever space-saving furniture and you're bound to feel like home has gotten a little bit more spacious for it. If you've made use of any ingenious space saving ideas in your home, why not tweet them to us @HIPPOBAG?