The History of Allotments
At HIPPO, we love allotments. There's nothing better than spending time outdoors and having your own little escape from reality to really have a whole project all to yourself. The benefits of owning an allotment are numerous; from growing your own fresh produce to socialising with friends, from spending time with your family to saving money, or simply just to satisfy your own love of gardening. But where did it all start?
The fascinating history of Britain's relationship with allotments shows that they became more commonplace around the time of the industrial revolution. As more people moved to the ever-expanding cities and towns, the knock-on effect was an increase in the number of people struggling for money. This, along with insufficient food supplies, resulted in people growing their own purely as a means of survival.

By the time of the First World War, the trade blockades put in place by Germany created food shortages, which led to an increase in demand for allotments. Space for general agriculture was limited, but one source of suitable land was owned by the railway companies (that's why you'll still see many allotments alongside railway lines today). After the end of the Great War there was an increase in the need for building land and housing. As the economy improved and food shortages were reduced, the demand for allotments started to slow down.

This soon changed with the onset of the Second World War as Britain once again faced blockades and a scarce supply of food. This time, the pressure was even greater than during the First World War and public parks and spaces were used to grow food. This is when the famous 'Dig For Victory' campaign was launched, which aimed to educate the public in ways to produce their own food. This in turn helped to save on the shipping needed for valuable war materials. During the war it is estimated that the use of allotments and home food production contributed 1.3 million tonnes of produce, from the nation's 1.4 million plots.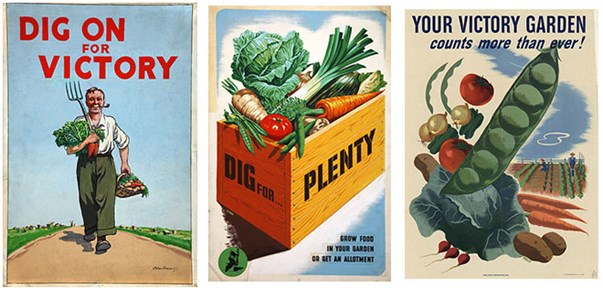 By the 1970s Britain had seen a sharp decline in allotment spaces. The peak of 1.4 million during the war was now around 500,000. There was, however, a spike caused by a restored interest in home food production and self-sufficiency due to the popular television series The Good Life which ran from the mid to late seventies. Despite this increase in interest, the cost of land and demand for housing over the coming years caused local authorities to sell sought-after land to housing developers, meaning that by 1996 there were only around 297,000 plots available.
Modern Day Allotments
Today, we are experiencing an upsurge of interest in growing our own food crops. The reasons for this are varied and may be attributed to concerns over the genetic modification of foodstuffs, or the use of pesticides and the subsequent contamination of food. But there are other factors at play here. Throughout history we have seen that during times of a financial crisis or a struggling economy, there has been a distinctive increase in the demand for allotments.
Crucially, wider economic factors play a part and with increases in food costs, it means people look to affordable alternatives. Around 2007/8, the global economy was hit with a fresh crisis with the major economies around the world suffering from severe recessions.
Beneath all the hard-hitting recession headlines we saw something different happening in the allotment-world, as slowly but surely the demand for allotments increased.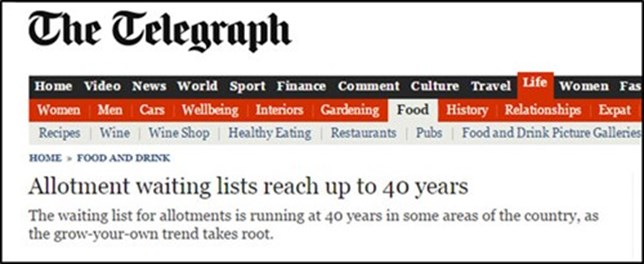 Read the article here: http://www.telegraph.co.uk/foodanddrink/5422485/Allotment-waiting-lists-reach-up-to-40-years.html
In 2009 the Telegraph stated some allotment sites' waiting lists were running up to 40 years-long as this trend for home grown produce took off. Whilst the average waiting time across the whole of Britain was just over 3 years, these extreme cases of extremely long waiting lists were becoming increasingly common.
It seems that when economic times are tough, it puts pressure on society to think of food production differently. But this isn't just a trend in Britain. Everyone has heard of the problems in the Greek economy since the initial financial crash. And part of the remedy? That's right - allotments.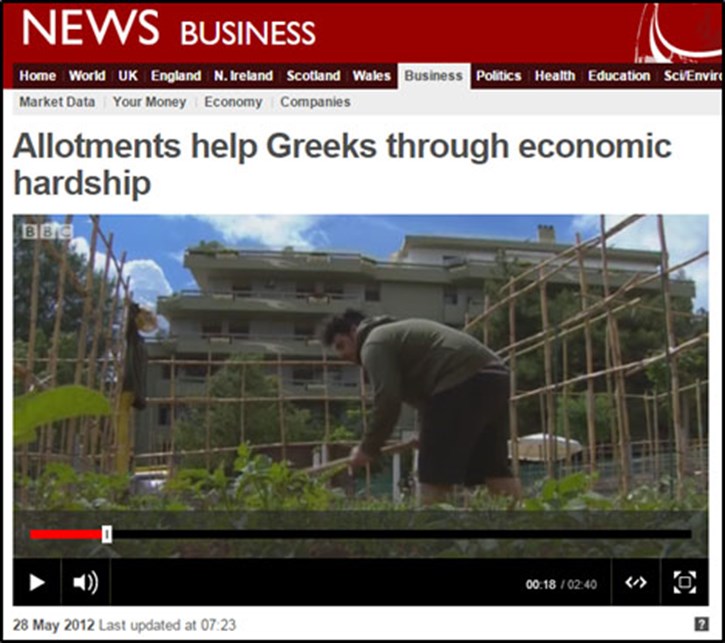 Watch the video here: http://www.bbc.co.uk/news/world-europe-18231903
More recently however, the interest in allotments is increasingly due to the fact that people are nowadays looking to them as a means to provide themselves with clean, fresh food as a part of a healthy lifestyle.

But that's not all – there are many other benefits to growing your own aside from the food itself. The Royal Horticultural Society (RHS), the University of Essex and the charity organisation Mind have in recent years each produced independent reports that highlight the health benefits of outdoor activities such as using an allotment. The RHS in particular presented findings that show the impact that gardening has on children's learning and behaviour, benefits that include greater scientific knowledge and understanding, increased awareness of the seasons and food production, increased confidence, resilience and self-esteem, development of physical skills, including fine motor skills, development of a sense of responsibility, positive behaviour, improvements in emotional well-being and a positive attitude to healthy food choices.
Whilst having an allotment can be great fun, there are also numerous benefits which are sometimes forgotten. The potential benefits in terms of exercise, healthy fresh produce and money saving make this a great activity for whole families to get involved in, and there are often strong communities that form around it. Why not see if there are any allotments available in your area for you to get involved in? Join in to see what all the fuss is about!
Could your allotment be the pride of Britain? Enter our competition to find Britain's Best Allotment, in association with The National Allotment Society and National Allotments Week and you could be in with a chance of winning £1,000 worth of prizes.