3 Top Garden Storage Tips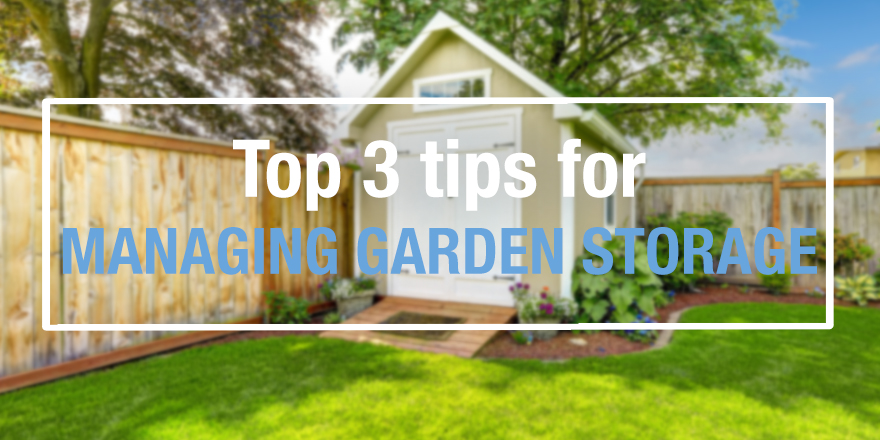 Do you struggle to keep a clean and tidy garden, or perhaps feel that you don't have enough garden storage space? Our handy tips can help you free up more space in your garden and clear clutter.
Use the year on year rule
Have you not used an item in your shed for a year? Time to get rid of it. If you're unsure about doing this, try to imagine a situation where you will use it in the next 12 months.
For example, if it's camping gear and you want to get back in to the habit of going, keep hold of it with the aim to do so within a year or two. If, however, the thought of using your neglected item doesn't fill you with enthusiasm, it may be time to let it go. 
If you come to the end of the time frame you set and you've still not used it, you might find you value the extra space more than keeping hold of the item.  
You can apply this rule to your garage, loft, under-stairs cupboards and any other storage spaces in your home. If you find yourself with a lot of old junk you want to get rid of, a HIPPOBAG is the perfect solution.
Keep your bike(s) out of the way
It's most people's go-to option to chuck their bike in the shed – especially if they're sporadic cyclists. Unfortunately, doing this creates two problems – the difficulty of manoeuvring around the bike, and the junk that builds up on top, in-between and around it. This problem becomes worse fast if you have a partner and kids with a bike each.
A pulley system installed in your shed will keep your floor space free for other storage. If you've got the space in your garden for a dedicated bike locker, this is a great use of space as it prevents your main shed from seeming cluttered.
Have hidden extra space
There are a whole host of garden furniture options available with hidden storage. A locker bench is a great dual-purpose piece of furniture to add to your garden and can help find extra space for bits and pieces.
They're great for storing general-purpose gardening equipment, but you might want to find one with divided storage space to keep things extra neat.
Having multiple smaller storage solutions will prevent clutter and mean you have a home for everything.