About us
Our mission
HIPPO's mission is to be the UK's most trusted rubbish clearance provider, delivering the highest level of reliable, responsible and ethical service, at fair prices
Our story
In 2002, HIPPO was founded in Winchester, Hampshire with the goal to provide a flexible rubbish removal alternative to traditional metal skips, using HIPPOBAGs. Although initially HIPPOs service was only available in Hampshire, within 3 years HIPPOBAGs were stocked in thousands of DIY retail stores across the UK. Meanwhile, HIPPO had begun providing waste solutions to both small and large businesses up and down the country. Today, HIPPO still serve the needs of some of the UK's most iconic organisations and brands, meaning you're always likely to find a HIPPOBAG on a street near you.
By 2006, HIPPO had collected over 100,000 HIPPOBAGs, as well as being recognised as 'Innovation Business of the Year' at the RBS Regional Business Awards. 2006 also saw the launch of HIPPO's charity support through the 'Grants up For Grabs' scheme, which has gone on to help dozens of worthy causes across the UK.
Fast forwarding to 2012 and HIPPO had expanded its offering, to include a Man & Van solution, which was quickly followed by HIPPOs 1millionth HIPPOBAG collection, from a family in Guildford, Surrey.
Continued growth allowed HIPPO to reaffirm its name as the industry leader by launching a trade scheme, now called HIPPOTRADE. Furthermore, a series of new vehicles were also introduced into the ever-increasing fleet of bespoke-built trucks servicing the UK as HIPPOs exceptional service was taking the UK by storm.
As 2016 rolled around, HIPPO had firmly established themselves as the most trusted rubbish clearance provider in the UK for domestic, trade and business customers and, despite a number of unauthorised imitation services entering the market, HIPPO continued to grow and rapidly achieved 5-star rating on Trust Pilot. Simultaneously, HIPPO added traditional skip-hire to its range of services – Making HIPPO the go-to place for all rubbish clearance needs.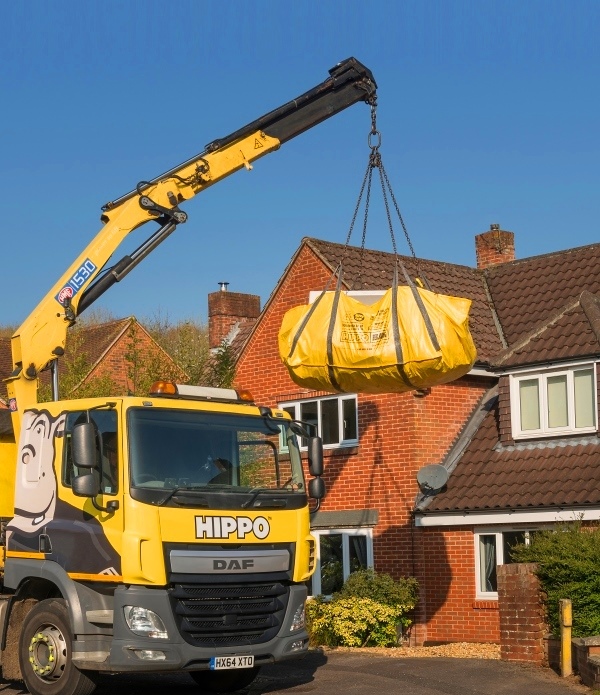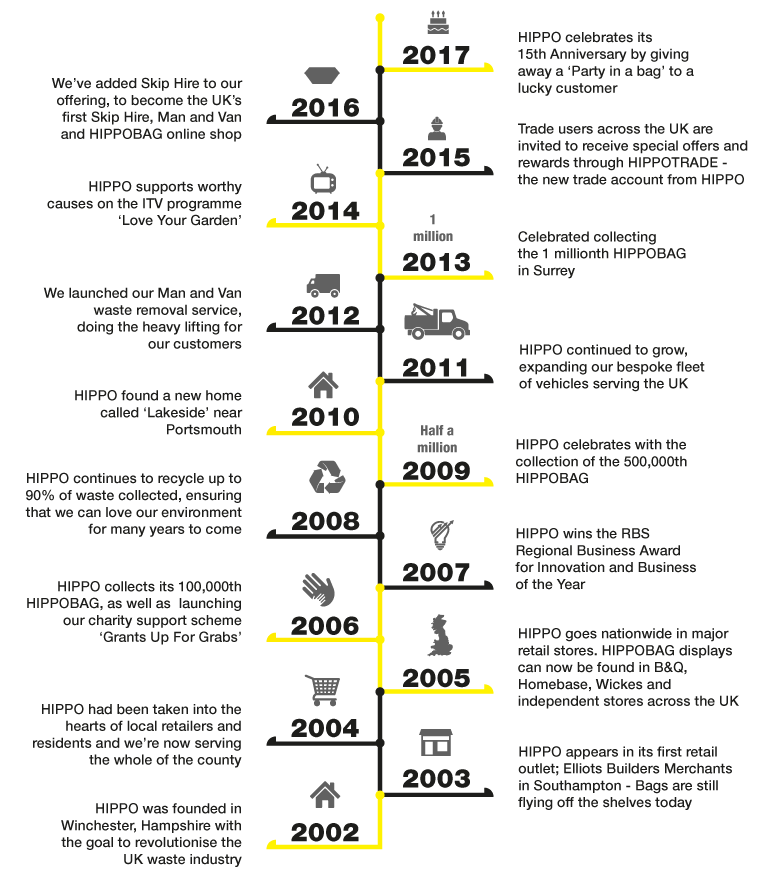 Our Values
Integrity
At HIPPO we always do the right thing by our customers
Excellence
Whatever we do, it's always done to the very best standard we can
Honesty
We'll find the solution that works for you, not us. If we make a mistake, we'll always tell you and put it right, quickly
Trustworthy
We always do what we say we will, when we say we'll do it