10 DIY bloggers you NEED to follow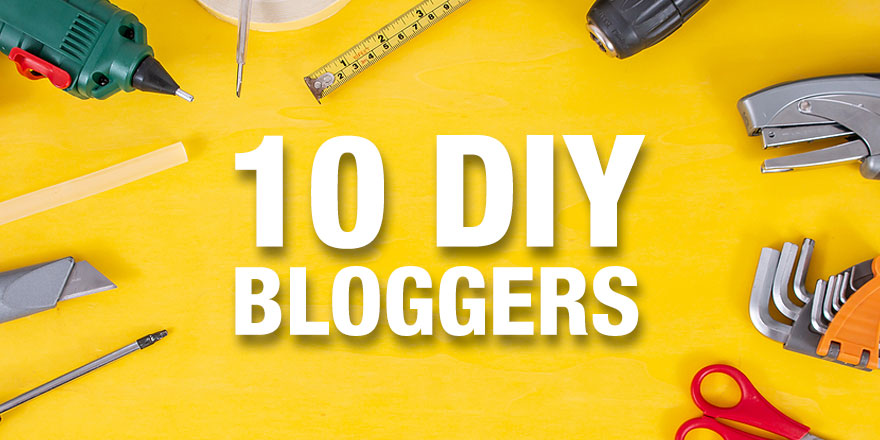 If you're looking for DIY inspiration, online is the place to be. It's home to a multitude of DIY bloggers, all creating inspirational content and sharing ideas.
Whether you love renovating the interior of your home or you're more into transforming your garden, you can find someone sharing tips and tricks through their blog. These handy hints can help you save money and enjoy trying things you otherwise wouldn't with the help of easy-to-follow guides
We've rounded up our top 10 DIY bloggers you need to follow right now:
Swoon Worthy is an award-winning blog created by Kimberly after she moved into an Edwardian house and wanted to document the DIY and renovations she was doing. Most recently at the time of writing, she had created a blog post on how to make a Simple DIY Raised Bed Planter. This helpful guide covers the cost, materials needed, and step-by-step instructions to help you create your own raised bed planter at home.   
DIY Daddy is a blog written by Nigel, a dad of five and passionate DIYer. Covering a whole assortment of topics from parenting and family life, to DIY and mental health, this is a great blog that will be relatable for many people.
Recently, Nigel wrote a great post on 6 DIY Home Improvement Projects that can add value to your home, including creating a bookshelf and remodeling your bathroom.
Little House on the Corner is written by Christine and Jan, who have a love for DIY and home improvement. Their blog is focused on helping you create a home you love, whilst also sharing their own home renovations as inspiration. They recently published a DIY post titled, How to lay a gravel driveway.
DIY Tips covers design and decoration, renovating your home, transforming your garden and more. The creators wrote a great post about maintaining a hydrated garden during the summer months.
The Carpenter's Daughter is written by Vikkie Lee, an award-winning DIY and home improvement blogger. Whatever home DIY project you're working on, we're sure you will find some help or inspiration from this blog. She wrote a great DIY post about installing guttering step-by-step.
Warton Woodworks is a building company that specialises in loft conversions. However, they also share a number of DIY guides on their blog. Their guides cover bathrooms, carpentry, gardening and more. They have a great DIY guide available on how to install a new garden fence.
DIY Garden is the perfect blog to follow if you love the outdoors and all things gardening. They recently shared a great post about how to build a garden office room. Perfect for those of us working from home!
The Ultimate Handyman is a great DIY blog focused around video content. See here their DIY guide on how to seal a patterned concrete drive.
Written by Kezz, aka Kerry, who is a self-taught DIYer and renovator, Kezzabeth is a great blog full of DIY tutorials. We love the DIY guide on how to build a pergola over a gate
Hester's Handmade Home is a great DIY blog created to inspire others to follow her guides. A great guide called DIY for Dummies is how to make your own coffee table.  
We hope you found this list of bloggers useful and inspirational!
If you're planning to carry out some DIY projects at home, we can help you dispose of your household and garden DIY waste using our range of HIPPOBAGs, Skip Hire and Man and Van services. Find out more about our waste removal services here and which solution is best for your project.