6 tips to improve your kitchen on a budget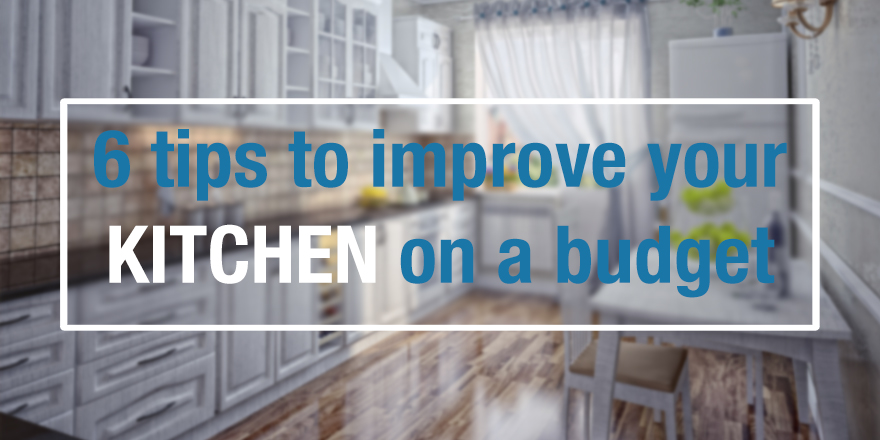 1. White paint
An old kitchen can find a new lease of life with a fresh coat of paint. The sure way to modernise and brighten up your space is to use white paint on your cupboards. 
Make sure you sand down the wood with a light sand paper to make sure you're working with an even base. Rub excess sanding dust away with a damp sponge and wait for the surface to be fully dry before applying paint.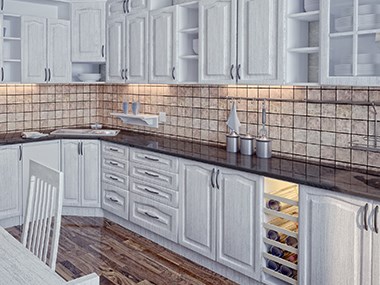 2. Rethink lighting
Dark, dingy and gloomy are all words that you don't want to apply to your kitchen. If they do, it's likely that's what's causing your kitchen to look outdated. Switch it up with some new lighting, or add additional lighting to the gloomy parts.
The first way to improve your lighting is to add a nice new central light fitting. Having something more modern and attractive can distribute light better and have a surprisingly big impact on the overall feel of your kitchen.
If you're looking to really up your kitchen lighting game, the best way to go is adding a new source of lighting, such as putting under-lighting on the cabinets above your work surfaces.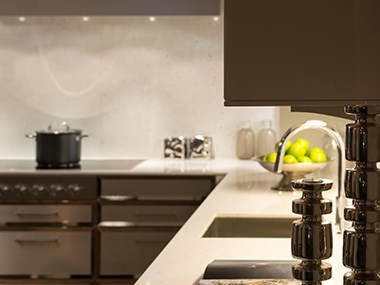 3. New taps
They may seem like a small part of the bigger picture, but the taps in your kitchen are really a focal point. Installing new ones, especially metallic stainless steel or chrome ones, can make your kitchen look much more modern at a low cost.
If your sink looks like it has seen better days, upgrading this at the same time will be a big boost to your kitchen's look.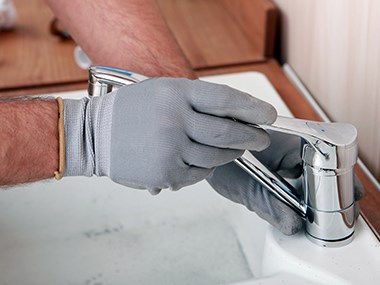 4. Focus on details
New cupboard handles needn't be expensive, so if your kitchen is pushing 10 years old, trends have moved on significantly and adding new ones is a cheap way to bring your kitchen in to present day.
Don't panic about adding modern detailing to older fittings, just make sure you get the colouring well coordinated and you'll end up with something that looks just right.
5. Counter-top cover-up
Unfortunately, installing new counters is expensive. Luckily, there are a whole range of useful items you can put on your counter top that not only covers up the outdated aesthetic, but adds useful features to your kitchen. 
Kitchen gadgets like an espresso machine or a food processor are great for this, but can be costly. A large chopping board is a good way to hide a big area of your old counter for a low cost.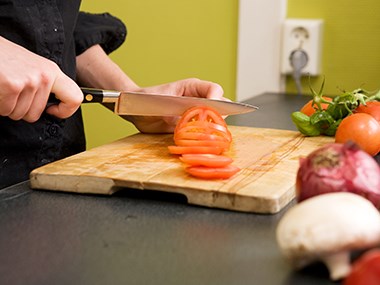 6. Make things neat with new in cupboard storage
A lot of how you feel about your kitchen will come from how easy it is to use it, and nothing is more frustrating than rummaging in a cupboard looking for a pot you use nearly every day.
Make a change with some simple, cheap storage upgrades. You can hang a plastic basket on the back of any cupboard door, and simply putting some small crates in a bigger cupboard will help you find things quicker.