7 DIY Gardening Tips for Beginners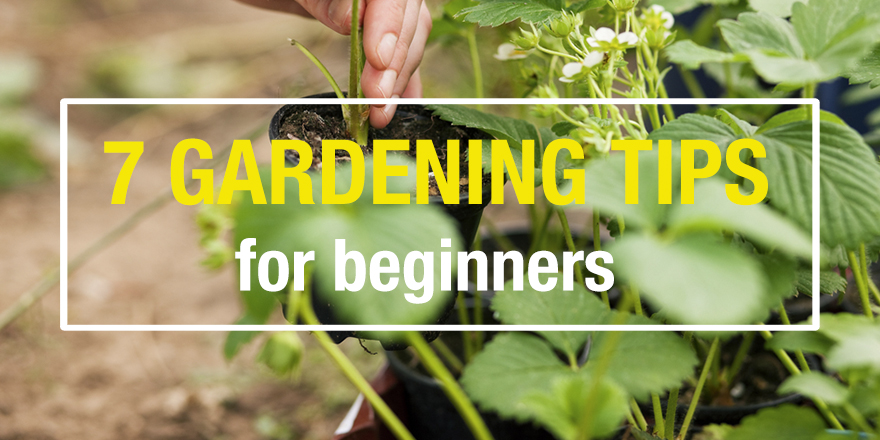 Want to get into gardening and don't know where to start? Gardening is great fun but if you don't take certain precautions you can end up losing valuable time. Setbacks are part of the learning process but these top gardening tips for beginners will help you avoid wasting time, so you can get on with enjoying your new hobby.
1. Upgrade your shovel
Chances are you may not give your shovel much thought. You can pick one up from any garden retailer for not much cash at all, and a shovel is a shovel, right? 
Well if you're looking to get more serious with your gardening, you'll be using that shovel a lot more. You could just opt to splash out some cash on a higher end model, but where's the fun in that?
All you need to give your go-to bit of kit an upgrade is some Teflon lubricant spray. Coat your shovel blade thoroughly and you'll find it far easier to unload your shovel.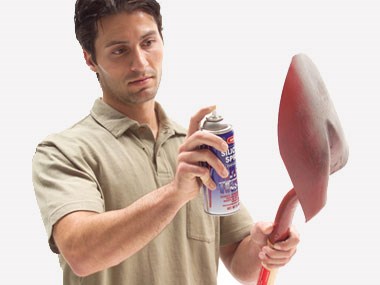 Image credit The Family Handyman 
2. Make an easy to read rain gauge
Your rain gauge is an important indicator of how much you need to water your plants and what growth you can expect - so you don't want to be squinting down at it making guesses.
Simply add some small drops of food colouring to your rain gauge and when it rains, you'll get a much clearer reading. Keep your food dye nearby and you'll never need to second guess again.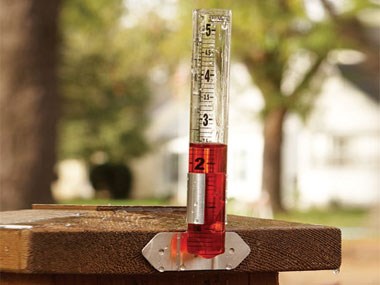 Image credit The Family Handyman
3. Fortify your plants
Seeing the plants you've worked so hard on turn in to wildlife food can be painful. Protect your first foray in to gardening with a bit of poultry netting layered over your soil. 
You can remove the netting when the plants start to grow, but if you don't want to or just don't have time, they'll grow between the gaps anyhow.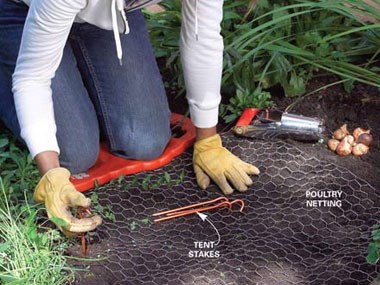 Image credit The Family Handyman
4. create lighter pots
A heavy pot is a pain to move, and if you want to get green fingers, you'll want to find a way to reduce the strain of repeatedly picking them up. 
With a bit of smart pottery, you can save your back and allow yourself more gardening time. 
First off, make sure you're using lightweight potting mix, which is typically made of peat moss and vermiculite. Half fill your pot with this, and add foam packing peanuts to the rest.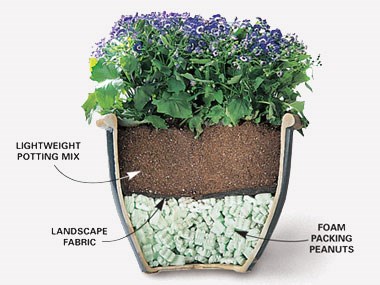 Image credit The Family Handyman 
5. Move plants easily
When moving plants back and forth from the local nursery, you can end up with a messy boot. Find something to line your car with (a MEGABAG works great if you cuff the sides).
Now your boot's protected from soil spills, but you'd still rather your pots weren't able to move around and spill their precious cargo. Take a step ladder and lie it down inside your boot over your protective coating.
This makes for a great plant pot holder and you'll be able to move your plants around without worrying about the mess.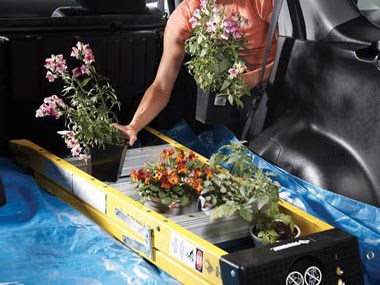 Image credit The Family Handyman 
6. Restrict an aggressive plant
Some plants, if left unattended, can take over your garden. If this happens to you early on your gardening path it can set you back and put you off, so make sure you deal with it early on.
If you plant a potentially troublesome plant in a plastic container, you can make sure their roots don't mess with the other plants you're working on. 
Cut the bottom of an old planter off and push it in to the earth around the offender and stop those roots from spreading beyond their boundaries.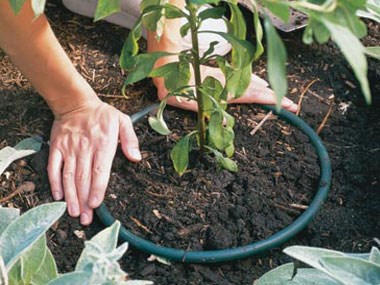 Image credit The Family Handyman
7. Re-route potted plant roots
When you're ready to take some potted plants and put them in to the soil, they may have already started to outgrow their pot.  If your plants roots have started to run out of room to grow, they'll begin to grow in restricted circles and may struggle to adapt to being in soil. 
You may find that you can tease these roots back outward before replanting, making sure that they'll continue to grow properly and continue to transport all the nutrients to the leaves. 
If they need a bit more convincing, take a knife and cut vertically through the knotted roots before planting in to your soil.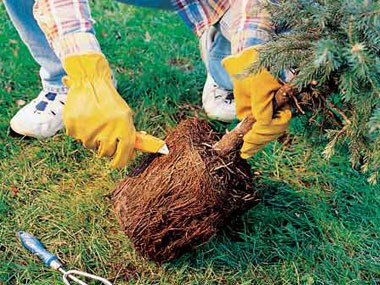 Image credit The Family Handyman
For detailed information and more great gardening tips for beginners and experts alike, see The Family Handyman.