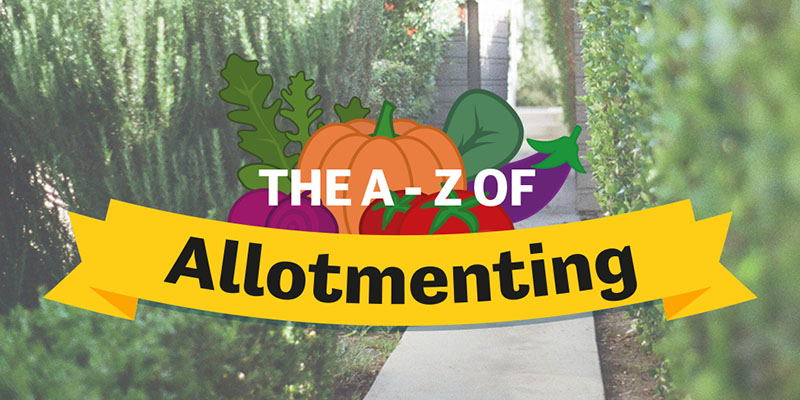 There's a lot to learn when you take on the task of managing your own allotment, and with this in mind, we thought we'd help you learn some of the key terms and concepts with this fun A to Z of allotmenting. So whether it's crop rotation, naturalising or irrigating, you'll find the essential information here!
A: Annual plants complete their life cycle over the course of a year. Most allotment vegetables are annuals.
B: Bees will help pollinate your allotment, as well as providing delicious honey on the plot.
C: Crop Rotation is a great way to fight pests on the plot, as well as increasing your yields.
D: Deadheading can encourage plants to grow by removing fading or dead flowers.
E: The earth in your allotment can influence yields. Ensure you monitor PH level, drainage and nutrients.
F: Fertilising by adding essential nutrients can greatly increase growth and quality of plants.
G: Galls are unusual growths out of plants, usually caused by parasites, funghi and bacteria.
H: HIPPOBAGs are perfect for getting rid of waste produced on the allotment. 
I: Appropriate irrigation is essential to helping your crops grow.
J: Jerusalem Artichokes are easy to cultivate and produce a high yield of edible roots.
K: Kale has been hailed as a wonder food in recent years and is hardy and easy to grow.
L: Lime is used to enhance plant growth by reducing the acidity of soil, raising the pH level.
M: Mulching is great for maintaining moisture in your soil, as well as fighting weeds and looking tidy.
N: Naturalising is carried out by scattering and planting bulbs without a set pattern.
O: Deciding to go organic means avoiding chemical fertilisers and pesticides on your allotment.
P: Pests are the bane of any allotmenter and can be fought with pesticides or crop rotation
Q: A quincunx is the arrangement of trees at the corners of and in the centre of your allotment.
R: Raised beds are easy to maintain, look great and are really handy if you have a bad back.
S: Seed Potatoes are disease free tubers which grow healthy and consistent plants.
T: Your topsoil should be high in nutrients and organic matter, and at least 20cm deep in new beds.
U: If you fancy growing an unusual, crispy root vegetable this year, how about an ullucus?
V: Vines like grapes take up little ground space on the plot, but need deep, draining soil and sunlight.
W: Water butts allow you to collect and store water and heat it to room temperature.
X: Xeriscaping is planting plants which don't require much water to avoid the need for watering.
Y: Your yield can be altered by any number of factors, from soil, to weather and growing techniques.
Z: Zinc is an essential element for ideal plant growth, and it can be added to deficient allotments.
What have we missed? Tell us what you would have included by tweeting us @HIPPOBAG