Conservatory Ideas to Make Your Garden Flow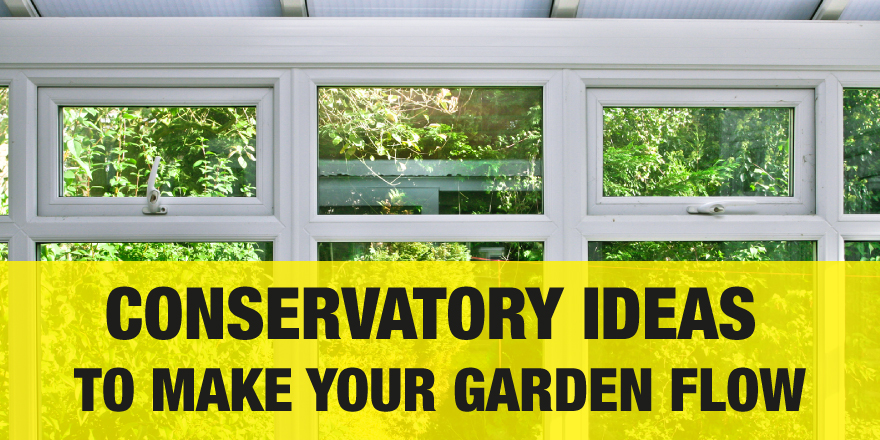 In the UK, our conservatories provide an extension to our gardens; bringing a little bit of the outdoors in and providing a space that makes the most of both your garden and your home interiors.
In order to optimise comfort and style, your conservatory should seamlessly flow from the inside out, complementing the colours of the outdoors while providing the warming feeling of home.
When it comes to transforming your conservatory, you should consider colours, lighting, space and plants, finding the perfect balance to create a relaxing and consistent flow.
Here are a number of ways to revitalise your conservatory:
Use plants to bring your garden inside
Combining elements from both your home and garden works beautifully in a conservatory, so adding greenery and plants can balance the space out perfectly. Injecting colour and life into the room can be done by adding plants and foliage such as succulents, cacti, kitchen herbs and orchids.
Choose a suitable colour scheme
The quickest way to completely transform a room without spending a lot of money is by painting. Choosing colours that are neutral but complement the colours of your plants will work great throughout the year and you can choose to change throws and cushions if you want to adapt your colour scheme from season to season.
Choose warm and inviting lighting
Whether you use your conservatory as a second living space or dining room, the lighting should be inviting and relaxed so, when the natural light fades, your conservatory isn't too bright. Choosing dimmer switches to control the amount of light you want can be great for a conservatory space, as you can adjust the lighting to suit your mood and preference.
Make the most out of the space
A conservatory should be a room that can be used throughout the year as an extension to your home. To do this you need to keep the space heated well for use during the colder months and consider fitting blinds. Not only do blinds help with keeping the space warm during colder months, they can make the space more inviting in an evening if you don't want to look out into the darkness.
If you're having a clear out as part of your conservatories transformation - HIPPO's range of HIPPOBAGs, Skip Hire and Man & Van services means that there's always a convenient, cost-effective and reliable option for disposal that works for you - no matter how much waste you have.