DIY Projects for Your Garden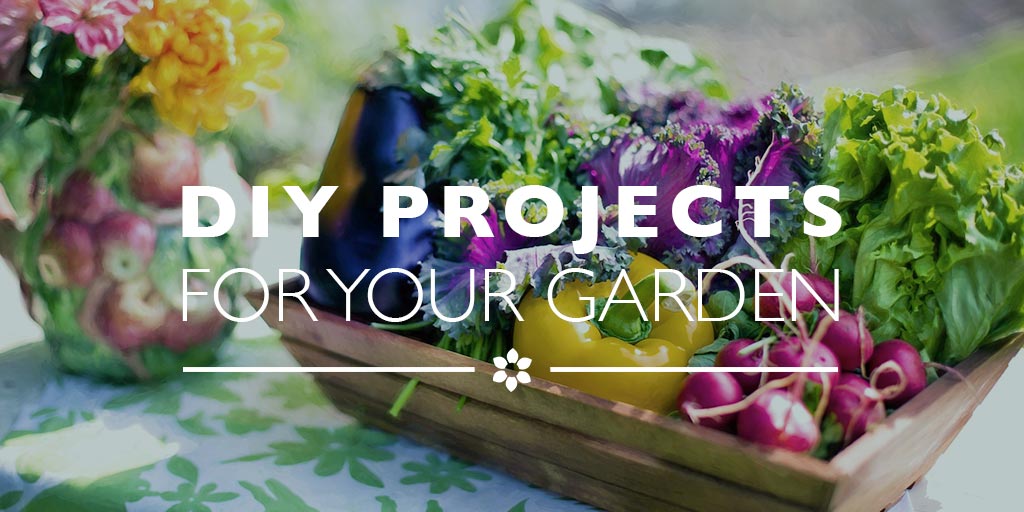 With the weather on the turn and summer set to fully kick in, it's time to be out in the garden and making it an extra special spot for the family to enjoy. You may have already got all the typical seasonal work out of the way in terms of clearing everything back and tidying it up, and are now looking at ways to add some extra focal points. Here are a few ideas for some great new DIY projects for your garden.
These are both affordable and fairly easy projects for you to consider, and as always, be sure to get some help if needed and remember to plan ahead to avoid any unnecessary headaches!
BRICK BARBECUE:
What better way to enjoy the garden than by hosting a BBQ with friends and family? You can't beat the taste of barbecued food in the sunshine, and there's no need to go out and buy an expensive barbecue set when you can install your own stylish fixed brick BBQ at home.
This job is fairly tricky if you've never worked with bricks and cement before, but by taking your time (and keeping a spirit level on hand at all times!) the results speak for themselves. Just remember to work out the most comfortable and practical height before you start building.
RAISED BED:
A stylish raised bed isn't too difficult to build, and can turn a dull corner of the garden in to a practical and attractive feature. Whether you use it for a flowerbed, or for growing veg, the raised height helps alleviate backache, as you simply don't have to bend down so much. It also works wonders for growing as it allows for drainage in heavier soil, and keeps the soil warm in cooler conditions.
COMPOST BIN:
A compost bin works for you in a number of different ways. Not only do you get the satisfaction of turning kitchen and garden waste into rich, crumbly compost (saving you money on fertiliser), it also means you are doing your bit for landfills and the environment. You can fill it with weeds from the garden and food waste from the kitchen, all of which help your plants and flowers to thrive. A top tip to remember is to cover the bin with a piece of carpet to keep it warm and help to speed up the composting process.
SMALL SPACE SALAD BOX:
Having fresh food is the best part of the growing season, and with a dedicated planter right next to the kitchen, you can have a ready supply of salad greens at your fingertips. You could build your own, or convert a window box so that it's right where you need it to be. Why not experiment and place the box on legs so that it becomes a feature all of its own?
A POLY TUNNEL:
As a cheap alternative to greenhouses, a poly tunnel provides all the benefits, but can be made to fit any sized garden space available. This is by no means a quick job, but poly tunnel packs come ready made from certain stockists and with the help of one or two others can easily be fitted in an afternoon. A great means of saving pennies by growing your own delicious and healthy, fresh organic food. A poly tunnel would make a welcome addition in any garden and is a great way to show kids the joys of growing your own food.
RAINWATER BUTT:
Beat the annual hosepipe ban by installing your own rainwater butt. This is a fantastic idea for conserving and recycling rain water, giving you clean, abundant water on tap (depending on the rain of course!), and with water prices going up each year this is bound to save you a little bit of cash too.
You can make your own water butt quite easily by using a suitable container and purchasing a few washers and valves, or they come packaged and ready to be installed. Why not spruce them up a little bit with a lick of brightly coloured paint so that they become a bit of design feature in the garden?
GARDEN POND:
Depending on the size, digging out your own garden pond can be either a quick afternoon's work with a spade, or a lengthy ordeal that requires hired diggers and endless hours of backbreaking work. Whatever you decide upon, and depending on the size of the available space, there's no denying that a garden pond makes an unbeatable focal point for the garden. Not only does it look great, it also provides some well-needed habitat for native British wildlife such as newts, frogs, snails and dragonflies.
TOOL HIDEAWAY:
Instead of keeping all the garden tools in either the garage or shed, why not make a little place for those hand tools that are always in use? A small wooden box with a hinged panel door makes the perfect spot to store them, and if placed amongst a hedgerow or flowerbed makes them a bit more inconspicuous. They don't necessarily have to be hidden away though, you could always shape the box in interesting ways, or paint it in bright colours so that it becomes another eye-catching feature of the garden.
GARDEN CHANDELIER:
For those summer evenings in the garden that draw out until the sun has set, you can't beat some beautiful lighting to really set the mood. By placing candles in glass containers (such as jam jars) and hanging them close together at slightly different heights, you end up with a charming chandelier effect that can easily be hung from a tree or patio trellis frame. You could even attach glass beads to the bottoms of each to really add to the effect.
So there you have it, just a few ideas to help get you inspired and approaching the garden in new and exciting ways. Give us a tweet with some of your own garden DIY projects, and keep an eye on our blogs for more great ideas.
Don't forget that as with any DIY project, a HIPPOBAG is the most convenient, affordable and environmentally friendly means of waste disposal. No job is too big or too small as HIPPOBAGs are available in three different sizes, and once full with whatever you need removed they are collected at your convenience within 5 working days.