Earth Day 2023: Carbon Reduction at HIPPO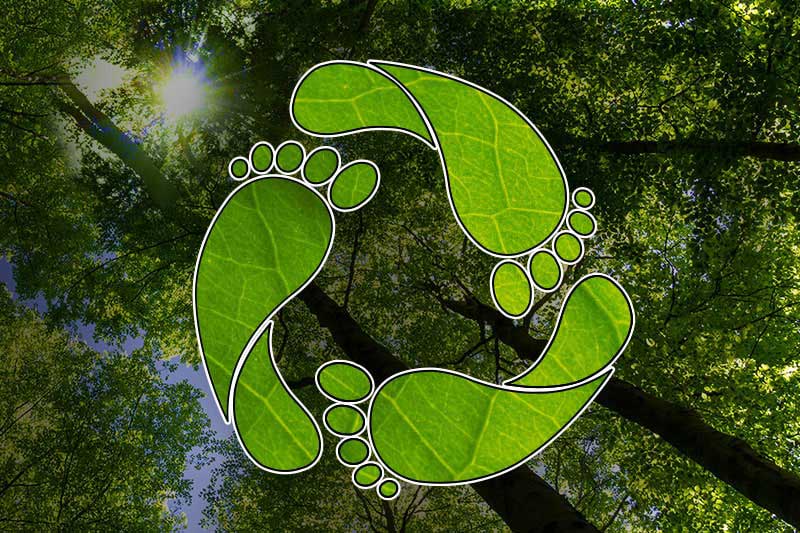 Eco-friendly rubbish removal is our mission at HIPPO. We help our domestic and commercial customers to dispose of their waste in the most convenient, cost-effective and environmentally-friendly way possible.
We are committed to building a sustainable future for everyone and that means working with our customers to recycle the majority of their waste, as well as improving our own fleet efficiencies and collection processes, setting up carbon-offsetting plans and using technological innovations.
Currently we already divert  over 95% of the waste we collect from landfill, and as of March 2023 we're officially a carbon neutral business. To mark Earth Day 2023, here are some of the ways that we're reducing our environmental impact at HIPPO and some of our carbon reduction plans for the future.
Carbon Offsetting with Ecologi
At HIPPO, we are committed to reducing our carbon footprint and mitigating the environmental impact of our operations. That is why we have started offsetting our carbon emissions through the purchase of carbon credits through a partnership with Ecologi.
The carbon credits we purchase support carbon avoidance projects around the world that are certified by Gold Standard or the Verified Carbon Standard. We've already bought 400 tonnes of carbon credits which are currently being used to fund a wind power project in Thailand that prevents the emission of 131,883 tonnes of CO2e each year through wind power. By carbon offsetting with Ecologi we can provide waste collection services that are carbon-neutral. You can find out more by taking a look at our profile page on Ecologi.
Greenhouse Gas Report
For the last two years we have created a greenhouse gas emissions report internally which this year has been independently audited by Sol Environmental. We set a new baseline for emissions in 2022 and we're pleased to report that we had a like-for-like 7% drop in emissions compared to 2021.
Route Optimisation
Since 2016 we've reduced our emissions by 34% by a few methods including using cutting edge AI software to optimise our waste collection routes and make them more effective. This directly reduces our mileage and hence fuel used for each collection.
Updated Fleet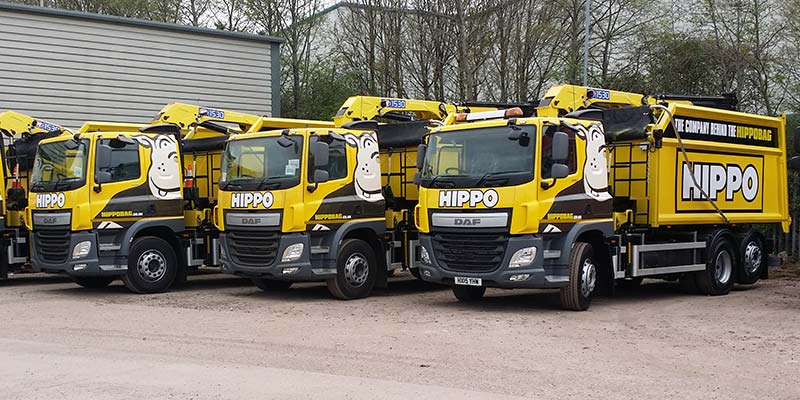 We now run our entire fleet on the new Euro 6 engines which are more fuel efficient and environmentally friendly. We will also trial HIPPO electric vans for our Man and Van collection service with the goals of having 80% of our van fleet electric by 2030 and 100% by 2035.
HIPPO's Driver App
The HIPPO Drivers App, our own bespoke technology designed to maximise efficiency for HIPPO and our customers, which launched in 2016 provides huge paper savings on a daily basis, it's a significant stride towards our goal of being entirely paperless. The interactive functionality of the app allows for more efficient journeys and the data that is fed in live gives us more accurate reporting on the operational management and the waste type reporting, including images of each collection.
Adapted Facilities
We've adapted our business facilities to be more energy efficient. Our team is growing but we moved offices this year and managed to reduce the amount of space we use.  We work smarter with a flexible hybrid structure and the new space is exactly the right size for us to run a more environmentally friendly business. Our office is located on a campus undergoing a major solar PV and battery installation which will generate 38% of the total electricity requirement, and in our warehouse we have recently installed energy efficient LED lighting.
What does the future hold?
As we move forward, we plan to offset the emissions we can't change through our partnership with Ecologi while finding new ways to continue our downward trend of carbon emissions. From 2030, we hope to trial new fuel for our 26 tonne vehicles, whether that's electric or hydrogen, to bring them in line with our van fleet. Although there is much more to do, our mindset is on sustainability to improve our business and service we provide our customers to support our future of ourselves and our planet.
If you would like to find out more about our sustainability initiatives, you can visit our Sustainability page to learn more.