Fly-tipping in England 2017/18 - the latest statistics from DEFRA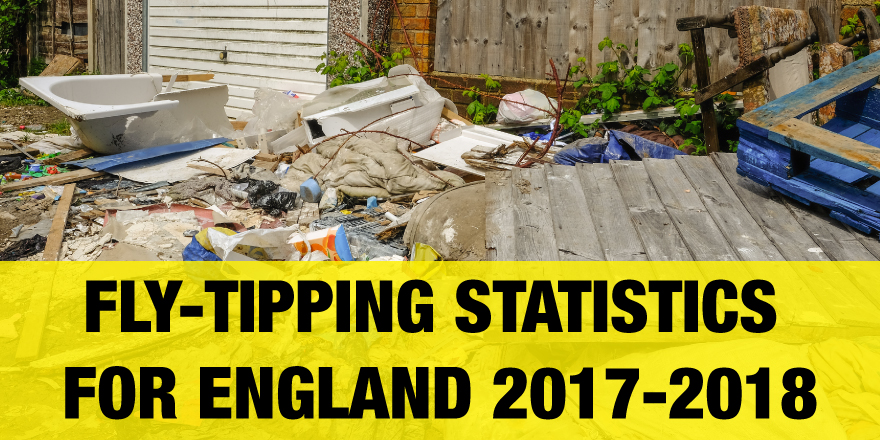 Released today by the Department for Environment, Food & Rural Affairs (DEFRA) the annual statistics on fly-tipping incidents and enforcements actions taken in England make for grim reading. The report shows that fly-tipping incidents remain high with 998,000 reported in 2017/18. The cost of clearing fly-tipping sites across the UK has risen significantly, continuing to burden local authorities and individual taxpayers, diverting limited funds from other key areas of local government spend.  
During 2017-2018 the cost of large fly-tipping incidents in 2017/18 was £12.2 million, compared with £9.9 million in 2016/17, up over 23%! Gareth Lloyd-Jones, MD at HIPPOWASTE says: "These numbers are a disgrace and tax payers have every reason to be angry at this type of crime happening in our neighbourhoods."
Many residents are looking for cheap alternatives to getting rid of their rubbish and this is where the rogue trader has become a growing blight within the waste industry. Traders who choose not to use a legitimate waste site will save themselves thousands every year by not paying for the safe and responsible disposal of waste.
Many residents are unaware that if you do use a rogue trader it is the resident that remains responsible for the waste and you could be liable for large fines from your local council. It is down to you to engage a reputable company like HIPPO to get rid of your waste.
Local councils work hard to identify those responsible and reduce clear up costs and protect local environments: 494,000 enforcement actions were taken in 2017/18, an increase of 18,000 actions (4%) from 2016/17.
What do the latest fly-tipping stats show?
In 2017/18, councils dealt with 998,000 fly-tipping incidents, a slight decrease of 1% from the previous year
Consistent with previous years, highways remain the most common place for fly tipping to occur
The most common size category for fly-tipping incidents remains as the equivalent to a 'small van load', followed by the equivalent of a 'car boot or less'
The clearance costs of large fly-tipping incidents (equivalent to a 'tipper lorry load' or larger) rose 23% on 2016/17 figures to £12.2 million
Local authorities carried out 494,000 enforcement actions in 2017/18, an increase of 18,000 actions (4%) from 2016/17
69,000 penalty notices were issued by local authorities in 2017/18, up 20% in comparison to 2016/17
Click here for the full report summarising the number and type of incidents of illegally deposited waste, the cost of dealing with them and the actions taken against fly tipping in England.
HIPPOWASTE continues to battle fly-tipping numbers across the UK
HIPPO have spent over 15 years dedicated to disposing of waste safely and legally. Beyond HIPPO's range of waste solutions the company also offers a regularly updated tip charges tool that helps residents to find out where their nearest tip is and if they'll be charged for using it.
Gareth Lloyd-Jones, MD at HIPPOWASTE said: "The issue of fly tipping continues to be a burden on our society and our environment. Numbers are on the rise and more needs to be done to put a stop to it. We all need to step up and take responsibility for our waste and protect our local area and our environment. Our tip charging tool is a great start to check out local recycling centres. Reducing fly tipping has been part of HIPPO's mission from the start and we are doing our best to contribute to safe and legal waste removal nationwide by providing solutions that are accessible to everyone."
How to prevent fly-tipping
To avoid unauthorised waste removal providers and rogue traders, the public needs to know what to look out for. Our advice is:
Always check the provider's Waste Carrier Licence documentation. Approved waste carriers like HIPPO will be fully licensed, and will provide paperwork taking over the responsibility for your waste and its disposal
Ask questions about the waste and the disposal process and you'll find those companies that really care will be able to give you all the details. HIPPO is proud of its 95% recycling rate.
Look online at the various review sites. HIPPO has a 5-star reputation through thousands of Trustpilot reviews. Check out reviews and listen to the words of genuine customers to help you make a choice.
Don't pay in cash. Credit card transactions are a more secure method
Unfortunately prices are not always an indicator of a fully licensed provider. Often rogue traders charge as much, if not more than legitimate businesses. However be weary of prices that are too good to be true. Get quotes from a few companies and if a quote is a lot lower than others then they may possibly be cutting important corners somewhere. If in doubt, avoid them