Fly Tipping Statistics for England 2018/19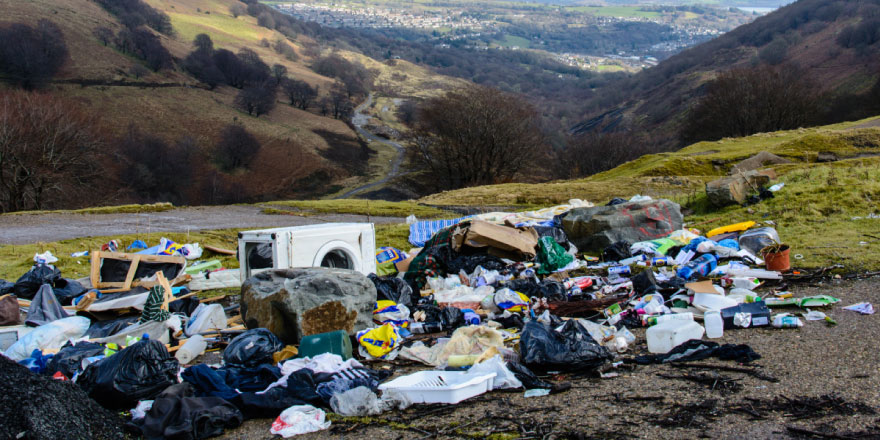 Released today by the Department for Environment, Food & Rural Affairs (DEFRA) the annual statistics on fly-tipping incidents and enforcement actions taken in England show that fly-tipping is still a growing problem in England – continuing the upwards trend from 2013/14.
WHAT IS FLY-TIPPING AND HOW BIG IS THE PROBLEM?
As simply put by the Oxford Dictionary, fly-tipping is "the practice of leaving waste somewhere illegally".  Some people and businesses choose to fly-tip in order to avoid paying disposal costs (or landfill tax) when getting rid of waste - creating a huge challenge for the UK as it puts pressure on public spending, whilst also causing serious harm to the environment and local wildlife.
During 2018/19 over 1 million incidents were recorded (up 8% on 2017/18) and reported cost of large fly-tipping incidents hit £12.9 million, compared with £12.2 million in 2017/18, up 5.7%. A significant hole in the taxpayers' pocket!
WHAT DO THE LATEST FLY-TIPPING STATS SHOW?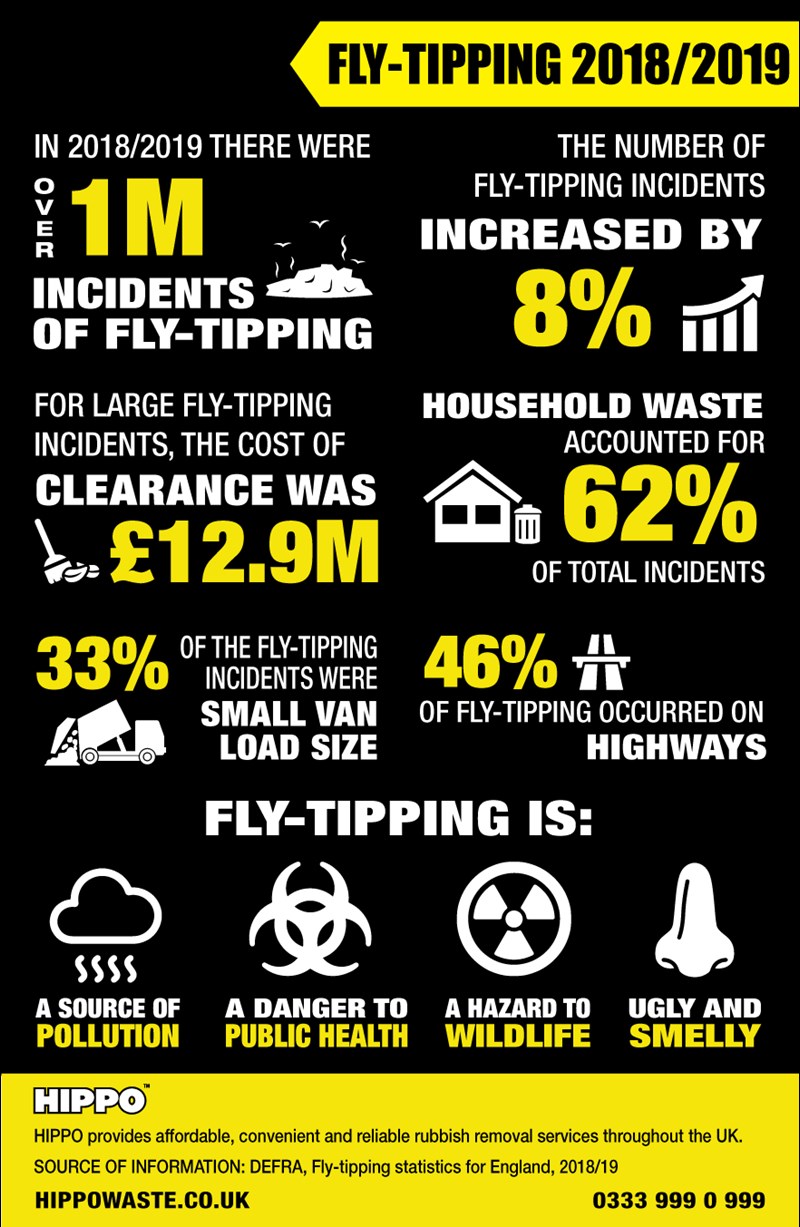 In 2018/19, councils dealt with over 1 million (1,072,000) fly-tipping incidents, an increase of 8% from the previous year


Nearly two thirds (62%) of fly-tips involved household waste


Consistent with previous years, the most common place for fly-tipping to occur was on highways (pavements and roads), accounting for almost half of incidents in 2018/19
In line with the last few years, the most common size category for fly-tipping incidents was equivalent to a 'small van load' (33% of total incidents), followed by the equivalent of a 'car boot or less' (30%)
The clearance costs of large fly-tipping incidents (equivalent to a 'tipper lorry load' or larger) rose 5% on 2017/18 figures to £12.9 million


Local authorities carried out 499,000 enforcement actions in 2018/19, an increase of 5,000 actions (1%) from 2017/18


The number of fixed penalty notices issued has continued to increase, up 11% to 76,000
Click here for the full report summarising the number and type of incidents of illegally deposited waste, the cost of dealing with them and the actions taken against fly-tipping in England.
Fly-Tipping & the Law
Those who fly-tip are committing a criminal offence punishable by a fine of up to £50,000, up to five years in prison, or both.  The police and authorised officers of the Department of the Environment have the power to stop, search and seize any vehicle used, or suspected of being used for illegal waste dumping.
For the first time, in 2018/19 fines of over £50,000 were given by two local authorities for fly-tipping and the conviction rate from total prosecutions (2,397) remains high at over 96%.
As a householder paying for the removal of your rubbish, it's your legal obligation to make sure waste is only passed on to a licensed waste carrier and not a rogue trader who may be likely to fly-tip. If you don't, you could get a fixed penalty notice of up to £400 or a fine of up to £5,000. Ultimately, your waste is your responsibility.
You can learn more about fly-tipping & the law on Keep Britain Tidy's dedicated page.
HOW TO PREVENT FLY-TIPPING
To avoid unauthorised waste removal providers and rogue traders, the public needs to know what to look out for. Our advice is:
Always check the provider's Waste Carrier Licence documentation. Approved waste carriers like HIPPO will be fully licensed, and will provide paperwork taking over the responsibility for your waste and its disposal. Click here for the Environment Agency's register of waste carriers, brokers and dealers


Ask questions about the waste and the disposal process and you'll find those companies that really care will be able to give you all the details. HIPPO is proud of its 95% recycling rate and we really know our stuff. Just ask


Look online at the various review sites. HIPPO has been rated 'Excellent' based on thousands of Trustpilot reviews. Check out reviews and listen to the words of genuine customers to help you make a choice


Don't pay in cash. Credit card transactions are a more secure method


Unfortunately prices are not always an indicator of a fully licensed provider. Often rogue traders charge as much, if not more than legitimate businesses. However be wary of prices that are too good to be true. Get quotes from a few companies and if a quote is a lot lower than others then they may possibly be cutting important corners somewhere. If in doubt, avoid them
REPORTING FLY-TIPPING OR ILLEGAL WASTE DUMPING
Should you come across an incident of fly-tipping, the best course of action is to report the incident with your local council, making note of what you can see amongst the rubbish. Councils are often stretched to the point where fly-tipping isn't immediately dealt with, so be sure to let any neighbours and members of the community know that you've reported its whereabouts.
To report fly-tipping or illegal waste dumping to the appropriate local council, click here.
TOP FLY-TIPPING NEWS IN ENGLAND
RESPONSIBLE RUBBISH REMOVAL
HIPPO is a responsible business which conforms to the legislation and also actively pursues partnerships with waste recycling centres that share our commitment to recycling. You can learn more about our responsible and reliable waste disposal process here.
No matter how much household or garden waste you need to dispose of, our range of HIPPOBAGs, Skip Hire and Man & Van services means that there's always a convenient, cost-effective and reliable rubbish removal solution that works for you.