Garage clearance tips for an organised garage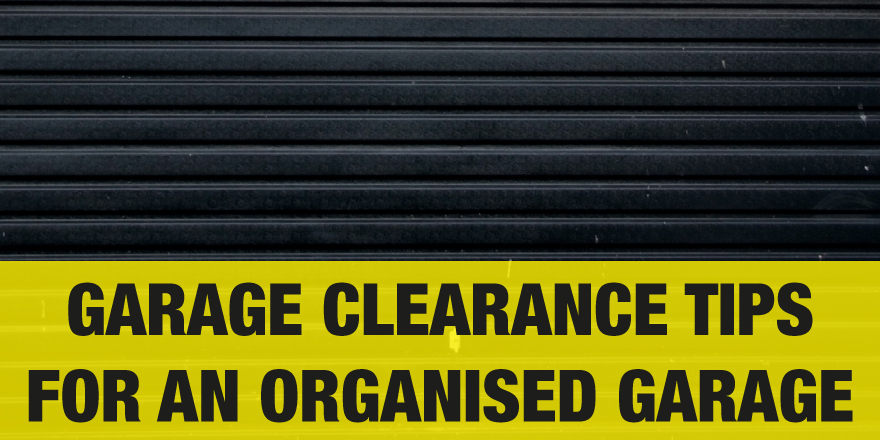 With British Summer Time less than two short weeks away, it's likely that you're starting to think about those errands which have been on your to-do list throughout the winter. Among them, successfully de-cluttering and reorganising your garage.
From removing unwanted items and storage ideas to alternative uses for your space, get your new year off to a flying start by de-cluttering your garage and starting 2019 as you mean to go on.
Our top tips will help you fully utilise and enjoy an organised garage that will be the envy of your neighbours.   
Remove unnecessary items
Nothing feels better than the sense of satisfaction after tackling a clutter-filled space, and an effective way to achieve this is by removing unnecessary items.
Whether it is old sporting equipment, camping gear or perhaps collections of clothes you promised to re-wear, it may be time to either throw away or pass on your neglected items to another home.
As part of your clear-out plan, go through the items in your garage and organise these into four sections or piles:
keep
donate
give away/sell
throw away
You never know, an insignificant, unused item lying in a garage box could make for a perfect charity donation or piece to pass to family, friends or colleagues. 
If you're feeling inspired by these options, why not adopt this approach into the entire house with our tips on how to declutter your home. 
Storage ideas
Utilising your available space through effective storage is a good approach when organising your garage.
Clever storage ideas will help you make use of the space available, whilst keeping some space freed up to move around. The following storage tips will help:
Aim high – if you have very little floor space, why not make full use of the ceiling space instead by hanging storage bins up high? This is also a great way to avoid any potential trip hazards
Cleaning storage – cleaning products can often be a bit of a pain to store as there are numerous items to take care of. A mounted organiser will keep all mops, brooms and products in one place and help keep your cleaning products clean and tidy themselves!
Utilise brackets – for sturdier items such as ladders that can be difficult to store at times, using brackets to hang these larger items are an ideal solution to keep them out of the way.
Corner storage – corners are typically a tricky space to utilise in any small room. Wrapping a row of wire racks around a corner space and accessorising this with shelves is an effective way to utilise space which may have otherwise been overlooked
Hooks – adding hooks to organise your garage may seem simple, but it is a highly effective way of utilising space and hanging up items which may have ordinarily be taking up room in storage boxes
Mounted bikes – bikes are a sign of an active lifestyle, but they do tend to take up a fair bit of room. Take care of your investments and minimise the risk of your family's bikes falling over by utilising a metal rack to successfully mount them on a garage wall
Other uses for a cleared garage
One of the best motivations to organise your garage is the thought of what you could transform the space into. The below ideas may help to inspire you:
Home gym - if you dreamt of being a gym-goer without having to travel there, you could look at turning your garage into a home gym. With the correct restructuring in place to hang equipment, a well-ventilated garage space could mean you ditch the monthly memberships and can enjoy working out at home whenever you want to
Man cave - likely to be top on many lists is a man cave. Enjoy a private space to socialise with friends and family, play cards and watch movies all within the comfort of your own garage. If you're feeling flush, you could even look to invest in a comfortable sofa or entertainment system to really make your man cave the place to be
Home office – whether you work from home or are just looking for a working space separate from distractions, a home office is an effective way to make use of your de-cluttered garage. Once security and insulation are addressed, you can enjoy a peaceful workspace in the comfort of your own home
Storage space – it could be that you simply want to reorganise your garage for it to be a more effective storage space for your entire family. Effective use of storage solutions as we outlined above will help to achieve this vision
Clearing up
No matter how much rubbish you need to dispose of after clearing out your garage, HIPPO's range of HIPPOBAGs, Skip Hire and Man & Van services means that there's always a convenient, cost-effective and reliable option for disposal that works for you.
Find out more about HIPPOs range of disposal options and check out our blog for more advice to help with your household projects.