Garden inspiration for revamping your outdoor space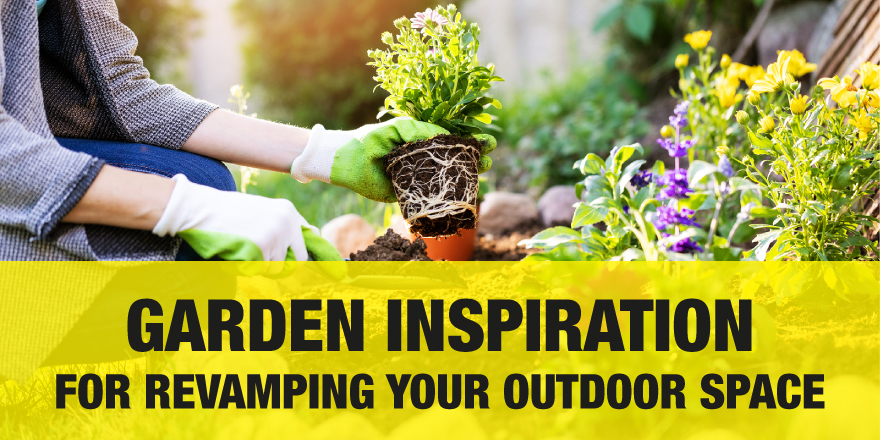 Revamping your garden can make such a huge difference and it's those little changes that can add style and practicality to an area that often gets neglected. You don't need to spend a fortune or invite the landscapers and gardeners in to achieve an outdoor space that you love and enjoy.
After all, your garden is a part of your home, so give it the care and attention you would to any room inside. Add those finishing touches and see your outdoor space live up to its full potential, turning the exterior of your property into a focal point!
No matter whether you choose to completely redo your garden, or make small changes yourself, we have pulled together some garden inspiration for revamping your outdoor space.
GETTING STARTED
Getting started can sometimes be the hardest part of a garden revamp. You need to assess what you currently have and think about how you can change it to something you'll love, within your budget.
PLANTS AND FLOWERS
An obvious way to add colour and bring life into your garden is with plants. Whether you choose potted plants or want to create a flower bed, they will bring a new lease of life to the space. If you're a beginner in gardening and don't know where to start, check out our blog post with 7 DIY gardening tips for beginners!
A NEW LAWN
With the extremely warm summer we've had in Britain this year, your lawn may have seen better days. The lack of moisture may have killed off your luscious green grass, and you might feel like it's time to replace it. Our blog post about replacing your lawn will tell you everything from when you should do it, what you will do and how much turf you need.
ADD INTERESTING LIGHTING
Illuminate different areas of your garden with lighting. Choose spotlights to illuminate plants, or string lights to decorate the walls or fence. Clever lighting can make your outdoor space stand out and look great both day and night.
CHANGING THE COMPLETE LAYOUT
If you're about to completely change the layout of your garden and begin a landscaping project, our blog post, readying your garden for landscaping, will guide you through the toughest parts of getting ready for your new outdoor look.
REFRESH YOUR DECKING OR PATIO
Naturally, decking and patios will become dirty over time. It's amazing what a difference a blast from the pressure washer can make! It will remove dirt, moss, mould and algae, restoring the original colour that you may have even forgotten about!
CLEARING UP
However you choose to inject some life into your garden, you'll need to dispose of your garden waste. HIPPO's range of HIPPOBAGs, Skip Hire and Man & Van services means that there's always a convenient, cost-effective and reliable option for disposal that works for you - no matter how much garden waste you have.
The versatility of our strong, lightweight HIPPOBAGs make them the perfect solution to tackle garden waste and can be collected from a place of convenience (within 4 metres of the roadside), such as your lawn, back garden, or driveway, and our purpose built collection vehicles have cranes that can reach over walls and hedges as required - allowing you to focus on the job at hand.
For more help and advice on your project, check out our blog, and don't forget to order your HIPPOBAG to help with any garden clear-up.