Grants Up For Grabs: Carterton Gymnastic Club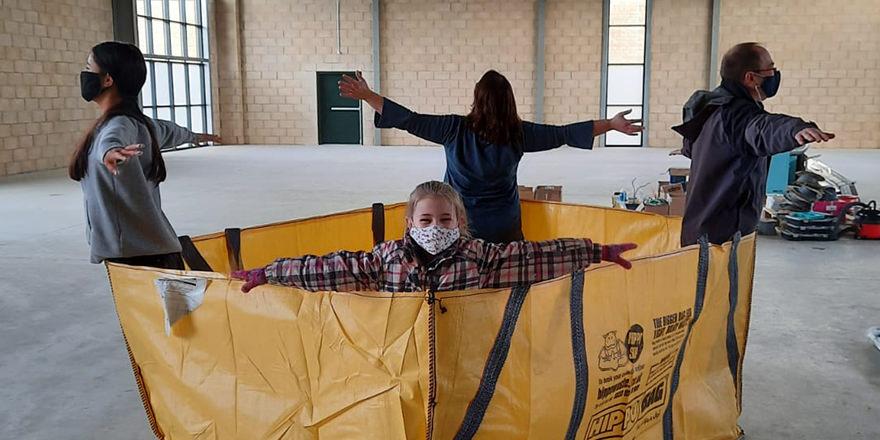 The team at Carterton Gymnastic Club CIC has taken another big step towards the opening of their new community sports facility, The Vault.
Due to open on 24th March, the new purpose built venue needed a major clear out following exciting building works but budgets had reached their limits. Fortunately, HIPPO were able to help by offering the ambitious gym club free HIPPOBAGs and collection as part of our Grants Up for Grabs scheme.
The 'Grants Up for Grabs' scheme awards free waste disposal help to applications from charities, community groups and organisations from across the UK that inspire respect for the environment or have a positive effect on the community.
Debra Courtenay-Crane BEM, MD of the Gym Club and recent winner of the BBC Sport's Personality Unsung Hero award for the South Region, commented on what the offer had meant to them:
"We are very grateful to HIPPO for their help. Funds have been stretched to the limits creating this fantastic community sports facility and we have had to rely on the invaluable goodwill of many organisations. Details like waste removal are so easily overlooked in a big project like this and it was such a relief when HIPPO agreed to help free of charge. I have used HIPPO before so when I realised that we had so much to get rid of after the works had been completed, I thought of them."
"Creating this new space for all parts of our community to enjoy is so important and it has only been possible through considerable fundraising and the generosity of so many like HIPPO. In fact, even now we are hoping for generous providers of lino and floor tiles!"
"We want The Vault to be a truly community-focused building and hope to use local businesses for our café, as well as to create opportunities for talented individuals looking for a space in which to offer classes. We are currently looking to install disability equipment so that every member of our community can benefit from this fantastic new venue."
The new Carterton Gymnastics Club building, The Vault is set to open its doors to the public on 24th March. To find out more about the new facilities, visit www.cartertongym.co.uk. Please contact Debra and her team on 01993 883300 if you would like to offer help with the finishing touches to this impressive community project.
Grants Up for Grabs
Acknowledging our social responsibilities and encouraging the safe and responsible disposal of waste, HIPPO introduced this scheme to help advance the support of members of local communities.
If you think your project might be eligible for free help from the Grants Up for Grabs scheme please contact us and tell us your story.
Before applying, please ensure that you have read and understood our terms and conditions for using a HIPPOBAG as there may be a cost incurred if the collection fails and we have to revisit.
For more information on HIPPOBAGs or HIPPO's other waste removal services, please take a look around our site, read our FAQs, or feel free to call us on 0333 999 0 999.
About HIPPO
HIPPO was established in 2002 and has grown to become the UK's leading rubbish clearance provider, rated 'Excellent' on Trustpilot. As well as the famous HIPPOBAGs, the conscientious company also offers skip hire and Man & Van collection services so that all waste disposal needs can be met. HIPPO's strong environmental policies ensure that over 95% of all waste collected is recycled with the remaining disposed of in a responsible way. HIPPO puts flexibility at its heart with nationwide services catering for any project or budget and a 24/7 online booking service.