HIPPO Has Its Say: Fly-Tipping Epidemic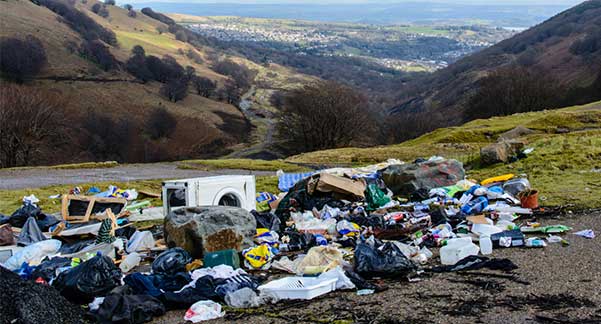 New research released on 2nd March 2017 shows that 2016 saw continued increase in fly-tipping cases across the UK, causing substantial problems to the environment, residents and wildlife and costing local councils millions.
Government Statistics Show Rise in Fly-Tipping on a National Scale
Fly-tipping is the illegal disposal of waste and costs the UK taxpayer £49.8 million. The newest report from The Department for Environment, Food & Rural Affairs (DEFRA) shows an increase of 36 thousand fly-tipping instances, 4%, in 2015/16 and an increase of almost 100 thousand since 2013/14.
This surge really highlights how this issue affects us all, and emphasises the importance of fly-tipping prevention, both through education and even heavier consequences for those caught.
These recently released figures indicate there has been a 4% rise in the amount of nationwide fly-tipping since 2014/2015, though a decrease in the number of people being caught illegally disposing of waste, with local authorities carrying out 494 thousand enforcement actions in 2015/16 at an estimated cost of £16.9 million – nearly £700 thousand on 2014/15.
226 local authorities report that fly-tipping is a major problem with increases in fly-tipping in their areas and, with the extra pressure put on budgets, this is an issue that needs addressing urgently.
The report shows that in 2015/16, fly-tipping is costing local authorities in England in excess of £49.8 million, which means that councils may be forced to redistribute their budgets, taking vital support away from some of those most in need.
Gareth Lloyd-Jones, Managing Director of HIPPO Waste, a company that is striving to educate the nation about the risks of using unregulated waste disposal means, says, "There's no denying that fly-tipping is a real issue right now, not just in a few counties but across the entire UK. It is time for us all to stand up and be part of the solution, not the problem. HIPPO is committed to helping with this issue."
Tackling the Issue
DEFRA has issued guidelines to help tackle fly-tipping to help tackle the issue on a national level, though it is argued that fly-tipping needs addressing on a local scale too.
ITV News investigated the blight of illegal dumping in detail and revealed the top ten worst hotspots in the UK for fly-tipping, which saw the London borough of Haringey land the 'top' position with almost 40,000 incidents reported in the last year.
As part of their investigation, a freedom of information request was sent to councils across Britain, with almost 300 councils responding, detailing the issues they faced between November 2015 and December 2016.
What Do the DEFRA Findings Mean?
These figures highlight that the UK has a significant problem with fly-tipping that has worsened with local authorities introducing charges at local tips. Something that some are blaming for the spike in illegal waste depositing, and although this DEFRA report doesn't explicitly indicate that 'tip-tax' is resulting in increases in fly-tipping, nearly 60% of instances of fly-tipping were 'car-boot' or 'small van load' sizes. Furthermore, fly-tipping of construction and demolition waste, which now incurs disposal charges at tips across the UK, rose by 17% on 2014/15.
Key points
For the 2015/16 year, local authorities dealt with 936 thousand fly-tipping incidents, a 4.0 per cent increase over 2014/15.
Just over two thirds (67 per cent) of fly-tips involved household waste, an increase of 6.5 per cent from 2014/15.
Consistent with previous years, the most common place for fly-tipping to occur was on highways, which accounted for 50 per cent of total incidents in 2015/16, a 7.9 per cent increase on 2014/15.
Incidents of fly-tipping on footpaths and bridleways increased by 8.0 per cent in England in 2015/16 whilst those in back alleyways decreased by 6.7 per cent compared to 2014/15.
A third of all incidents consisted of a quantity of material equivalent to a 'small van load'. The second largest size category for fly-tipping incidents was a 'car boot', which accounted for 29 per cent of total incidents by size. These findings are also consistent with the 2014/15 year.
The estimated cost of clearance for fly-tipping to local authorities in England in 2015/16 was £49.8 million.
There were 939 thousand reported incidents in the UK last year alone – that's a 4% increase from the year before and, as such, an increase in government spending.
The estimated cost of clearance for fly-tipping to local authorities in England in 2015/16 being nearly £50 million shows a decrease of 0.3% from the clearance costs in 2014/15.
These figures highlight that fly-tipping is still a huge issue that local councils and authorities have to deal with.
Allison Ogden-Newton, chief executive of Keep Britain Tidy, adds "Fly-tipping is an epidemic, it's reached crisis levels and something needs to be done about it."
The report reveals that whilst there is a 4% increase in fly-tipping incidents, there is a decrease in local authorities carrying out enforcement actions since 2014/2015 with a decrease of nearly £700 thousand.
There has also been a decrease in the number of fly-tipping in back alleyways, with a drop of 6.7%. Though comparatively there has been a 7.9% increase of fly-tipping incidents on highways with a spike of 34 thousand occurrences, a figure which accounted for 50% of all incidents.
 "Local authorities are overwhelmed with instances of criminal fly-tipping and we need to address this urgently," adds Ogden-Newton.
How You Can Help
Whilst it's usually hard to catch fly-tippers in the act, if you do spot someone disposing of waste illegally, it's best to take as much information as you can and contact your local authority. You can also use the government's dedicated fly-tipping website, which regularly receives reports each month, showing the scale of the issue and the number of people trying to help stop fly-tippers.
How to Dispose of Waste Legally
For more information on fly-tipping and how to dispose of waste legally in your area, check out our helpful blog, giving you all the information you need on charges. Alternatively, pick up a HIPPOBAG to remove your rubbish quickly and conveniently.
HIPPO has been a waste expert for over 15 years and is committed to helping with the crackdown on fly-tipping, along with removing waste from your home in as safe, efficient and environmentally friendly way as possible.