Tips on How to Board a Loft for Safe Storage | HIPPO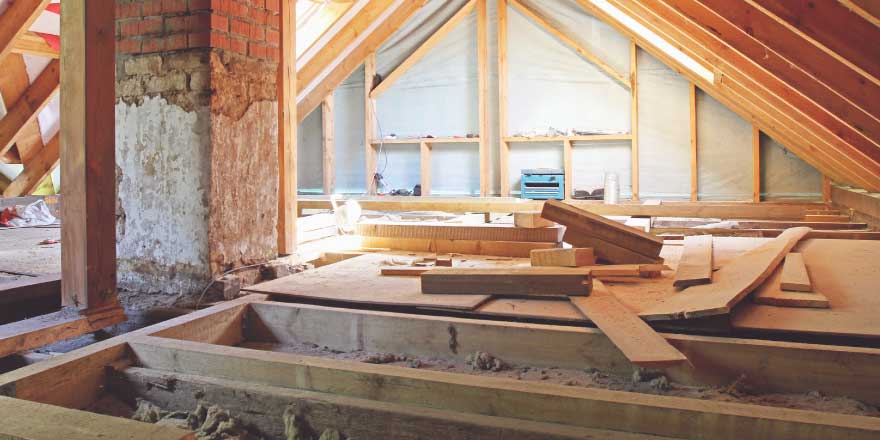 A loft space can often fall victim to becoming a forgotten or underutilised area in the home.
Frequently neglected, underused, and often treated as an invisible space until it's time to unpack or store the Christmas decorations, boarded loft spaces have the potential to enrich a home and become a well-utilised area.
If you're lucky enough to have a spacious loft in your home, you could unlock its full potential by safely boarding the floor of it. To help, we've compiled some tips and advice on how to board a loft for safe storage.
Why is it necessary?
Boarding a loft is necessary from an important safety aspect. If you have an un-boarded loft, you are forced to tread carefully over the exposed joists and run the risk of slipping and falling through the ceiling, injuring yourself or others, and possibly racking up some expensive repair costs.
A boarded loft is far safer, convenient, cheaper and provides a reliable and clean storage space within your home.
Safely boarding your loft
Before you start considering the array of options for your newly accessible loft space, ensuring your loft is safely boarded is of paramount importance from a safety point of view.
Safely boarding your loft will lay the foundations of your future space and is an all-important first step. Whatever you decide to do next with your loft, laying boards means that you can adapt the space in the future, in whatever way you wish, without risk or danger. We've outlined some simple steps below on how to safely board your loft to assist.
How to safely board your loft
When it comes to boarding your loft, there are some key steps to be taken to ensure this is carried out safely. Boarding your loft is usually a project that can be undertaken by even a DIY novice and doesn't require planning permission (it's considered permitted development), unless you intend to extend or alter the roof space and it exceeds specified limits and conditions as set out by planning portal.
Step one: The right tools
Like any project, it's important before you begin by ensuring you have the right tools for the job. To successfully board your loft you will require:
Jigsaw
Hammer
Workbench
Screwdrivers
Drill
Tape measure
Pencil
Gloves and facemask (for dusty environments)
Step two: Measuring your space
The next step is to measure up and establish how many boards will be needed to cover the loft area. Be mindful of the angles of the edges around your loft space, as these may prove troublesome to access when you come to board out this area.
Loft boards are generally 18mm thick and are available in two different sizes: 2,400mm x 600m and 1,220 mm x 320 mm.
Step three: Start laying the boards
Ensure you wear protective clothing to start laying your loft boards. Carefully place a board between the ceiling joists as a way of securing a temporary place to work.
If you are looking for improved strength within your loft space, this can be achieved by laying your loft boards down in a staggered pattern. Ensure you avoid trapping any wires and consider access to the tops of light fittings as you lay the boards.
Step four: Insulation
When it comes to insulation, it is generally recommended that, in most houses, there should be 270mm of insulation on the loft floor. Due to this, it is likely that you'll see insulating material reaching above the level of the joists. It is best to remove the excess insulation material as opposed to squashing it beneath the loft boards, which will hinder its performance. Instead, attach the material to the roof.
Step five: Secure your space
Once you are happy with the layout and look of your loft boards, it is time to secure them into place. This can be achieved by screwing them into place onto the joists with 2 or 3 pilot holes along each board's edge.
Step six: Transformation
Once you have successfully boarded your loft, you can set your sights on the possibilities open to you with regards to transforming the space. From storage of precious items to even a new bedroom or man cave, the possibilities are endless.
Using your loft for storage: the benefits
There are countless benefits to using your loft for storage. Perhaps you are looking to declutter your home and want to make full use of your loft to make this happen.
Other benefits include:
Adding value to your home
Transforming your space
Saving on energy bills
If you are looking for inspiration on ways to use your loft space more effectively read our blog: Top tips for using your loft better for a host of thought-provoking ideas.
Enjoy safe loft storage today
If you are looking to safely board your loft and declutter this space, HIPPO's range of HIPPOBAGs, Skip Hire and Man & Van services will provide a convenient and cost-effective solution. From small items through to bulkier pieces of furniture, HIPPO's range of disposal options will cater for your disposal needs.