How to Dispose of Paint Responsibly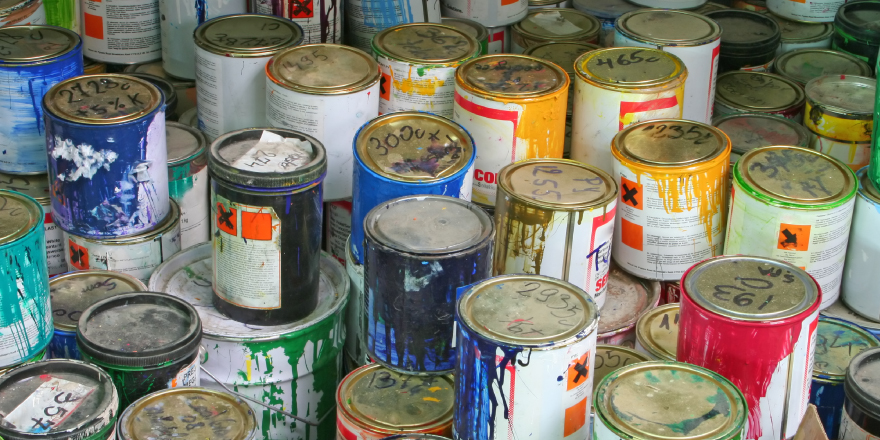 We all have them, tucked away in the garage or at the back of the shed – the half-used cans of paint that we'll never use again, but don't know what to do with. Even if you've kept that can of white gloss for touching up paintwork, the chances are you'll never get around to it and the paint is now past its best. So, what are you going to do with all those leftovers that have dried out, dried up or simply discoloured?
Take Unused Paint Back To The Shop
If you've changed your mind about a paint colour and you still have the receipt, you may be able to take it back for a refund or exchange it for something you will use. It's always worth checking with the shop on their policies to be sure as each place will differ.
Give Away Any Old Paint
The paint on your walls is manufactured to be safe to use, but if you simply pour old paint down the drain, you'll create a big environmental problem that results in damage and hard-to-shift blockages.
Instead, you could find someone who needs it. There always seems to be someone who's doing a DIY project, so why not check if any friends or family need some paint? You get rid of the cans and they get some free paint, it's a win-win for everyone.
Failing that, you could try giving it to a local charity project. Try advertising your paint on your local community recycling site or contact a group like Community RePaint, which matches half-used cans of paint with new owners.
If your paint is completely unusable, however, you're going to have to dispose of it.
Dispose of Excess Paint
Just as you can't pour paint away, you can't just stick old paint cans in the bin either. Like all liquid wastes, liquid paint is banned from landfill and therefore cannot be accepted by the council - you'll need to wait for the paint to harden before you can take this non-household waste to the local recycling centre.
To speed up the hardening process for larger amounts of paint, add some sawdust, soil or sand to the cans and leave them to solidify. For smaller amounts, pour the paint onto card or paper and leave it to dry before including it with your household waste.
Once the paint is hard, you can take it to your local household waste and recycling centre to be disposed of appropriately.
How To Dispose Of And Recycle Paint Tins
Only empty metal paint cans are widely accepted for recycling at most household waste recycling centres. Currently, plastic paint cans are not widely accepted for recycling, although your local recycling facility will likely still accept them and ensure they are disposed of responsibly.
How to Dispose of White Spirit After Painting
White spirit is categorised as hazardous waste and should not be disposed of by being poured down a drain or toilet.
To safely dispose of white spirit, you should check your local council's website to see where the nearest local drop-off point is for petroleum-based solvents.
Alternatively, there may be disposal or removal companies that can arrange to collect your leftover white spirit and can recycle it safely without damaging the environment.
How Do I Dispose of Spray Paint Cans?
If your spray paint aerosol can is empty, you can place it in the regular recycling bins for cans and tins. Around 60 per cent of aerosol cans are made from tinplated steel and 40 per cent made from aluminium, both of which are widely recyclable metals.
However, if the can is not empty at the time of disposal, it is classed as hazardous waste and must be separated from general household waste and recycling.
Ensure to empty your spray paint can before disposing of it in your general household recycling or at a local recycling centre.
Have a Clear-Out
As part of your paint project, if you find yourself left with lots of leftover items, there's never been a better time to invest in HIPPOBAGs. Choose the size that's convenient for you, fill it with your unwanted waste and arrange a collection for rubbish removal. It's fast, hassle-free and cost-effective, with a wide range of different HIPPOBAG sizes available. With HIPPO vehicles across the UK, waste disposal has never been so simple.
Need a HIPPOBAG for a few old paintbrushes and assorted bits of rubbish? Then a MIDIBAG will do the job. Flexible, cost-effective and convenient, HIPPOBAGs are the savvy way to deal with waste disposal after any DIY job, and they're perfect for those empty, ragged out and dry paint cans too.