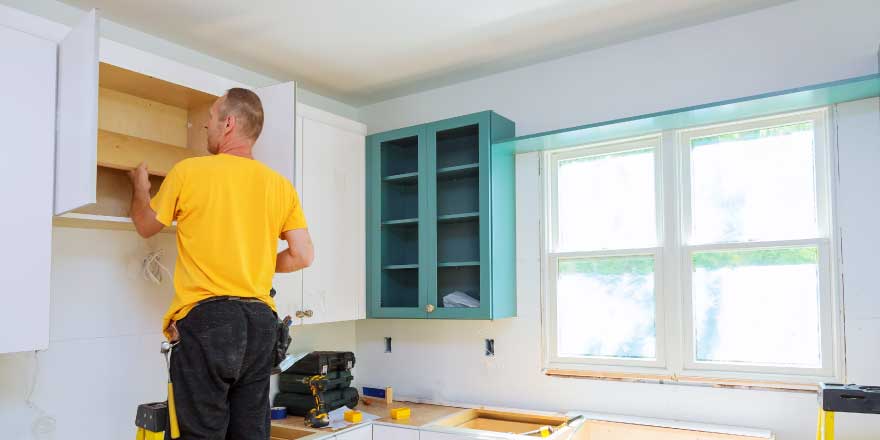 Whether you're looking for a sleek and contemporary look for a modern kitchen or upgrading your period home with something traditional, a new kitchen is an exciting and important venture.
Installing a new kitchen is not only a great opportunity to show off your own unique style, but also a chance to stamp your personality within one of the busiest rooms of the home.
Whether you want to save money or simply fancy trying your hand at some long overdue DIY, fitting your kitchen yourself can be a hugely rewarding challenge and can assist in refreshing your home and making it look like new.
Starting points: have a plan
Firstly, you need a detailed plan of what you want the finished result to look like. Sketching out a plan on some graph paper or getting creative and compiling a mood board can help you get an idea of how your space can be best utilised.
In terms of style, you may want to opt for contemporary-looking units, worktops and finishes if you have a modern living space. Alternatively, a period home could suit a more traditional looking kitchen.
From L-shaped kitchens to double line galley kitchens, the choice is yours and the possibilities are endless.
Safety
Safety should always come first and is of the upmost importance with this job. Fitting a kitchen can be particularly hazardous, due to the fact that there are electricity, water and potentially gas supplies to contend with (more on this below).
Ensure you invest in appropriate protective safety equipment, such as safety goggles.
Start by disconnecting water and electricity supplies and contact a professional, qualified plumber or electrician if required.
Gas
If you are changing gas appliances or moving their position, you must ensure this is carried out by a gas safe professional. It is a legal requirement that gas appliances should be disconnected and connected by a Gas Safe Registered engineer.
Tools
For speed, efficiency and, most importantly safety, it is crucial that you are armed with the right tools to complete the job.
The tools you are likely to require are:
Crow bar
Basin spanner
Bolster chisel
Drill & drill bits
Electrical screwdrivers
Hammer
Pliers
Saw
Spirit level
When fitting a kitchen, you are likely to require a range of power tools to complete tasks quicker and more easily. Whether you are using your own power tools or hiring them, it is crucial to check that they are in good working order. Ensure you check the power tools themselves and their leads. If they are damaged, avoid using them until they are either replaced or repaired professionally.
Residual Current Device (RCD)
Investing in an RCD (Residual Current Device) is imperative when it comes to using power tools in a kitchen or a bathroom space.
This safety device will automatically cut off the electrical supply to the power tool if the cable becomes accidentally damaged or the tool itself gets wet. An RCD acts as a safeguard against electrocution and is a vital piece of safety equipment to have ahead of fitting a kitchen.
Read manufacturer's instructions
All products are different, so even if you've fitted kitchen before, it is worth reading the manufacturer's installation instructions thoroughly to avoid unnecessary mistakes or time wasting.
Removing your kitchen
To begin, you will need to remove your old kitchen safely and efficiently, ensuring all utilities such as gas, water and electric are turned off first. Between appliances, worktops, sinks and cabinets, there are many different elements that will need removing. If the kitchen you are removing is still in good condition, take extra care when removing it as you may be able to sell it on or donate it. To find out more, check out our guide on how to remove your kitchen.
Measurements
Ensure you double-check all of your measurements before you purchase or fit any products. The correct dimensions will mean you won't run into any problems fitting your kitchen later on.
Use a spirit level to ensure you have a straight edge, and mark guidelines on the wall so you know exactly where the units will be.
Positioning base units
Starting in the corner, put together the base units in the correct position, adjusting the legs appropriately until it lines up with your guidelines. Make sure to check your units are all level with your spirit level before moving on.
Connect the units
Now you need to join the units together. You can do this by clamping them together to keep them secure as you use the appropriate tools and screws supplied. You may also need to fit corner posts for cabinets in the corner to avoid gaps.
Fix the units in place
Use the brackets provided to fix your units to the wall. Remember – always check for wires or pipes before drilling into your wall.
Repeat these steps to fit the wall units, using your spirit level before fitting the brackets for the units to attach to.
Flooring
Selecting the right type of flooring takes time and consideration and is a key decision when it comes to fitting a kitchen.
Take time to research your flooring options thoroughly and consider selecting floor tiles and a finish that complements the colours in your chosen worktops and desired kitchen accessories.
Door fronts
To complete your unit fitting, attach the door fronts as well as plinths or kickboards.
Worktops
Finally, it's time to add the worktop to complete your kitchen. Many worktops, such as stone and composite, need to be handled by professionals when it comes to measurements and cutting, however some laminate types you can cut and install yourself.
Dispose of your waste responsibly
Our largest bag - the HIPPOSKIP - is designed to carry an entire standard-sized kitchen including cupboards, worktops and fittings. Take a look at our HIPPOBAG product pages to find out more.