How to Lay Decking - A Step by Step Guide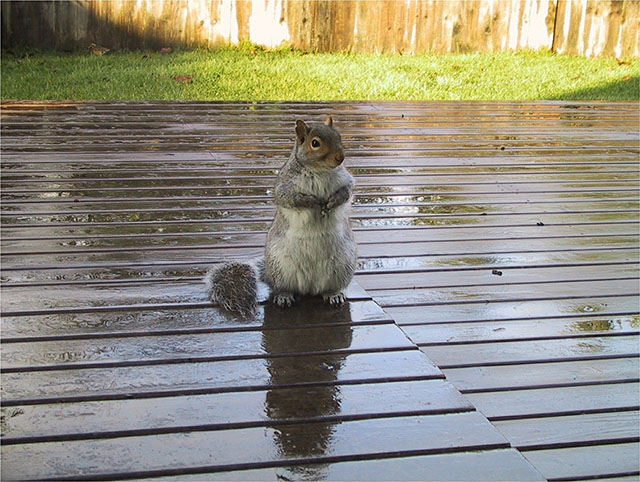 With the summer months just around the corner, you might be considering what changes you'd like to make to your garden. An increasingly popular choice is to install a new deck area for you to entertain guests on, or to relax on whilst catching some rays. Some DIY stockists have pre-prepared decking kits to make life easier and here are some essential tips and tricks to think about before you lay decking in your garden.
STEP 1: PLANNING, PLANNING, PLANNING
TOOLS AND EQUIPMENT YOU'LL NEED
Spirit level
Pegs and string
Hammer drill
Screwdrivers
Wood drill bits
Circular saw
Club hammer
Tape measure
Spade
Wood preserver and varnish brush
Safety equipment: Goggles and gloves
Planning is all important before you set out to ensure you avoid costly mistakes, and also to get a feel for how your decking will look. Make a rough sketch of your design, or lay pieces of wood out in the spot you're thinking of to see if the size suits the rest of the garden.
Once you've decided on the size, draw up a detailed scaled plan, and mark the outside house walls and any other obstacles such as trees, manhole covers, door openings and anything else that might throw a spanner in the works.
Make sure that the top of the decking alongside the house wall is at least 15cm below the damp proof course (DPC), so as to comply with building regulations. If you're unsure of where the DPC is, look down low for where the masonry wall meets the foundation.
Hints for design: Bear in mind that if the decking boards run parallel to the house, it emphasises the width of the deck, whilst if they are placed at right angles it draws the eye away to the garden beyond.
STEP 2: MEASURE UP
From your plan or marked area, measure the deck in square metres. When buying the decking boards it will show how many square metres each pack will cover. From this you can work out how many packs of boards you will need to buy. If you're unsure you can always take the plan to any DIY stockist and they can help you work out what you'll need.
STEP 3: PREPARE THE GROUND
Mark out the area with some pegs and string, and dig out any turf or vegetation. Then firm down the soil that's beneath. Lay some decking fabric over the area to prevent any weeds growing through, pegging the fabric down or using concrete slabs to weigh it down in place.
The framework you need for decking needs to be placed on to a firm concrete foundation. Whilst ideally you'd lay concrete across the area, it's often much easier to just use concrete slabs. Lay your slabs out in a grid pattern roughly 15cm apart, as these will be needed to support the joists that will hold the decking boards in place. Use a spirit level to make sure that the decking will slope away from the house ever so slightly, which is important for draining. As general rule; for every 10 metres of decking, drop it down 1cm.
STEP 4: BUILD THE FRAMEWORK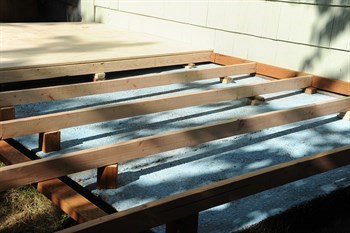 Build the outside framework of the decking using joists that measure 15cm high x 5cm wide, these rest on the concrete slabs. Fix it together using 100mm rustproof screws and external wood glue. Next, fill the frame with joists spaced at 400mm intervals at right angles to the frame and screw them in.
STEP 5: ATTACH THE DECKING BOARDS
Put down 4-6 boards down at a time, screwing the ends along the frame first, then work down the centre. Space the boards out by 5mm (or the width of a fixing screw) to ensure that the decking is ventilated and allows room for wood expansion in warm and wet weather. Pre-drill the screw holes to reduce the risk of splitting the wood.
STEP 6: FINISHES
Deck boards come with an added preservative that protects the wood, but the colour will eventually fade with time. Shop around to find treated paint to brighten the decking up every once in a while.
MAINTENANCE
Each spring, check the boards and fixtures and repair or replace any loose or splintered boards. You should also deep-clean once a year with a deck cleaning solution to remove any algae, moss or dirt.
A FEW MORE TIPS
Seek advice before any garden project if you're unsure and be safe when using any potentially dangerous equipment.
Don't be tempted to burn any offcuts of decking boards as due to the way they are treated, they contain preservatives and chemicals that will give off harmful toxins. Why not use a HIPPOBAG to conveniently and responsibly remove any waste created instead?
Once finished, enjoy your new deck; we hope you have fun hosting barbecues and get-togethers in the summer months! You deserve it.