How to Plan a Landscaping Project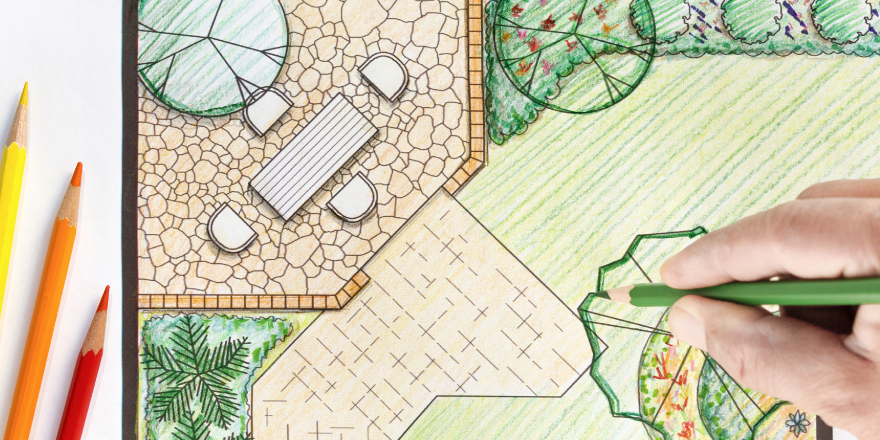 If you've shied away from your garden and your backyard is now looking more like a jungle than a calming space, it could be time for an overhaul. Now is as good a time as any to make the change because as we slowly move out of summer, the work can no longer impact your garden time.
Landscaping projects can sound like a daunting task, and whilst there are lots of things to consider, if you plan carefully, nothing will stop you.
Here's how you can cut the project down into manageable chunks.
Make a Note of Ideas
It sounds simple enough, but it's easy to disregard your original ideas and get swept up in the fun of organising something on this scale. It's also easy to have your judgement clouded by a project like this, so it's imperative that you make a note of every little thing you do and revisit it often.
It's always good to have a 'need to have' and a 'want to have' ideas board; that way, you have your essential changes covered and then, budget permitting, you can start elaborating on your plan.
Sketch It Out
Create an outline with a broad overview of the area you're landscaping illustrating the shape and size of your space. Include details such as the position of your house, lawn, fences, decking, etc., and anything else that may affect your plans – such as shade from nearby trees.
Use this as your base and add to it any elements you envisage the final look to have: new paving, a path, a pond – whatever it is you're looking to change.
Check Your Budget
Budget is another aspect that can quickly get out of hand. It's good to sit down before you start the project and map out what money is being spent where. Include tools, materials, clearing up, labour and a contingency plan.
Try to avoid putting all your spare money into your project budget because if something hikes the costs up, you'll be left with no money afterwards, or even worse, if something crops up in other areas of your life that you need money for, it'll all be tied up in a DIY project that you may start to become frustrated with if you can't access any money.
Tools
If you've not already got the tools to hand, you may have to fork a lot out up front. There are ways around this: either borrow tools from a friend or rent the ones that you need for a one-off project. This is a great way to keep the cost down.
Materials
Ideally, this would be scoped out in the planning stages so you knew exactly what materials you needed and quantity required. Thorough planning will save you money in the long run with a project of this nature.
Labour
If you don't want to take on a DIY task, you can hire help. As part of your planning stage, we recommend thoroughly researching the best workman for the job. Spend time going through every aspect of your project with them so you're both on the same page and less likely to stray from the initial idea, the timelines and, most importantly, the price.
Include tools, materials, clearing up, labour and a contingency plan.
Take Measurements
Whenever you take on a project of this scale, measure, measure and measure again.
The best thing you can do with any home renovation is get your measurements correct, as this will help with materials, labour, implementation of the work and therefore timings and costings.
Clear It Up
Make no mistake about it: there will be a clean-up to do after a landscaping project. You're likely to have leftover materials, garden waste and any other non-household waste that you've accumulated in the duration of your landscaping project.
Plan ahead and book in with HIPPO's trusted Man and Van service, Here to Clear, or order your HIPPOBAG and collection ahead of time.
Finally, don't forget to go with the flow if something goes wrong. You will come up against challenges, and your timeline may be affected by things out of your control, such as the British weather, but it will eventually get completed and you'll soon be hosting BBQs in your new, beautiful back garden.
For help and advice on your gardening projects, check out our blog.