A beginner's guide to recycling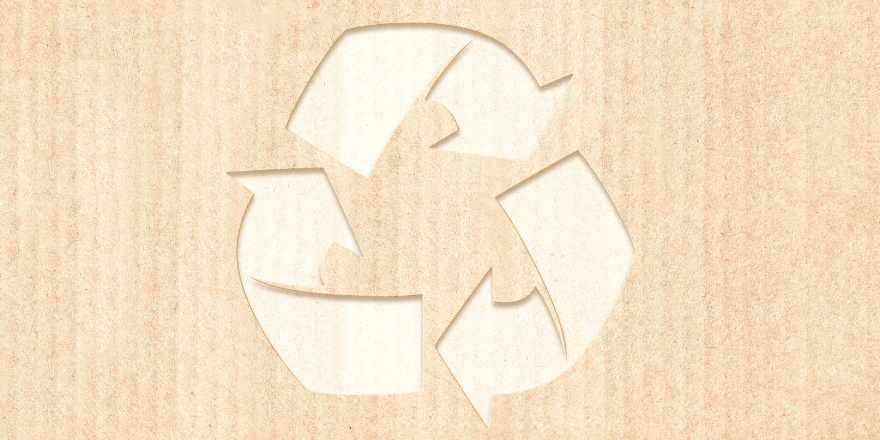 Recycling is an important way of helping to protect our planet by reducing landfill and lessening our ongoing consumption of natural resources and raw materials.
At HIPPO, we work with trusted, EA licensed and regularly audited Waste Transfer Stations to ensure that as much as possible of the waste we collect is recycled and we consistently report over 95% of waste collected through our HIPPOBAGs is diverted from landfill.
When you're getting rid of smaller amounts of rubbish from your home, "To recycle or not to recycle?" can often feel like a very complicated question! Indeed, more than half of our homes in the UK are putting at least one recyclable item in the general rubbish*, which dramatically increases the amount of waste we produce as a nation.
So, with this in mind, HIPPO has put together this beginner's guide to recycling in the UK.
What can you put in your recycling bins?
First and foremost, you can recycle a whole host of everyday materials in your kerbside collections, along with your general household waste bin, but this can vary between local councils so check the local rules for your area https://www.gov.uk/recycling-collections.  These items commonly include:
Glass bottles and jars – wine bottles, beer bottles, jam jars, sauce jars and so on


Milk and juice cartons


Paper and cardboard – junk mail, cereal or egg boxes, newspapers, telephone directories, catalogues and magazines


Metal and aerosols – food cans, drink cans, clean aluminium foil, empty hairspray and deodorant cans


Plastic bottles and containers – milk bottles, bathroom or laundry bottles, food-related pots, tubs and trays


Textiles – many local authorities will collect old fabrics and clothes but they can be recycled at supermarket textile banks too


Small electricals – depending on your local authority, small appliances can often be left for kerbside collection or taken to a local recycling centre if not
Tip: All recyclables need to be empty, clean, and dry in order to be recycled. Food residue left on packaging cannot be reliably processed and can put an entire recycling load at risk of being rejected. Equally, if you put items into the wrong recycling receptacle, then instead of being recycled the whole load may be burnt for energy but it could be sent to landfill.
Naturally, reducing our waste as a whole is an incredibly valuable way of helping our environment too. Choosing reusable shopping bags, water bottles or coffee cups; buying loose fruit and vegetables; or using refillable household cleaning products and going paperless where possible are all good ways to lower our dependence on recycling and reduce our waste overall.
What shouldn't be put in the recycling bins?
While there are many everyday products that you should be recycling, there are also some items that shouldn't end up in your recycling bin, including:
Shredded paper or paper towels
Expanded polystyrene foam
Batteries
Waxed cardboard boxes
Crisp packets
Envelopes (the glue can't be processed by certain waste centres)
Chemicals
Clothing
Plastic bags
Black plastics and soft plastics
Syringes and needles
CDs and DVDs
Ceramics and pottery
Nappies
Household glass
Glass from broken glasses, windows or mirrors (these can be dangerous for those that work in Recycling Centres so they should be wrapped and placed in the general household waste instead)
Tip: Soft plastics like plastic bags or bubble wrap get tangled in the sorting machinery at Recycling Centres, which causes delays and damage. To test whether a soft plastic item belongs in the recycling container or in your main household waste bin, a general rule of thumb is that, if you can push your finger through it, then it is too soft to be recycled in your kerbside collection receptacles. Some supermarkets have recycling bins for food plastic bags and many will collect used plastic shopping bags. However, it is also worth trying to reuse them on your shopping trips.
It's important that you dispose of the above items in the right way to avoid contaminating your recycling bin. Batteries need careful handling. If you haven't switched to rechargeable batteries already then make sure you dispose of old batteries through supermarket recycling collection bins or similar. What's more, there are many charities that offer a postal recycling service for mobile phones and printer cartridges so do check those out too.
While conscientious recycling is a good environmental solution, it is arguably better to consider first whether an item can be upcycled or reused. Clothes and old furniture, pottery or ceramics can be given a new lease of life with a little crafty updating or might be just what's needed in another household. Community Facebook sites are a free and easy way of passing on once-loved items that are still in good condition.
Garden and food waste bins
As well as cardboard, paper, plastics, metals and glass items, garden and food waste can be collected and transformed into nutrient-rich soil conditioner. This soil can then be used in a range of different applications, such as for agriculture or land reclamation and as an ingredient in some multipurpose composts you can buy at a garden centre.
Tip: If you're a keen gardener, you may want to keep this compost to yourself and embrace sustainable living further by investing in a compost bin. You can put flowers, leaves, grass clippings, vegetable peels and fruit waste into this bin and it will all rot down to create quality compost, which you can then place around your plants and flower beds to enrich and improve them.
Recycling DIY Waste
What about larger waste from a garden or home renovation project?
While off cuts from shrubs and small household items can be easily recycled through your kerbside collection services, larger construction waste or big amounts of soil are not so easy to get rid of sustainably. HIPPOBAGs are a great solution for much of this kind of waste but there are also other ways to dispose of unwanted construction or landscaping materials. Here are our top tips:
Recycling Bricks, Rubble and other Building Waste – In 2016, it was reported that construction, demolition and excavation was responsible for around three fifths (61%) of the 222.9 million tonnes of waste generated in the UK** but old bricks, tiles, ceramics and other undamaged building materials don't need to go to waste. For example, bricks can be reused to create raised pathing, a garden path or even an outdoor barbeque, while other broken materials can be crushed and sold or given away as hardcore for construction projects. Remember too that many building materials like glass, packaging, plastic and cardboard can be recycled. That said, if you have determined that your building waste cannot be sold or reused then it is best to source a reputable waste removal service, like the HIPPOBAG, to ensure it is ethically disposed of. See our guide to disposing of rubble and building waste.
Recycling Plasterboard – In 2009, the Environment Agency passed legislation that all gypsum-based materials, such as plasterboard, must not be landfilled but should be separated for recovery and recycling. From there, an individual or construction firm must ensure it is disposed of ethically. As an individual that means taking it to a tip or hiring a licensed waste removal company. HIPPOBAGs are one of the easiest solutions here. Provided the plasterboard is kept clean and segregated from other waste to avoid contamination, by being bagged or wrapped before being placed in the HIPPOBAG, HIPPO will collect your plasterboard and ensure it is disposed of according to Environment Agency standard. See our blog plasterboard recycling and removal.
Recycling Carpet – If you're getting a new carpet fitted then you'll need to get rid of the old one first. Often the carpet fitter will do this for you but, if the carpet is in good condition, you may be able to repurpose it for use elsewhere, such as for animal bedding, mats or outdoor use. If not, it can be taken to the tip but this can create a mess in your vehicle and it will depend on having a vehicle large enough in the first place. The alternative is to use your local council's bulky waste removal service, for which you will need to pay, or hire a skip. Or you can speak to HIPPO about our range of waste removal services. If a HIPPOBAG isn't quite right given the size of the carpet, then our Man & Van service will definitely do the trick. See our carpet disposal guide.
Recycling Paint - Liquid paint is considered hazardous waste and is dangerous for the environment as well as the health of people and animals. Ideally, find another project to use up the paint or give it to someone else who can use it. If those options aren't available to you, arrange for collection of the paint as hazardous waste unless you only have a small amount left over that you can dry out by adding an absorbent material, like sawdust, soil, or even cat litter. In this case, you can add it to your normal household waste bin.
Recycling Soil – often heavy, bulky and messy to dispose of, excess soil doesn't have to cause you a headache as it can be used to create a garden feature like a raised flower bed. Alternatively, you may find others doing landscaping or construction projects that could put it to good use. If you don't already know of people that might want the soil then it is worth advertising on eBay or Freecycle, for example. Failing that, you can take soil to the tip but be aware that there are often charges and volume restrictions in place for soil waste. Again, HIPPOBAGs are a very convenient solution in this instance. HIPPO has a team of experts who are well-versed in removing and disposing of soil in an ethical way. See our guide on how to get rid of soil.
Here at HIPPO, we provide a range of HIPPOBAGs, skip hire, and Man & Van services that have been designed to offer convenient, cost-effective and reliable options for waste disposal that works for you - no matter how much waste you have.
While our HIPPOBAGs are single use, they are 100% recyclable! To find out more about the journey of waste through HIPPO, visit our Waste Disposal & Recycling page.
For more help and advice on your project, check out our blog, and don't forget to order your HIPPOBAG to help with any clear up.
Alternatively, for more handy recycling tips and resources, check out the Recycle Now website where you can find out what you can recycle at home and locally, and what to do if you're not sure an item can be recycled.
Finally, if you need to find out more about your local council kerbside recycling collections then you can visit the government website here https://www.gov.uk/recycling-collections.
* recyclezone.org.uk  ** which.co.uk/reviews/recycling/article/how-to-recycle-in-the-uk
**The Department for Environment Food & Rural Affairs (DEFRA) reports in their March 2019 edition of UK Statistics on Waste