Interview with Terry Walton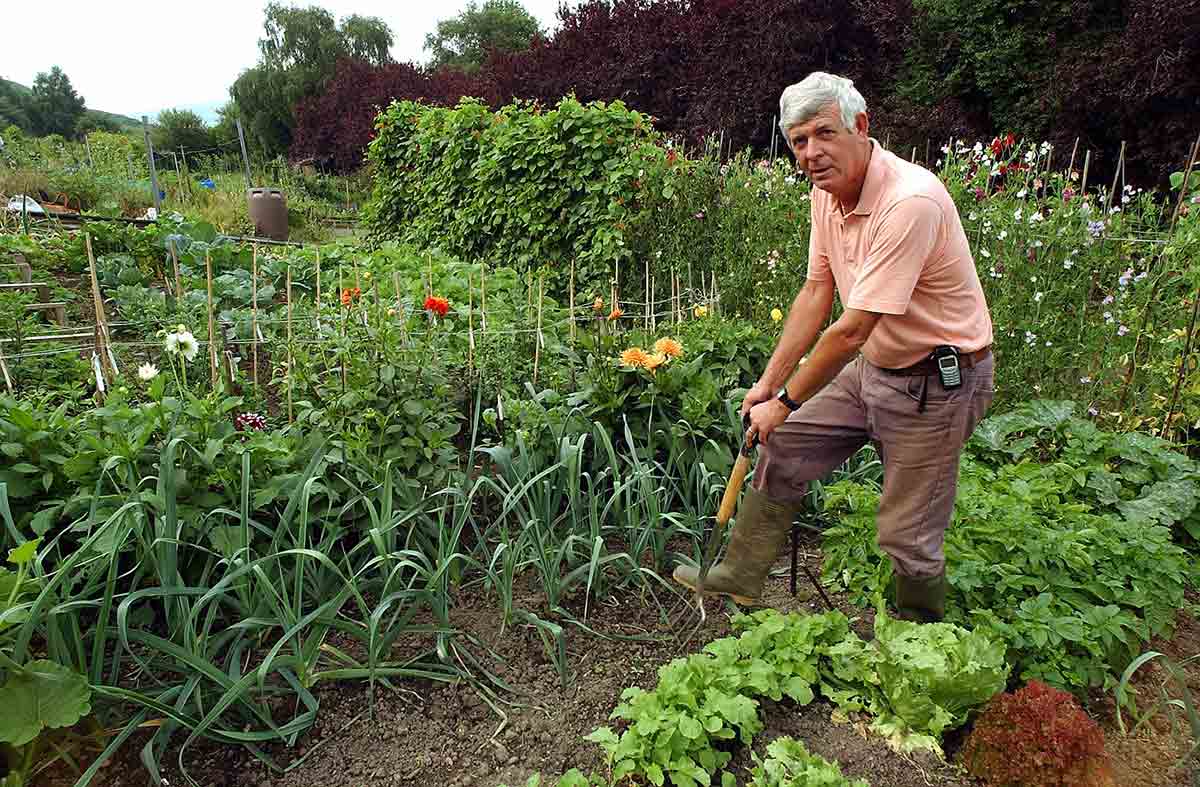 HIPPO are passionate about eco-friendly and environmentally conscious approaches to gardening, that's why we are supporting gardeners through our focus on finding Britain's Best Allotment. As part of our allotment tips series, we've been chatting to Radio 2's veteran allotmenteer Terry Walton about his 40 years of growing experience, including his top tips, advice and stories.
Down-to-earth Terry has been inspiring people with his gardening advice on the Jeremy Vine Show for over a decade, and has shared his expert knowledge with us on everything from getting and maintaining a successful allotment, to the thrills and health benefits of his passion. Here's what Terry had to say.
You've been on the allotment since you were four years old, what was it that interested you at such an early age?
It was the outdoor environment and the excitement of sowing small seeds and seeing those green shoots pop through the soil and grow into something you could eat.
What are the main challenges when going organic in gardening?
The main challenges are controlling pests and diseases. Once the soil has a good balance of microorganisms', your plants will grow strong and help resist some of these pests and diseases.  It is also important to be vigilant and nip any pest attack early and to spot disease before it takes hold.
What tips would you give to someone just starting out with their first allotment? Best plants to start with?
Enjoy it and don't make it hard work. Slow and steady is the secret to success.  Always look behind you and keep the weeds at bay before they take over and don't rush on planting and sowing. The best plants to start with are tall plants such as climbing beans, potatoes and members of the cabbage family. These will grow clear of weeds and thrive with minimum attention. Also remember to only grow what you like to eat!
How would you advise that people overcome the difficulties in finding an available allotment at the moment?
Seek out all the locations in your area by asking your local council where the sites are. It also helps to ask people in your local community if there are any allotments close by. Remember, many sites are hidden away from public view. If there are sufficient people interested in forming an allotment, create a group and petition your local authority.  
Do you think that there is a risk to allotments from city development projects?
There is always that risk where land is in prime sites for development. Councils need money and the pleasures of a few are often not taken into account.
For a long time you juggled a successful career with a vibrant gardening life. Did owning an allotment take some of the stress out of your work?
Absolutely! Being indoors all day with the pressures of telephones and people asking questions meant that it was great to get home, put on my gardening kit and get out there and become one with the plot and with nature.
What do you find the most challenging aspect to owning an allotment? Do many of your Radio 2 listeners face the same problems?
There is no challenging aspect of owning an allotment. It depends on your priorities in life and how you want to spend your leisure time.
What is the best way to avoid pests ruining your allotment?
Vigilance. Hit them hard before they take hold. Always make time to walk around and look at your growing plants to spot early signs of attack and deal with it promptly.
Do you have a favourite allotment memory/story you'd like to share with us?
As a six year old my father took me into the allotments and whilst on the way to his plot I saw some blackcurrants hanging on a bush near the path. I look around furtively and then grabbed a handful. I did not notice the plot holder behind some beans and he shouted at me. This meant that I leapt into the air and dropped all of the blackcurrants! He called my father over, who gave me a ticking off for taking produce from another plot without permission. I was banned from the allotments for two weeks and this hurt deeply as I loved playing on my father's plot.
So there you have it, with Terry's useful tips in mind, there is no reason why you can't rise to the challenge of growing delicious food on an allotment!
Want to find out some more great gardening techniques? Why not check out our guide to building a birdfeeder, or our money saving DIY tips? If you're eager to hear more of Terry's top tips, you can regularly catch the modest allotmenteer on Radio 2's Jeremy Vine show, where he shares his gardening advice and stories.
Could your allotment be the pride of Britain? Enter our competition to find Britain's Best Allotment, in association with The National Allotment Society and National Allotments Week and you could be in with a chance of winning £1,000 worth of prizes.

Read more at http://live.hippobag.sequence.co.uk/4638.aspx#Jb7b87ljmwoKBPFX.99