Plasterboard Recycling and Removal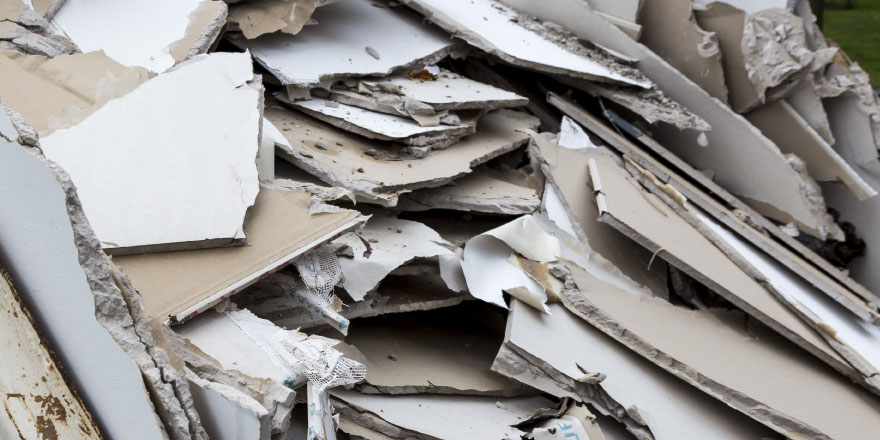 What does the legislation say about plasterboard disposal?
In 2009, the Environmental Agency passed legislation that gypsum based materials, such as plasterboard, must not be land-filled and that they should be separated for recovery and recycling. The legislation applies whether you are an individual or large scale business.
Plasterboard disposal for Domestic Householders
For individuals the legislation means you're required to separate and segregate plasterboard from other waste before heading to your local tip. Alternatively, use a licensed waste carrier like HIPPO (carry on reading to learn how HIPPOBAGs are the perfect solution for recycling plasterboard).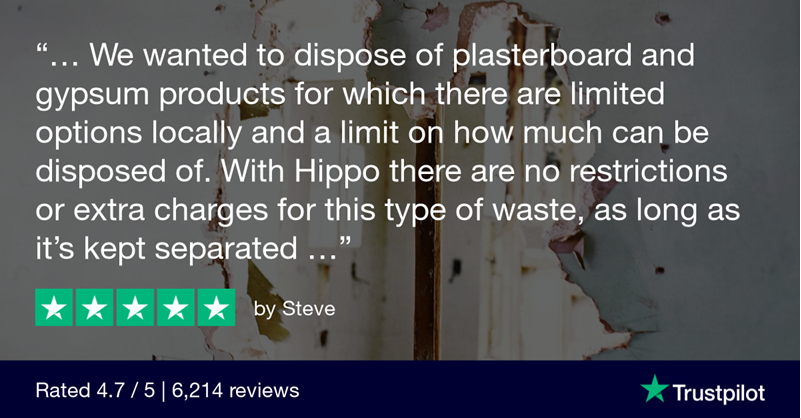 Most local household waste recycling centres (HWRCs) offer plasterboard disposal and recycling but may have restrictions and possibly even charges in place. Check out our useful Tip Charge Checker to see if charges apply in your area.
Plasterboard disposal for businesses
As a business producing large volumes of plasterboard waste, you have a duty of care to keep this waste stream segregated and dispose of it responsibly, or you'll potentially face fines from the Environment Agency.
Your options for disposal include finding a local plasterboard recycling centre or passing the waste on to a licensed waste carrier, permitted to collect plasterboard.
HIPPO's plasterboard recycling scheme offers quick and cost effective collection of gypsum. For no more than the cost of a HIPPOBAG full of mixed waste, you can be reassured that HIPPO's plasterboard recycling scheme provides you with an effective and efficient collection of gypsum.  If you are producing gypsum waste from commercial projects and have larger volumes, contact us to find out what discounts are available – based on 10 MIDIBAGs collected from a single location, this could be as little as £35* per bag.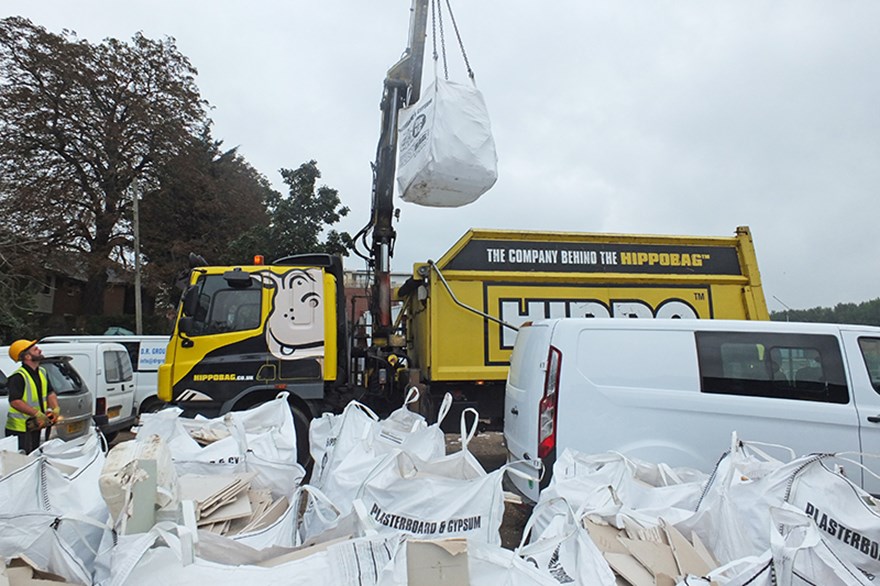 HIPPOBAGs for plasterboard RECYCLING
If you've ever wondered "can you put plasterboard in a HIPPOBAG?" you're not alone – it's a frequently asked question.
HIPPO can collect plasterboard for recycling as long as it is kept clean and segregated (bagged or wrapped) from other waste - this is important because when plasterboard/gypsum is mixed with other waste it degrades into powder that is difficult to separate back out in the waste recovery process. Bags containing plasterboard mixed with other waste cannot be collected.
We can collect the following gypsum-based products for recycling:
Plasterboard including gypsum fibreboard
Cove
Gypsum based ceiling tiles
Glasroc
Artex decorative plaster mouldings
Our service allows you to easily dispose of gypsum based materials/products safe in the knowledge that 100% of the recovered gypsum will be recycled whilst complying with Environment Agency regulations.
Responsible Rubbish Removal
HIPPO is a responsible business which conforms to the legislation and also actively pursues partnerships with waste recycling centres that share our commitment to recycling. You can learn more about our responsible and reliable waste disposal process here.
No matter how much household or garden waste you need to dispose of, our range of HIPPOBAGs, Skip Hire and Man & Van services means that there's always a convenient, cost-effective and reliable rubbish removal solution that works for you.
---
*£35 starting price refers to a MIDIBAG with a minimum of 10 MIDIBAGs collected with a 5 day SLA in our core regions. Prices may vary according to location.