Plasterboard Recycling and Removal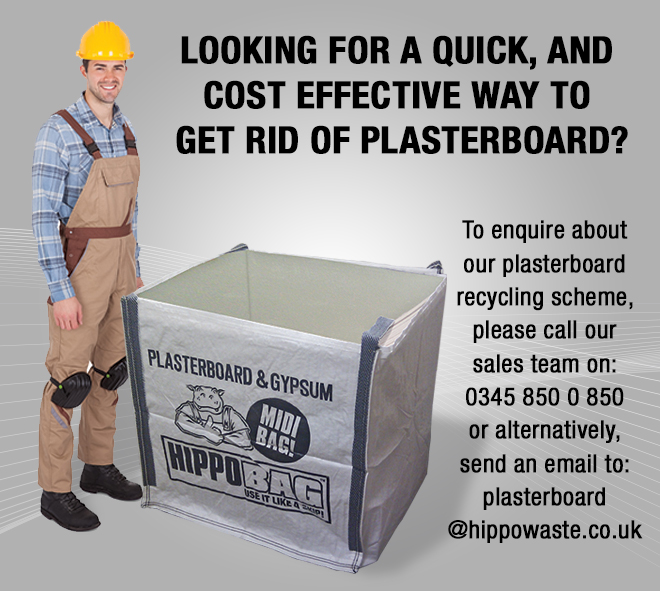 If you have plasterboard to dispose of, a HIPPOBAG is the perfect solution. We take any clean uncontaminated plasterboard, and with a range of trade discounts available, we will tailor the service to your specific requirements.
The plasterboard collection service from HIPPO offers all of the following and more, for as little as £35* per collection - including the bag! 
collection of any uncontaminated plasterboard
a clear price per bag with no tonnage surcharges
a comprehensive nationwide collection service from a single supplier
100% recycling of plasterboard, reducing your waste to landfill
bespoke solutions available for complex projects
and you're not tied to any brand or manufacturer take-back scheme

*£35 price refers to a MIDIBAG (1.3 cubic yard) with a minimum of 10 MIDIBAGs collected with a 5 day SLA in our core regions. Prices may vary according to location.
To enquire about the plasterboard recycling scheme call our sales team on 0345 850 0 850 or email plasterboard@hippowaste.co.uk 
Accepted

Not Accepted

Plasterboard including gypsum fibreboard

Cove

Gypsum based ceiling tiles

Glasroc

Artex decorative plaster mouldings

Jointing material

Render

Paper

Timber/wood

Metal

Packaging

Dri-wall adhesive

Mixed general waste

Bags containing plasterboard mixed with other waste cannot be collected. If you join our HIPPOTRADE scheme then you'll benefit from further discounts on the collection cost. 
Plasterboard disposal – what does the legislation say? In 2009, the Environmental Agency passed legislation that plasterboard must not be land-filled and that it should be separated for recovery and recycling as it is damaging to the environment.   Our service allows you to easily manage plasterboard waste, safe in the knowledge that 100% of the recovered plasterboard will be recycled whilst complying with Environment Agency regulations. To register your site for collections, call us on 0345 850 0 850 or email plasterboard@hippowaste.co.uk and we'll contact you to discuss your project in more detail. HIPPO standard 'Terms of Use' apply.