Show Your House in the Right Light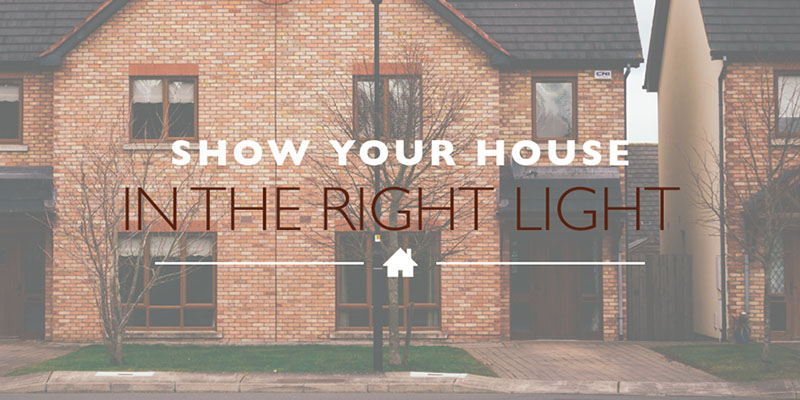 If you're looking to sell your property, it seems that despite an increase in house prices, you're now facing a new selling problem altogether – there are just too many other houses on the market. This means that it's no longer safe to just let your property sell itself, you're going to have to compete for the attention of buyers who may be looking at lots of other houses.
Winning the attention and affection of potential buyers' means you have to show off your house in the best possible light, as you're going to want to leave a lasting impression after the viewing. This doesn't have to be an expensive undertaking either, as a few simple tweaks here and there will have your property looking brand new and ready to be snapped up immediately. Read on to find how you can show your house in the right light.
TIDY UP OUTSIDE
The last thing you want is for potential buyers to be put off of your property before they've even set foot inside. This is why making sure it looks as good outside as is does inside will maximise interest. Tidy up any clutter or rubbish that might be lurking around, make sure the gutters are clear, and spend as much time as possible working on the garden.
Mend any broken fences, weed the lawn and beds, and if possible, repaint the front door and clean the windows. All of this is important, because something as simple as a few weeds here and there might just get an eagle-eyed buyer looking out for more potential imperfections elsewhere in the house.
CLEAR SOME SPACE INSIDE
Rearranging furniture indoors can create more space and bring more light in to the room. Space is a big selling point for a lot of people, so tapping into that is going to work in your favour. Look at have a declutter and clearing out unused items. Removing rubbish before moving house can also help you prepare for moving day when you eventually sell too.
If you have bulky furniture that is taking up too much room, you could always opt to have it put in storage for the duration of the selling period to help maximise space.
Another great trick is to place mirrors in the more cramped spaces in the house as well the main rooms such as bedrooms and living area. Mirrors are a fantastic means of opening up any room in the house, and creating the illusion of more space. Also, on viewing days be sure to keep all the curtains or blinds open fully in order to allow as much natural light in as possible, and tidy away any clutter.
DEPERSONALISE
Potential buyers want to look at your home and imagine their own lives fitting in to it. Therefore, it's a good idea to clear away children's toys and the piles of laundry, and try to keep the personal ornaments and family photos to a minimum. This may sound strange, but just imagine things from the buyers' point of view - they want to be able to walk in and immediately start imaging it as their own home.
You also need to begin defining each space in the house carefully, this helps potential buyers start to imagine how their day to day life would play out, should they decide your home is right for them. So avoid having desk, workspaces or gym equipment in rooms such as the bedroom or lounge, and consider the fact that an extra bedroom is favourable in a lot of cases.
This is another important point to consider – you may have to reshuffle rooms based on those due to have a viewing. A younger professional couple might be looking to use the spare room as an office, while a family might be looking to use it as another bedroom or nursery, you may want to adjust accordingly.
CLEAN THOROUGHLY
It goes without saying, but your entire house is going to need a thorough cleaning from top to bottom. You'll need to do this every room, but pay extra attention to the kitchen and the bathroom, and you should also do your best to completely eliminate any pet or smoke odours from the house.
You could hire an industrial cleaner in order to save having to replace the curtains or carpets, and similarly, you can brighten up the walls with a fresh coat of paint so that the rooms seem a little less worn. You should paint the walls with a neutral colour, as many people will want to immediately redecorate to their own personal preference anyway - so avoid any loud statements when you're decorating. You could always still bring in some brightly coloured cushions or pictures in order to cheer rooms up and make them more appealing.
KEEP COSTS LOW
It's recommended that when you are intending to sell your house, you should keep expenditures down to around 1 per cent of the eventual asking price, this means thinking carefully before you take on any renovations that are going to cost too much. Rooms such as the bathroom and the kitchen are considered to be the most important when enticing buyers, but this doesn't mean you have to rip the old ones out and replace them.
Save money by just replacing key features such as door and drawer knobs, rails and handles, and re grout the bathroom tiles, as these little touches will breathe new life into any room without it costing a fortune.
AND FINALLY…
Do your research when it comes to setting the price of your home. Have it evaluated by two or three different accredited estate agents, and also take a look at the price of similar properties in your area that have been sold recently.
Browse the HIPPO blog section for further tips on everything from DIY and home maintenance, to gardening and redecorating, and HIPPO wishes you the best of luck when selling your home.