A Skip Hire Guide: Everything From Size and Price to Permits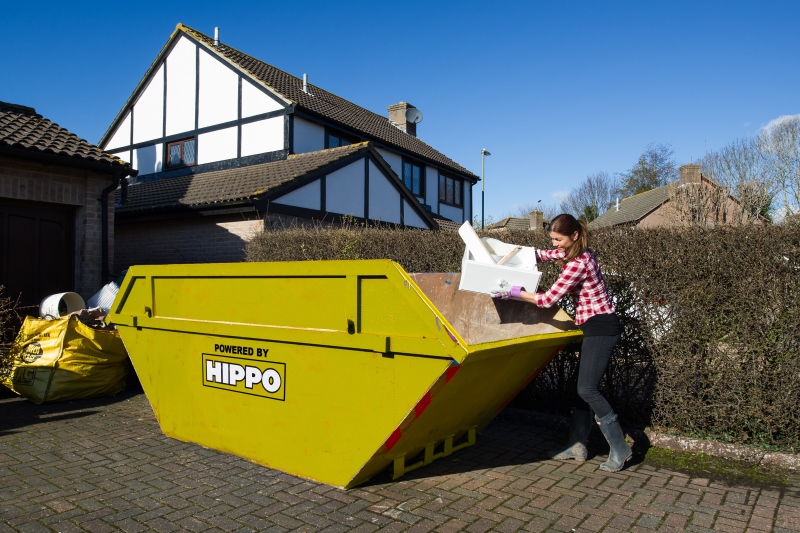 If you've never hired a skip before it may seem like a daunting prospect. We've put together this handy skip hire guide to answer any questions you may have, including what you can put in your skip, what size skip you might need, where you can leave the skip, and perhaps most importantly, how much skip hire costs.

Waste types - what can you put in a skip?
Things you CAN put in a skip
Skips can be used to dispose of most ordinary household, garden, DIY and builders' waste that isn't deemed harmful or hazardous.
Some examples of popular items that you CAN put in a hired Skip include:
• Wood ✔️
• Soil ✔️
• Rubble ✔️
• Polystyrene ✔️
• Plastic ✔️
• Metal ✔️
• Gas cookers ✔️
• Garden waste (leaves, clippings, etc.) ✔️
• Furniture ✔️
• Food and food packaging ✔️
• Fittings (non-electrical) ✔️
• Empty tins ✔️
• Domestic waste ✔️
• Cardboard ✔️
• Bricks ✔️
Things you CAN'T put in a skip
Anything deemed hazardous, harmful or specialist wastes like contaminated plasterboard (or gypsum material) asbestos, batteries, electrical goods, liquids, chemicals, or food waste cannot be put in a skip.

These include:
• Asbestos
• Compressed-gas cylinders
• Computer towers or monitors
• Electrical items
• Explosives
• Fluorescent tubes
• Fridges
• Household batteries
• Medical waste of any kind
• Microwaves
• Oils (hydraulic oil, engine oil, cooking oil)
• Other chemicals (e.g. bleach, detergents, processing fluids)
• Paint tins (unless completely empty)
• Plasterboard*
• Solvents (e.g. paint, glue)
• Toasters
• Televisions
• Telephones
• Tyres
• Vehicle and or large batteries
*We can accept uncontaminated plasterboard for recycling if it's kept clean and segregated from other waste.
Items that have waste surcharges
Some items such as mattresses, tyres and fridge/freezers can be disposed of for a surcharge, but you will need to inform us / the skip hire company before you book collection as the skip driver could refuse to collect the skip should you not tell them about these items in advance.
Skip size – what size skip should you hire?
This ultimately comes down to how much waste you have to dispose of and the space you have available to place the skip. At HIPPO, we have a range of sizes to choose from and to suit your needs. Available in six, eight or twelve cubic yards, you can rest assured that we've got the right skip size for you.
Larger skips often provide better value as long as you have the waste to fill them.
If you have less than 6 yards of heavy waste to remove or you don't have room for a skip, it may be worth considering MIDIBAGs or MEGABAGs from HIPPO for the removal of your DIY, Garden or household rubbish as they can also be level filled with heavy and dense materials such soil, rubble and bricks.
6-yard small builders skip
A 6-yard skip holds roughly the equivalent of 50-60 wheelbarrows of rubbish, or about 10 trips to the local tip! Perfect for waste such as aggregates, stones, soil, furniture such as wardrobes or if you're renovating a room in your home, including kitchen and bathroom suites.
Ideal for:
• Heavy builder's waste such as hardcore and soil
• Disposing of rubbish from house clearances
• Large kitchen or bathroom rip-outs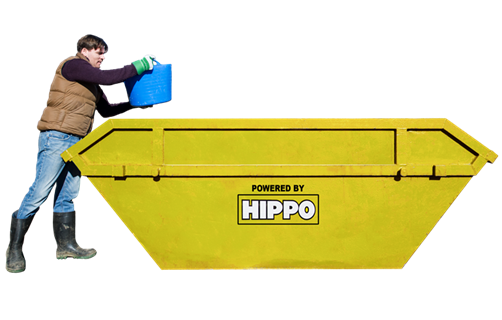 8-yard large builders skip
An 8-yard skip holds roughly the equivalent of 70-80 wheelbarrows of rubbish or 96 black bin bags! These medium-sized skips are most commonly used by tradesmen, as this size is best for larger domestic projects: ideal if you're looking to hire a skip for heavy DIY or garden-waste.

Ideal for:
• Clearing up larger domestic projects
• Bulky, awkward and heavy DIY or garden waste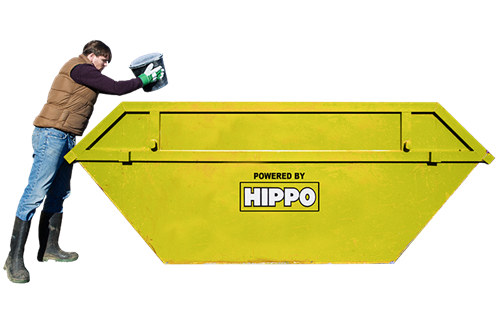 12-yard maxi skip
Our largest skip available for hire is the 12 yard skip. The height of an average male (5' 8"), it holds a massive 12 cubic yards of waste, the equivalent of 100-110 wheelbarrows of rubbish or 144 black bags. Please note this skip is for light waste only and cannot be filled completely with hardcore or soil.

Ideal for:
• Large scale renovation or construction projects
• Large quantities of bulky domestic waste

With a skip of this size, you'll need to consider whether the amount of space you have outside your home will accommodate it.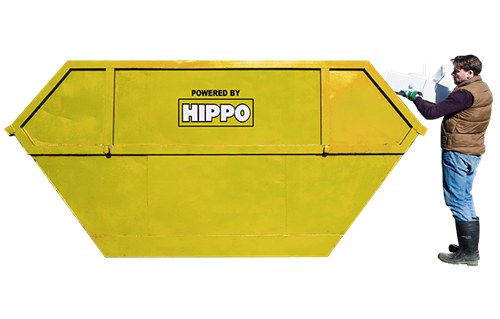 Skip hire cost – how much should I expect to pay for skip hire?
Skip hire prices vary drastically across the UK depending on your location, the size of the skip you need (how much waste you have), how long you need to hire the skip for (the norm is 1-2 weeks), the type of waste you're disposing of and whether you need permits to place the skip on public land and/or in a controlled parking zone (CPZ).

The following table shows price ranges and average prices for hiring skips in the UK from HIPPO Skip Hire:
| | |
| --- | --- |
| Skip size | Average cost |
| 6 Yard Skip | £255 |
| 8 Yard Skip | £279 |
| 12 Yard Skip | £369 |

Skip hire tends to be cheaper in the north, and more expensive in the south (especially around London). To get an instant quote for skip hire in your area, simply click here to use our quick and easy postcode look up tool – it only takes a few seconds!
Skip Permits - what is a skip permit or skip license?
Do I need a Skip Permit?
If you plan on keeping your skip on a public road a skip permit is required. If you're keeping your skip on your drive or private property, you will not need a permit.
How much does a Skip Permit Cost?
Like the cost of hiring a skip, the price of skip permits also vary depending on your location and how long you require the skip on the road.
The average price of a 7 day permit is around £30, a 14 day permit £39 and a 21 day permit £58.
How do I get a Skip Permit? / Who issues Skip Permits?
In most areas, skip hire companies are responsible for obtaining skip licences from the local council. When you hire a skip from HIPPO, you're able to purchase the skip permit at the point of purchase and HIPPO will liaise with your local council to obtain it.
Arranging permits can take 3-7 working days and we will let you know as soon as it is granted and confirm the skip delivery date by email or telephone.
Some councils require you to apply directly for your permit - for more info about skip permits in your area you can visit the gov.uk skip hire permit page.
Controlled Parking Zone (CPZ) fees – what is a CPZ suspension fee?
In addition to a skip permit, if you intend to place your skip in a controlled parking zone (CPZ) you will also require a parking suspension. The cost of this varies street to street and ranges from £0 (being included with the skip permit) up to £90 per day in some locations. Check with your local council to find out more.
Labour – can you help load the skip?
Skip hire services include the delivery of the skip, rental for the hire period, collection of the skip and responsible disposal/recycling of the waste. Labour is not included or an option.
If all that heavy lifting isn't for you then HIPPO's Man and Van service, Here to Clear, may be what you need where labour is included with fully trained, fully licensed two man teams.
Skip Collection date – when is the skip collected?
You can select your skips collection date when you make your initial skip hire booking, or request this when you have a better idea of when you'll need it collected. If you plan to request collection at a later date, it's worth bearing in mind that most skip companies generally require a couple of days' notice.
For skips with a local authority permit, the skip will be collected on the day your permit runs out unless you have arranged for an earlier collection. If you would like to extend your permit call our customer services team on 0333 999 0 999.
Access requirements for the skip lorry
The average skip vehicle requires 2.75M (9ft) wide access on the road to deliver and collect your skip. Ensuring there's suitable access for the skip vehicle is the key to hassle free skip hire. It's also important to consider if there are any cables or low hanging trees over the area which could restrict access.

Skip Hire Level Loads – how high can I load a skip?
Fill your skip in a way that your rubbish does not rise above the walls. This is especially important if you have lots of heavy waste to get rid of like bricks and rubble. If it is filled above this level, the skip driver may refuse collection as there is a risk of it not being able to be transported safely – and this is illegal.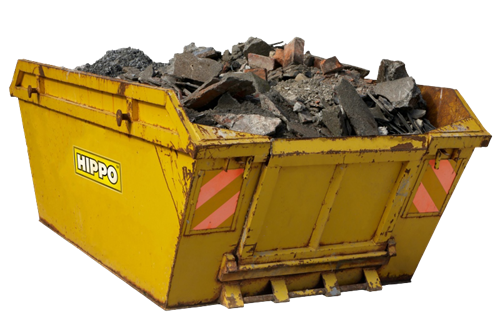 Duration of hire – how long can I hire a skip for?
The typical skip-hire period is between 1-14 days and limited by the skip hire permit provided by your local authority.
Why hire a skip if you can get a HIPPOBAG instead?
Our HIPPOBAG collection service is a quick, cost-effective and convenient rubbish removal solution for your home and garden waste - rated 'excellent' on Trustpilot.
Used by thousands, HIPPOBAGs come in 3 large sizes taking everything from cupboards to concrete. From unwanted kitchens and bathrooms to garden waste, soil, rubble and bricks, our HIPPOBAGs take it all.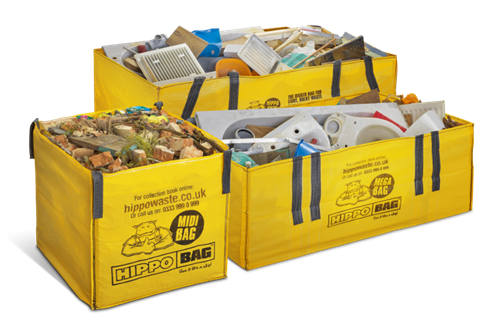 You'll be amazed what fits in!
Positioning & Collection
Put our various Skip Bags in places you could never get a traditional skip. Fill it in your own time, book online 24/7 and we'll even pick it up when you are out. We will be gone in minutes with no disruption.
No Rush!
Take your time! HIPPOBAGs are far more flexible than skips. You have six months to book your collection so don't worry if a job gets delayed or you just want to take your time. We'll be there when you need us.