A Skip Hire Guide: Everything You Need to Know about Hiring a Skip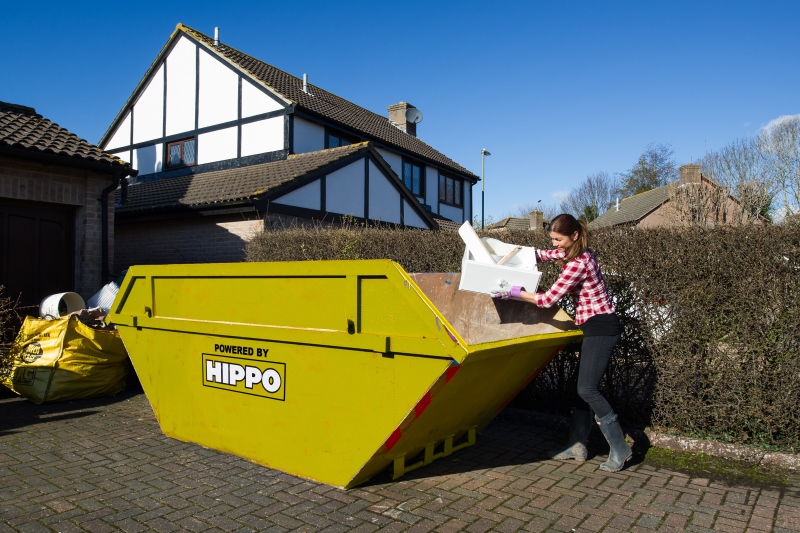 If you've never hired a skip before it may seem like a daunting prospect. We've put together this handy skip hire guide to answer any questions you may have, including what size you might need, where you can leave the skip, who collects it and, perhaps most importantly, how much skip hire costs.
WHAT SKIP SIZE DO I NEED?
This would depend on what you're trying to get rid of. At HIPPO, we have a range of sizes to choose from and to suit your needs. Available in six, eight or 12 cubic yards, you can rest assured that we've got the right skip size for you.
In this skip hire guide, you'll discover what size skip you'll need depending on the size of your project and the amount of waste you've got.
SMALL SKIPS
If you're renovating a room in your home, including kitchen and bathroom suites, a small skip will be ideal. The smallest skip for hire comes in at six cubic feet and is perfect for waste such as aggregates, stones, soil or furniture, such as wardrobes.
By hiring a skip of this size, you'll save yourself multiple trips to the tip, not to mention the individual charges with tips – an important factor that's regularly overlooked when throwing away domestic rubbish.
MEDIUM SKIPS
Medium-sized skips are most commonly used by tradesmen, as this size is best for larger domestic projects: ideal if you're looking to hire a skip for heavy DIY or garden-waste projects.
LARGE SKIPS
For the serious project-goer, a larger skip is your best option. This particular skip would be perfect for those doing a large-scale renovation or construction project, or for large, bulky items.
With a skip of this size, you'll need to consider whether the amount of space you have outside your home will accommodate it.
For more information on the measurements of the skips we offer, visit our skip hire section.
HOW MUCH DOES HIRING A SKIP COST?
The cost of hiring a skip is size-dependent. Whilst we can explore different price points in this guide, skip hire prices, as expected, increase with size. In addition to the skip hire itself, you also need to consider the cost of a permit, should one be required. We include these prices in your order review and enable you to get started in obtaining one – though you'll need to ensure that this is set up and in place before your skip arrives, and that there is access for a nine-foot lorry to come and collect the skip when you're done.
If you're looking for the cost of hiring a skip in your area, we've got a helpful and easy-to-use, skip-hire tool, that identifies the cost for you. Simply type in your postcode and we'll show you the price of each available size.
WHAT ITEMS CAN'T I PUT IN A HIRED SKIP?
Skip hire can be a confusing world in terms of knowing what items can and can't go in. Whilst they're excellent for getting rid of most things, there are limitations around certain materials.
This guide explains the different items that can't be put in a skip:
Hazardous or harmful items
Asbestos
Compressed-gas cylinders
Computer towers or monitors
Electrical items
Explosives
Fluorescent tubes
Fridges
Household batteries
Medical waste of any kind
Microwaves
Oils (hydraulic oil, engine oil, cooking oil)
Other chemicals (e.g. bleach, detergents, processing fluids)
Paint tins (unless completely empty)
Plasterboard
Solvents (e.g. paint, glue)
Toasters
Televisions
Telephones
Tyres
Vehicle batteries
WHERE CAN I STORE MY SKIP?
When hiring a skip, you need to consider where the skip will sit for the time you're hiring it. If it's on your property (for example your driveway) you won't need a permit. However, if you are placing a skip on public property, such as the pavement or road, you will need a permit from your local authority. This is generally not included in the price for general skip hire, though HIPPO can organise the permit for you and add the cost to your end bill.
HIPPOBAGS
If you've got some domestic waste to get rid of but you think you may not need a skip, we provide a convenient and cost-effective alternative to skip hire. Our exclusive HIPPOBAGs are available in three sizes and prices. From the MIDIBAG at £112.99 to the MEGABAG at £144.99 and the HIPPOSKIP at £209.99, you'll be able to clear your home of waste quickly and efficiently.
For additional information to our skip hire guide, visit: http://www.hippowaste.co.uk/skip-hire/