Spring cleaning your home during lockdown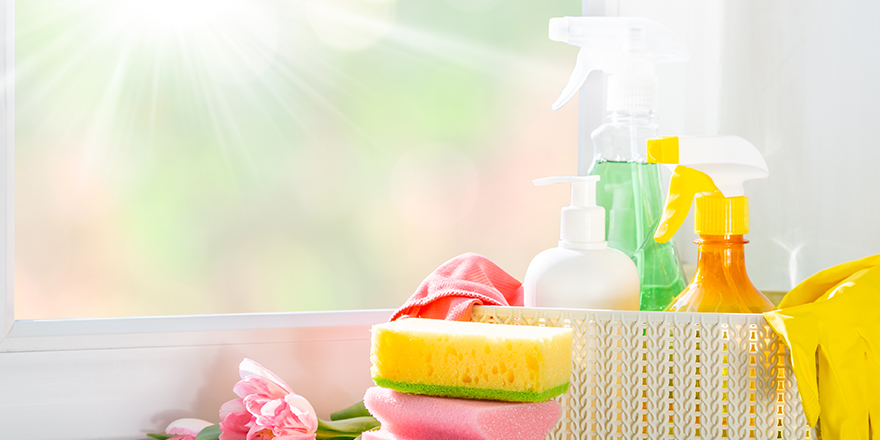 As Covid-19 continues to grip the nation, many of us are spending more time at home than ever before.
Why not take the opportunity to spruce up your home and give it a spring clean? You could even get the family involved to share the workload and keep everyone busy.
If you're looking to give your home some TLC during this time, you've certainly landed in the right place. Here are our tip tips for spring cleaning your home during lockdown.
Tackle each room individually
Cleaning your entire house all at once can feel like an overwhelming task. Instead, clean room by room, focusing on giving the spaces that you spend the most time in a thorough deep clean first. Then move on to the areas of your home that tend to get neglected.
Organise and clean your kitchen cupboards
Cleaning out the kitchen cupboards is a job that the majority of us put off time and time again, so now is the perfect time to tackle it. Taking each cupboard in turn, clear everything out and sort through, getting rid of anything that's out of date. Wash your kitchen cupboards with soapy water, inside and out before re-stacking and re-organising them to ensure they stay neat and tidy.
Deep clean the oven
This is another job that many people usually avoid at all costs! However, if you don't clean your oven frequently, it can quickly become clogged with grease. So, grab your rubber gloves and give the inside of the oven a deep clean.
Wash out the bins
Although it's definitely not the most pleasant of jobs, disinfecting all of your household bins will help to prevent the spread of germs. Don't forget smaller bins such as those in the bathroom or bedrooms. 
Tackle the bathroom
From removing limescale from your taps and shower head through to cleaning the loo and washing your shower curtain, giving your bathroom a thorough, deep clean will make it feel brand new again.
Vacuum your sofa
Dust and dirt can easily collect on your sofa, so it's important to vacuum it regularly.
Declutter
Now is the perfect time to declutter your home and get rid of all those items that you no longer wear or use. Work through your cupboards and think about when you last used something and if you're likely to use it again. Then create a pile for selling, a pile for donating, and a pile for the bin.
Improve your garden
As well as cleaning the inside of your home, it's also a great time to put those green fingers to good use and get your garden summer ready.
From mowing the lawn and tidying up overgrown hedges, through to painting the fence and tackling the dreaded weeding, spending some time in the garden will not only help you create a relaxing outdoor space, it can also boost your mood.
Tackle your spring clean with HIPPO
If you're giving your home or garden an overhaul, HIPPO can take the stress out of getting rid of your waste.  Simply choose one of our waste removal options - the incredible, flexible HIPPOBAGs, the ease of our man and van service or one of our traditional skips.
As well as saving you the time and effort of multiple trips to the tip - we'll dispose of your waste safely and legally, typically diverting over 95% of the waste we collect from landfill. Click here to find out more about our services.