Top tips to declutter your home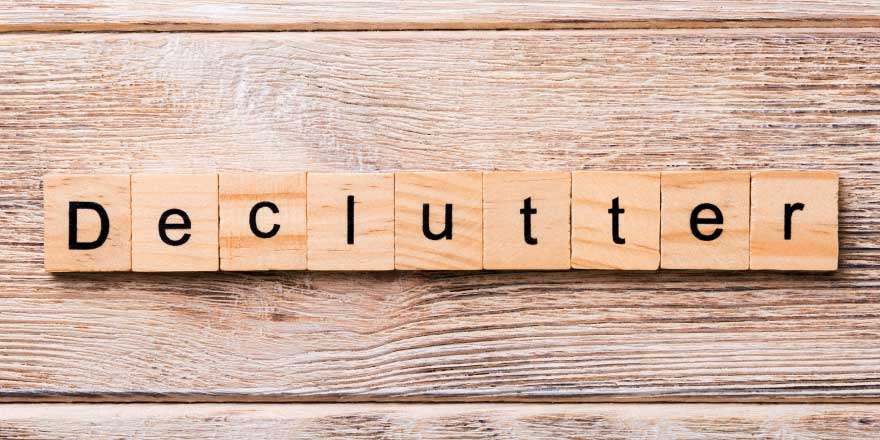 Facing a clutter-filled home on a regular basis can become overwhelming and unpleasant. It can look unsightly and leave you feeling that there's no way to tackle a home which is increasingly bursting at the seams.
Whilst we would all love to upgrade our households with that long-overdue extension we've been dreaming of, it isn't always financially feasible.
Perhaps you've become inspired by Netflix's 'Tidying up with Marie Kondo', or with warmer weather in our sights are taking the chance to get down to some serious home improvements.
We've put together some top tips to help you declutter specific rooms throughout your home and have you (and your space) feeling tip top.
---
Declutter your: Bathroom
Towel Recess
The bathroom can be a particularly difficult room to declutter, as it's often the smallest in the home. However, if you have an unoccupied corner or an odd recess in your bathroom, it could give you the perfect opportunity to invest in a towel recess and reap the space-saving rewards.
A towel recess is a perfect addition to any bathroom space and can be quickly and simply installed using either flat pack or MDF shelving. MDF can be built flush with the walls, skimmed and painted to look built in. If you don't have a recess, think about using the space around the sink base, or adding long shelving above the sink. This saves space in the airing cupboard and competition for the towel rail, particularly in larger families.
High shelves
Bathroom essentials like toothpaste and toiletries need to be kept handy but there's rarely any space to store them. This is where high shelves really come into play, providing a perfect solution to declutter full bathrooms. A high shelf built above the door will allow you to store your bathroom essentials without them being in the way or visible to guests.
You can use flat pack, some spare timber or MDF. For high ceilings, build cornice shelving around the top of the entire room to blend it in to the room. A more discrete way to keep plenty of spares without cluttering up much-needed space.
---
Declutter your: Kid's room
The children's room, a haven for fun, and often mess. Playtime and unwanted clutter go hand in hand when it comes to children's rooms, so we've compiled some handy storage tips to help declutter your little ones' play havens.
Headboard cubby holes
Using MDF, build a frame attached to the wall where you usually have the head of your bed. Make the front solid, skim with plaster and paint, to make a fake wall. Now make cubby holes inside the frame, running the length, and accessible from the sides. When finished, either attach your headboard to the fake wall front, or push the bed up to it. This makes the best hidden storage for small peoples' shoes and favourite toys.
Peg-sorting
Put some pegs on the wall and buy some drawstring bags. This is a perfect way to store small toys like Lego, car collections and felt tip pens, and is a great way to declutter you're the children's space.
---
Declutter your: Kitchen
The kitchen has more gadgets than anywhere else and rarely enough space. It is also a difficult room to declutter because it has to function properly - these are our top ways to help.
Appliance cupboard
Get appliances out of the way by adapting a unit. Clear out a cupboard and shelve it to make a tidy home for the microwave and toaster. Measure well and leave enough space around the appliances, making sure to add runners so the shelves can slide in and out when you need access.
In-unit carousels
Fit carousels or mesh storage baskets to declutter inside units or to make poorly-shelved units more user-friendly. You can pick them up from most DIY shops; cheap, easy to fit and generally less mess too.
---
Declutter your: Living room
Window Seat
If you're fortunate enough to have a bay window, try adding a window seat for added storage and to help declutter your living room.
To make one, box across the window space. Skim with plaster and paint the same colour as your wall. Build a baton around the inside of the base so the seat lid can rest on it safely. Build your seat lid out of MDF. Get foam seat pads and cover the lid using material and a staple gun. Lift off the seat and use the inside for storage.
Hanging storage
Hang a few baskets on the wall for collections or buy a dedicated display, like a wall-hanging mount for guitars or game consoles, that way you're making a feature out of something that used to be a storage pain.
Feeling inspired to declutter your living room? Read our space-saving blog for tips to help you get the most out of your living room.
---
Space-saving furniture
When it comes to decluttering your home, space-saving furniture comes in hugely useful. Items that double up as clever storage spaces do a fantastic job of reducing clutter and creating space.
From slimline appliances to handy storage inspiration, our space saving furniture ideas blog has a host of must-know tips and advice to help you utilise your space and reduce clutter.
---
Enjoy a decluttered home today
Declutter your home today and dispose of your unwanted items with help from HIPPO. No matter how much rubbish you need to dispose of after clearing out your home - HIPPO's range of HIPPOBAGs, Skip Hire and Man & Van services means that there's always a convenient, cost-effective and reliable option for disposal that works for you.
Find out more about HIPPO's range of disposal options and check out our blog for more advice to help with your household projects.