Book your trade waste collections direct with Travis Perkins
The No.1 skip bag company: providing contact free collections

Nationwide waste removal with our unique vehicle fleet
We provide reliable and responsible disposal of your waste every single time

4.8 out of 5
Based on 10,500+ Trustpilot reviews

We recycle
over 95% of rubbish collected - don't forget that our bags are always fully recycled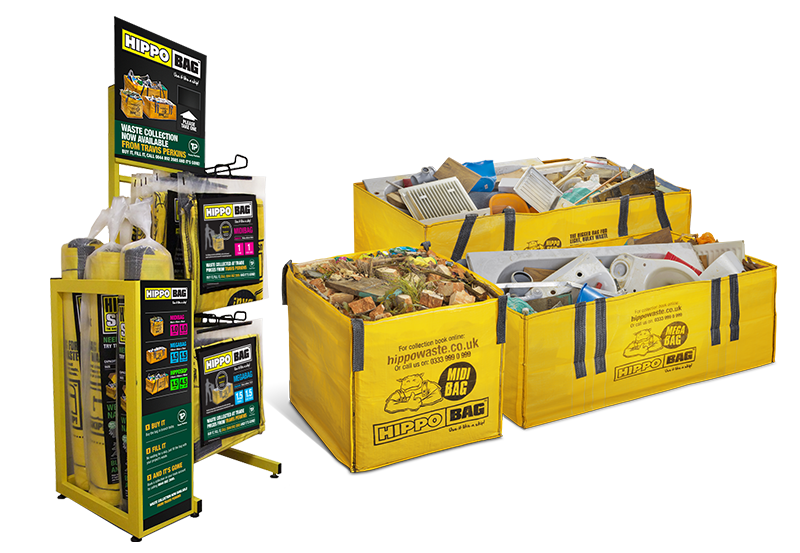 Waste collection now available from Travis Perkins
HIPPOBAGs are the simplest way to dispose of your waste and can be purchased directly on your Travis Perkins account at trade prices!
BUY IT - Don't pay for space you don't need. Just choose the right bag for the job and buy it today
FILL IT - No waiting around - just keep it in your vehicle and use it whenever you're ready
AND IT'S GONE - We collect nationwide, just call 0344 892 2685 to book and make your payment
We'll take it away when you're out – unless you want to take the day off to watch!
Our 5-star HIPPOBAG collection service is a quick, cost-effective and convenient rubbish removal solution for your home and garden waste. Simply select one of our strong, sturdy (and very yellow) HIPPOBAGs from our three available sizes, fill it with rubbish, give us a call and we'll take it off your hands.