Britain's Best Allotment: Our Top 12- Part 2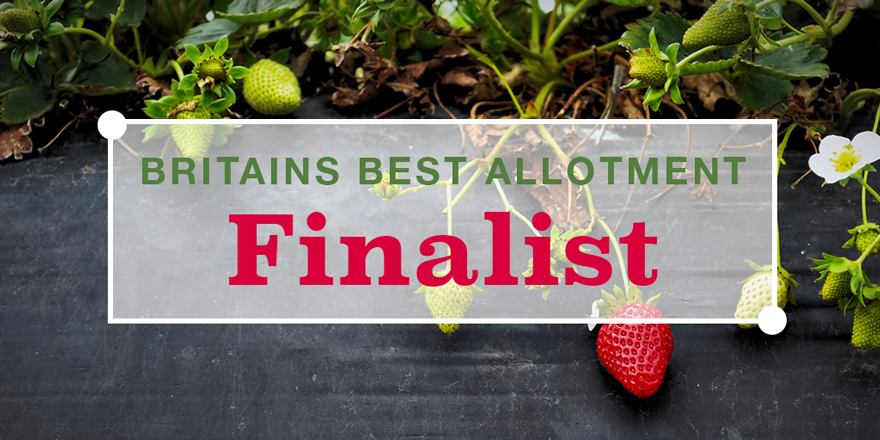 With National Allotment Week fast approaching, and with the  announcement of the winner of Britain's Best Allotment just around the corner, we thought that we'd take a moment to really get to know each of our finalists. Over the next few days we will be reviewing each of their entries, as the Judges decide who has Britain's Best Allotment. Here, we'll explore Bev Mussell, David Lee Robson, and Nick and Julie Salmon's top quality plots.
BEV MUSSELL
This allotment is part of a great project by the neighbouring school to introduce children to the natural world. We were very impressed by their efforts.
"It's not really my plot but the adjacent schools. I manage it. Two allotmenteers have spent all winter giving it a makeover to make it completely safe for the 90 eight-year-olds from St Joseph's School who use it. A Local Food Grant from Lottery bought the Heritage fruit trees, soft fruit and cage plus potting benches. The challenge is to organise the children's visits during the growing season so that they do the practical work of planting, weeding, watering and harvesting to learn how food is grown.
Five mentors from the site teach the gardening skills needed. Harvest of each variety must be enough for 90 families/children to taste. The first crops must be ready for harvest before school ends in July. This includes soft fruit, potatoes, beetroot and carrot thinning's, courgettes, shallots, lettuce and chard. Sweetcorn, onions, beetroot, carrots and top fruit are harvested when the children return in September. Strawberries and cherries are eaten in the classroom. The tart soft fruit is made into jam by willing parents for the children to taste at school. At the start of growing season a quick quiz found that some children thought they would be growing mangoes and bananas. One was upset to find no produce to take home on the first visit to the plot. Some of the work is quite hard but nothing beats the excitement of harvest."
DAVID LEE ROBSON
With a long lasting passion for his plot, we thought we had a thing or two to learn from David.
"I've worked my plot for 15 years now, and I love it because it is part of me. Also gardening is not only good for the mind, body and soul, but, it's also good for producing the best tasting veg you will ever eat.
Every year, I learn something new, but I have learnt one thing, and that is; you can't predict Mother Nature."
NICK AND JULIE SALMON
This plot has been nurtured back to life by one truly dedicated couple. We were very pleased it was.
"We didn't love our allotment at first with its 3 years' worth of couch grass, weeds and brambles! With hard physical work and lots of patience, we started on an incredible journey of love for it and an inner peace when being there. There is, of course, the added benefit of not having to buy most vegetables a good part of the year! Now, as we enter into our third year of growing, there have been many lessons learned along the way which we have benefitted from; advice given by seasoned allotment neighbours and a fabulous community of gardeners we have had the pleasure to get information (and laughs) from too. The mental and physical benefits of having an allotment are beyond measure! Best thing we ever did was contact our local Horticultural Society and put our names on the waitlist. I urge everyone to do the same and grow their own veg and flowers!"
The standard of entries this year to Britain's Best Allotment is so high that we really don't envy the judges in having to  pick a winner. Prizes include a HIPPOBAG rubbish clearance service and a whole host of other garden goodies, and the competition really is getting tough. All that's left to do now is look forward to National Allotments Week, when we'll find out who officially has Britain's Best Allotment.