Guide To Disposing Of Rubble and Building Waste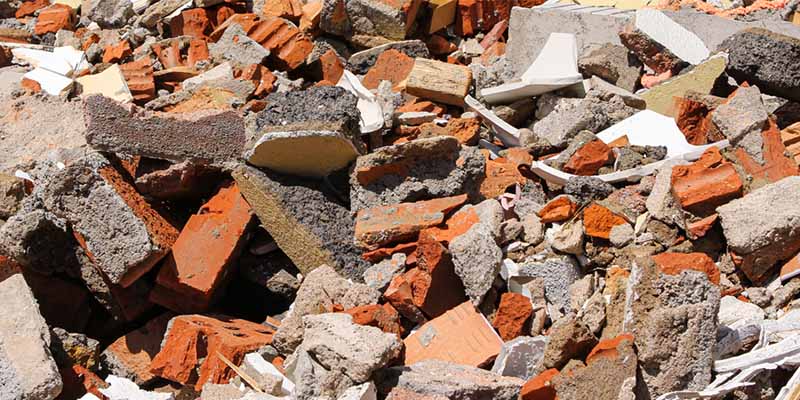 Whether you're working on a construction site or in the midst of a home DIY project, construction waste such as bricks, rubble, cement, plasterboard and other building waste has always been difficult to dispose of. This is mainly due to the weight and quantities involved - this type of waste is often extremely heavy and difficult to transport.
Many local household waste recycling centres have placed charges and restrictions on the amount of building and DIY waste you can tip there.
The Department for Environment Food & Rural Affairs (DEFRA) reports in their March 2019 edition of UK Statistics on Waste that in 2016 construction, demolition and excavation (CDE) was responsible for around three fifths (61%) of the 222.9 million tonnes of waste generated in the UK.
DEFRA's report on Fly-tipping statistics for England, 2018/19 highlights the shocking reality that there were 56,000 reports of fly-tipping incidents involving CDE waste in the year - up 12% from 50,000 the previous year.
In 2020/2021 fly tipping saw a 16% increase from the previous year.
Here at HIPPO we know how important it is to plan for disposal before starting your project, so check out our helpful pointers below.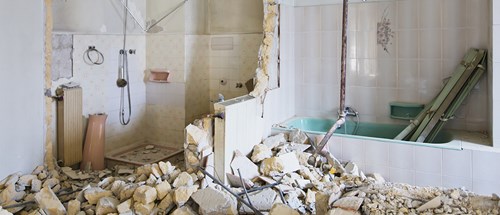 So how can you dispose of your rubble and building waste?
Reuse
Firstly, remember that many building materials can be reused. Old bricks, tiles, ceramics, metal and other undamaged building materials can often be used again, especially by friends and family carrying out their own DIY projects.
Old bricks that are in good condition are particularly sought after, as they can be used for renovating buildings that are protected under conservation laws. You could even use them to create an outdoor barbecue, raised paving or garden path.
Broken materials, such as concrete slabs, rubble, bricks and ceramics, can be crushed and sold or given away as hard-core for building roads, as coarse aggregate for concrete or as filler material in other construction projects.
Recycle
Don't forget that materials such as packaging, plastic, glass and cardboard are standard recyclables. Materials like these can often be recycled through your local council recycling bins, dependant on quantities.
dISPOSE OF RUBBLE IN A SKIP BAG
Once you've determined what you think can be used or sold, it's time to start thinking about what to do next.
At this stage, you need to choose a suitable and legitimate waste solution for everything that you won't be able to dispose of yourself.  The main waste solutions are to hire a skip or skip alternative, such as a HIPPOBAG.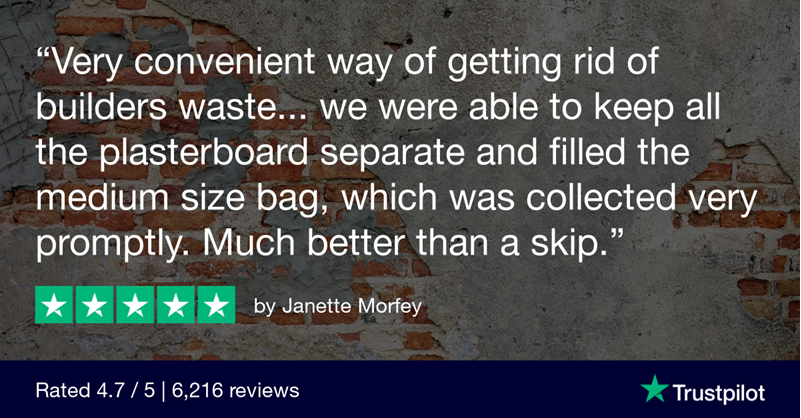 To hire a skip, you'll need to decide on the size, book the delivery and collection dates, and most likely obtain a permit from your local council to place the skip on the road.
Why use HIPPOBAGs for RUBBLE DISPOSAL AND BUILDING RUBBISH REMOVAL?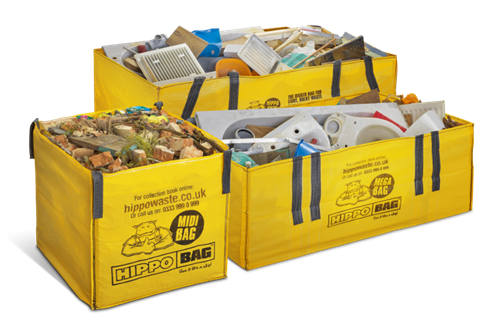 Made from 100% recyclable, ultra-strong and durable woven polypropylene, MIDIBAGs and MEGABAGs can be level filled with heavy waste weighing up to 1 or 1.5 tonnes respectively


Purpose built collection vehicles use mounted cranes to lift HIPPOBAGs full of heavy waste from a place of your convenience (up to 4 metres from the road) and even from behind walls or fences (up to 6ft tall) - all in a matter of minutes


Due to their size, flexibility and method of collection, HIPPOBAGs are perfect where access or space is restricted and Skip Hire is not suitable
For more help and advice on your project, check out our blog and don't forget to order your HIPPOBAG to help with any garden clear up.