Easter Projects with Kids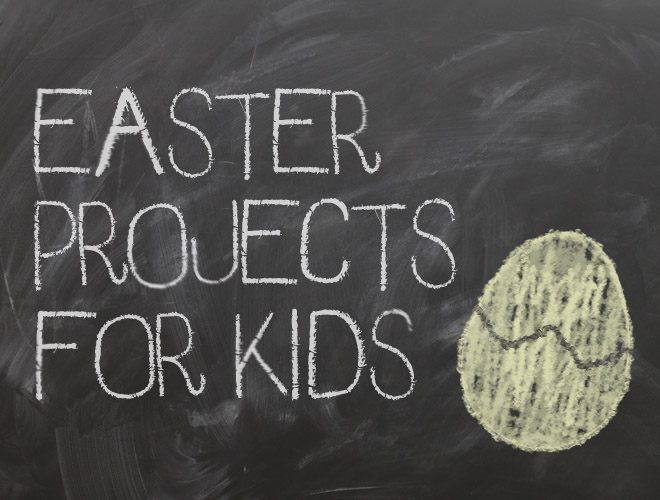 Getting kids involved in DIY projects is a great way to spend some valuable time together, as well as equipping them with some useful skills and giving them that great feeling of a job well done!
There are many ways that you can get kids interested in DIY this Easter; why not create some really personal gifts for family members, or make some interesting decorations to brighten up your home over the holiday period? While youngsters might not be able to get involved in your larger DIY projects, these homemade Easter ideas are a brilliant way that they can get stuck in!
Eggs are the most widely used symbol of Easter! Because of eggs' importance to children over Easter, we've compiled some great DIY Easter egg ideas.
String Easter eggs
This is a simply amazing idea of how you and the kids can make interesting, artistic and creative Easter eggs with no more than sugar, water, thread and small balloons! These string eggs will sit proudly alongside any Easter gifts and decorations and are a really interesting twist on the traditional Easter egg. If you miss that sweet touch, you can even fill them with chocolate!
The instructions on how to create these eggs couldn't be easier! Firstly, simply dissolve sugar in equal parts of water and let the mix cool into a thick slop. Next, blow up a balloon (with Chocolate eggs and sweets in the centre if you want the eggs to include a tasty treat). Beware though, you will have to break the string eggs if you want to enjoy the chocolate inside! The next job once the balloons are inflated is to dredge your choice of thread colour through the sugar and water mix and wrap it in patterns around the balloon. Overlay with different colours if you want it to look even more interesting! Next, hang the balloons up by their knot and allow to dry in a warm place, the sugar will ensure that the thread remains stiff and in an egg shape when you pop the balloon and are left with amazing DIY Easter egg!
Mosaic Easter eggs
These innovative egg ideas put a great twist on your traditional Easter Eggs, whilst acting as a great and colourful decoration over the festive period. It really is pretty simple to make these cool Easter gift ideas. To start, hard boil an egg and then carefully peel it. Once the shells are clean and dry, submerge them in dye, using either all of one colour or a variety of colours both work well. Once the dye has dried on the shells, you can begin to create the egg! You will need a small wooden or plastic egg shape to complete the design. Carefully glue bits of shell around the egg, with small gaps between pieces to give an amazing mosaic effect, once the egg is fully covered, leave it to dry and you will have created a very unique Easter DIY gift!
Eggshell candles
These little beauties are perfect for Easter Evenings and will prove an amazing gift idea, as well as just a great decoration around the house! First, remove the top of a few eggs and get rid of the centre, this is a great job for kids because it doesn't have to be done too precisely and an uneven line actually makes them look better, just make sure that they wash their hands after touching the eggs! The next job is to wash the egg shells then submerge them in dye until fully covered. For the next bit, you will need candle wicks at the ready. Melt down some wax (ensure that kids are not involved at this stage) and pour it into the empty egg shells. Supporting these egg shells in their original carton makes this job a lot easier. While the wax is still in liquid form, hold onto the wicks with tweezers and gently dip them into the eggs, ensuring that they are not fully submerged in wax. Let the wax fully dry and present these candles either in egg cups or in a painted carton; kids will love looking at these amazing little candles flickering away and thinking 'I made that'!
Amazing patterned dyed eggs
This is a really simple idea that kids can get involved in at every stage of. It's a similar technique to tie dying, with equally crazy results! Start off by hard boiling an egg and dipping it in a light coloured dye to work as a base layer. Next, wrap rubber bands, string or thread tightly around your egg, then submerge it in dye for a good length of time and then remove it. Once your eggs are completely dry, carefully remove the bands, string or thread and you will be left with cool patterns on the eggs where the second layer of dye wasn't able to reach!
Papier-mâché Easter nest
There's no use having all of these great eggs with nothing to hold them in! Luckily, the day can be saved with great papier-mâché nests! To make these, cover a large bowl in cling film and make a mix of clear glue and water. Next you will need to compile shreddings of paper or brown bags to act as the twigs in your Easter nest. Now it's time to dip the shredded paper in glue-covered shredded paper. It is a good idea to put some dry shreddings around the bottom of the bowl (as it is upside down) to give it a great, messy and realistic nest look. Once it's dry; flip it over, remove the bowl and the kids will have a great, realistic-looking nest to put their Easter eggs in!
With all of these great Easter DIY ideas in mind, you will be sure to have a festive period to remember, as well as livening up your home with interesting decorations and giving children a great experience of the pleasures of doing it yourself!