Grants Up For Grabs: Community Fusion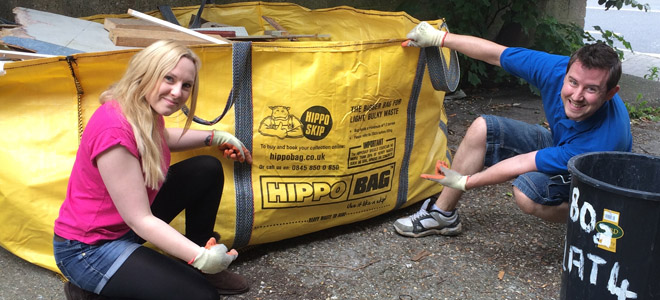 Community Fusion is a youth volunteer service aiming to improve the skills of young people through volunteering. The group run projects all over the South Coast, helping their enthusiastic volunteers learn and develop skills in a huge range of practical areas.
Community Fusion's award winning 'Made with Hartt' project is a pop up 'new age' charity shop, based in Portsmouth. The project promotes skills in retail, leadership and responsibility and sees young people selling donated goods, in addition to many recycled and upcycled pieces made by the team themselves.
Due to the project's success, Community Fusion decided to relaunch and expand it in 2015. This meant new premises, which needed to be completely overhauled. HIPPO donated a free HIPPOSKIP and collection in order to deal with the waste from the renovation project. We can't wait to see the new shop begin to benefit the local community, and the brilliant young volunteers!
"A huge thanks goes out to HIPPO for their support with a HIPPOSKIP. Throughout our shop renovation we were able to dispose of all our waste into this skip saving us time, resources and money! It was a very useful and so easy to organise the collection. I would highly recommend HIPPO and if needed we would be using them again."
- Jenna, CEO Community Fusion
Need help?
The 'Grants up for Grabs' scheme awards free waste disposal help to applications from charities, community groups and organisations from across the UK that inspire respect for the environment or have a positive effect on the community.
If you think your project might be eligible for free help from the Grants up for Grabs scheme please contact us and tell us about your project.