Grants Up For Grabs: December 2016 Roundup
We're giving more grants than ever to help local projects, charities and community initiatives. Take a look at some of the great projects that have recently been completed with HIPPO's help. To learn more about the scheme, visit the Grants Up for Grabs page. Hear the stories straight from the mouths of those who have benefited from the scheme. 
Collingham Child & Family Centre
Collingham Child & Family Centre is a paediatric psychiatric unit in west London, for young people aged 6-14. Their students - who have conditions including psychosis, bipolar disorder, anxiety - benefit so much from time spent working on the garden, and enjoy getting their hands dirty and helping out.
"We've been doing a gardening project with the lovely people at Royal Horticultural Society, who have been coming over to help us tidy and replant our outside areas. They came every week to work with our students – teaching them new skills and creating an amazing new garden space for us (even painting our fences with us!).
One week we even hosted 11 RHS horticultural students, who gave up their time to help us tackle a particularly overgrown area. The HIPPOSKIP was used to clear away all the garden waste that came from the students' work, and we couldn't have managed without it!"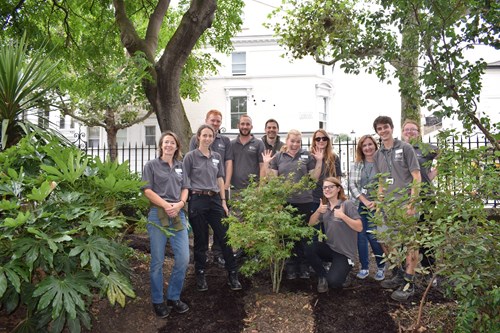 EXETER STREET COMMUNITY HALL, BRIGHTON
"A HIPPOBAG enabled us to avoid additional expense in completing what was a 'budget' project as part of our longer term aim of restoring our lovely Exeter Street Hall by removing an unnecessary secondary ceiling and thus improving the insulation, daylighting, electric lighting, ventilation and general functionality of our kitchen.
Apart from needing to employ electrical and plastering contractors all the work was undertaken by volunteers who gave up their free time or took time off work to help (our thanks also to Loop Electrics, and Kevin Knight Plasterers, both of Brighton).
The Hall is in daily use, including evenings, for a myriad of purposes so it's quite difficult to plan for and implement the more disruptive work that nevertheless needs to be done, so schemes such as Grants up for Grabs with precise timescales etc, are of even greater value to us than the already valuable cost saving."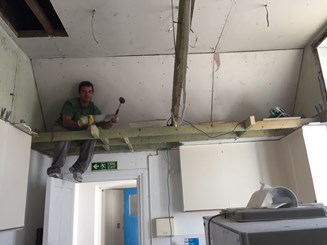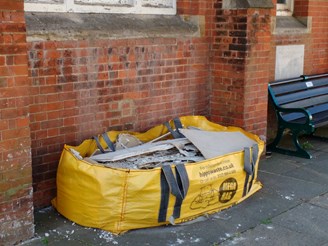 Peter Buck and Son
"My son was diagnosed with severe Aspergers syndrome, Obsessive compulsive disorder and social anxiety at the age of 9. We have never received any help from our local council or any other organisation in all these years. My son doesn't cope with life at all & his home is his castle & safe place.
He has a great fondness for animals, we have two dogs & he has a pet snake. I was reading up about how feeding fish & sitting near a pond will help people with Autism, it helps them relax.
I wanted to install a pond in my garden for him to feed and care for the fish, see the fish and plants grow over the years. I started to dig the pond out & bag up the mud in plastic rubble bags, after one day of digging i realized that there was to much mud to take to the local tip.
I contacted our local council & explained to them about the project & they weren't interested at all. So i started to get quotes from skip company's & local rubbish removal company's in my area. They were all to expensive for the small amount of mud i wanted to be removed.
I asked a lot of them if they were willing to help out a family with a child who suffers from mental health issues. Not one of them was interested. I dropped a very small email to HIPPO Waste asking them if they have any discount codes to reduce the price of a mega bag cost. 
Within in a day HIPPO Waste had got back to me with an offer of a free bag & collection to help out our family through their Grants up for Grabs scheme. Within two days the bags was delivered to my home, i loaded the bag within a two days & the bag was collected two days later.
We would like to say thank you to HIPPO Waste as the only company who helped our family with the costs of installing a pond for our son."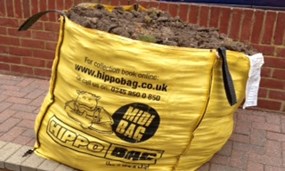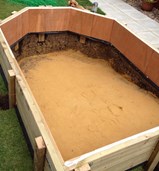 St John's PRimary school
"The existing children's Trim Trail at St John's Primary School has come to the end of its life and due to rotting wood and fixtures it had become too unsafe to use. Over the last year the St John's PTA has been actively fundraising to ensure the children and families within our community have continued access to a Trim Trail that will help improve the children's health through increased levels of physical activity.
We raised sufficient funds to purchase multi activity equipment that will be combined in a continuous course to provide children with different challenges that will benefit fitness and coordination, but our fundraising did not extend to the removal of the existing equipment.
With some able volunteers from the school community we set about removing the old equipment ourselves and with the free waste collection from HIPPO Grants up for Grabs we were able to dispose of the resulting waste in a quick and convenient way while the children were on their half term break. Wwe rang up on the 26th October and it was all collected on the 27th October!
The new equipment is currently being installed and will be ready for use by the children before the end of next week."