Grants Up For Grabs: Look Ahead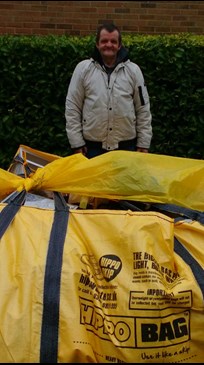 Bracknell Floating Support – Look Ahead Care, Support and Housing provides specialist support and care services that help their customers to achieve positive change and move forward with their lives.
HIPPO recently supplied Robert, a customer of Look Ahead, with a free HIPPOSKIP and collection after a successful application to our Grants up for Grabs scheme from a support worker.
The awarded HIPPOBAG was used to help clear Robert's flat of household waste that was a potential health hazard and risk to his tenancy.
"Thank you for helping me start to clear my life up it means so much to me to be helped. I have already noticed a difference in my Asthma and it has motivated me to keep going!! I now have plans for my flat and hopefully people will come round to see me!" 
– Robert, Look Ahead Customer