Our Guide on how to Disconnect a Dishwasher From HIPPOWASTE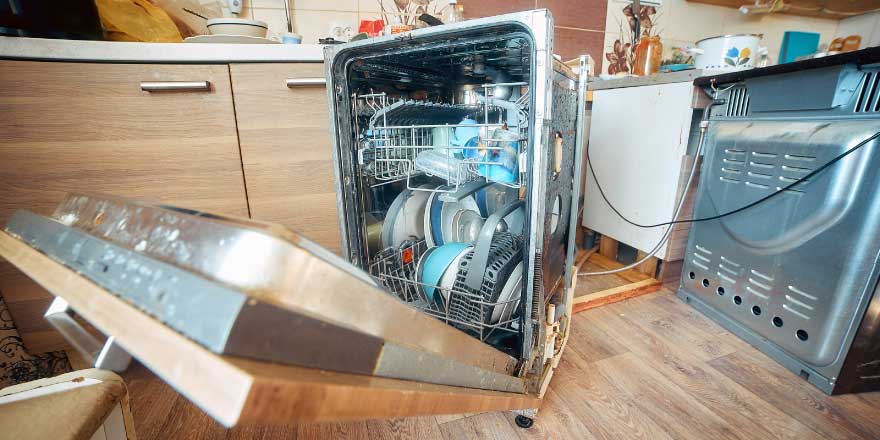 How to disconnect a dishwasher
Needing to disconnect your dishwasher and unsure of where to start?
Perhaps your old dishwasher has finally given up or maybe you have a long-awaited kitchen revamp in your sights. You may even just fancy a change and need some advice.
Whatever your reason for needing to disconnect your dishwasher, we have the top tips to help you get started and complete this task safely.
Getting started
First and foremost, when planning on disconnecting your dishwasher, ensure that your dishwasher is completely empty, as the last thing you want to do is clean up broken crockery when it comes to moving it!
Doing it safely
A crucial aspect of disconnecting a dishwasher safely is cutting off the power supply. Ensure that the power cable is disconnected before you start any other steps. If you are disposing of your dishwasher, make sure you cut off the power plug after disconnecting as this is a significant indicator to others that the dishwasher shouldn't be used in the future.
Water supply
A dishwasher is often located either next to or near a kitchen sink, so locating the water supply shouldn't be too much of a laborious task.
Once you've located the water supply, turn off the feed and unscrew the water pipe from the valve, which turns off the water. You may see some excess water drain out of the pipe once the seal is broken and the water pipe is unscrewed, so make sure to hold a bucket underneath to catch any surplus liquid.
Removing the drain pipe
Now the water supply is turned off and you've disconnected the water pipe from the valve, the next step is to remove the drain pipe.
The drain pipe is connected to the drain or waste disposal feed and is usually secured by a metal clamp connected to a screw. Carefully loosen the screw and pull the pipe, which should remove it safely.
Kick plate removal
The kick plate is located underneath the appliance. Some types of kick plate have power and water connections at the front; if so, remove each of these. If these connections aren't visible to you, the likelihood is that they are located at the back of the dishwasher and won't be able to be removed until it has been taken out.
There is also a chance that the kick plate screws may only be accessible when the dishwasher door is open, so it is something to keep in mind.
Unscrewing the frame
Open the dishwasher door and inspect the edges of the frame, which should reveal several screws that secure the dishwasher to the worktop and keep it in place.
Unscrew each of these and ensure each anchor, the parts of the machine that house the screws, are loose from the surrounding worktop and/or cabinet.
Ensure you have a good look above the lip of the dishwasher door too, as often screws with metal anchors can be located there as well.
Pull the dishwasher out
The quickest and easiest way to pull your dishwasher out once it is disconnected is by placing a towel or sturdy piece of cardboard in front of it and gradually pulling the dishwasher forward on top of this.
Some dishwashers have feet, so laying down a towel will avoid your kitchen or utility room floors being scratched or damaged.
Avoid pulling the dishwasher forward by the door, as this could cause hinge damage.
Installing a replacement
Now that your dishwasher is safely disconnected, you may be in need of some tips on how to install its replacement. Read our blog on how to install a new washing machine or dishwasher which offers a useful step-by-step guide on how to fit your appliance into an existing power and water supply.
Dispose of your old dishwasher today
If the removal of your dishwasher is part of a wider revamp, you may also need some advice on how to remove your kitchen which includes some useful tips on installing a new kitchen.
If you're revamping your kitchen or need to dispose of your dishwasher safely, HIPPO's range of HIPPOBAGs, Skip Hire and Man & Van services will provide a convenient and cost-effective solution for disposal of your old dishwasher.