How to Dispose of a Fridge with Ease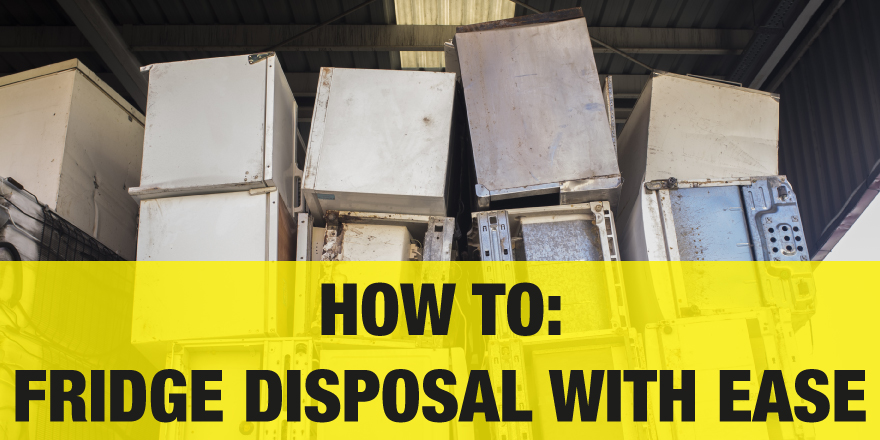 It is estimated that a fridge has an average lifespan of 11 years, but many keep going for more than 20 years. When it comes to the end of your fridge's life, or if you're upgrading, it's important to dispose of it in the correct way, ensuring no negative impact on the environment.
Many substances within a fridge can be harmful to our surroundings, such as chlorofluorocarbons (CFCs) and Hydrochloroflurocarbons (HCFCs). These substances are found in most fridges made before the year 2000. If your fridge was bought before this time, it is highly likely it will contain these harmful substances, however, no matter when you purchased your fridge, it should always be disposed of safely and efficiently.
How to dispose of your fridge responsibly
If your fridge is still fully functioning, you could sell it on or make it a donation to charity. There are many websites dedicated to collecting and selling second-hand appliances, or you could share it via online platforms such as eBay and Gumtree. However, if your fridge is at the end of its life, it will need to be disposed of and recycled.
Sometimes when you purchase a new fridge, the retailer will offer to dispose of your old appliance, and this is often the most cost effective method of disposal. But when this is not an option, you should notify your local council or a professional fridge disposal service. If you choose to notify your local council, it is important to note that they will not remove it directly from your kitchen, so you will need to move the fridge outside for them to collect.
Booking a professional is usually the fastest solution, as they can dispose of your fridge directly from your kitchen, saving you from having to move it outside yourself. Do your homework before you agree to anything, making sure that your chosen service is licensed with the official environmental agency. Before arranging the collection, ask for a detailed notice explaining how they will dispose of your fridge and how much the process will cost.
Fridge recycling
Many parts of a fridge can be recycled once the harmful substances are removed. Once in a recycling facility, your fridge will be dismantled in a safe and sealed environment before oils and gases are removed under vacuum. Once the process is complete, many of the components can be disposed of safely, without harming the environment.
There are many items in our households that can be recycled and disposed of in ways that are eco-friendly. Check out our other guides on how to dispose of a mattress responsibly and how to dispose of all your waste in the kitchen.
For a personalised quote from HIPPO regarding the disposal of a fridge, simply visit our Man and Van page, enter your postcode and complete our quick and easy form. When updating/revamping your kitchen, HIPPO's range of HIPPOBAGs, Skip Hire and Man & Van services means that there's always a convenient, cost-effective and reliable option for disposal that works for you.