HOW TO DISPOSE OF A MATTRESS AND CAN YOU TAKE IT TO THE TIP?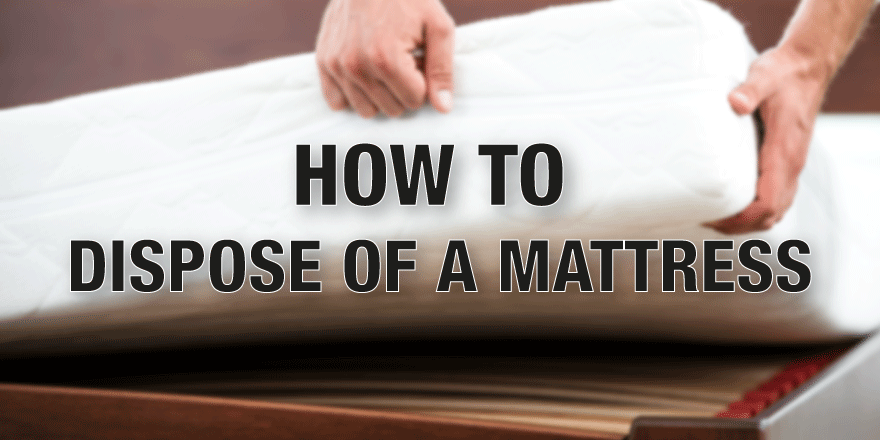 Looking to get rid of your old mattress but aren't sure even where to begin? We've put together this guide to our top four ways of disposing of your mattress responsibly, quickly and cost-effectively.
DISPOSE OF YOUR MATTRESS BY GIVING IT TO CHARITY
A charitable way of getting rid of a mattress for free is to donate it to a local charity. Provided your mattress is still in good shape, you can donate it to your local non-profit organisation. There are many charities that take mattresses in good condition, such as The British Heart Foundation or the Salvation Army; all you need to do is give them a call ahead of time to check that your local branch accepts mattresses.
Sell Your Mattress
Selling your used items online is not always everyone's go-to option when it comes to disposing of unwanted goods; however, there are many ways you can sell your products online, from Gumtree to eBay. You'll just need to upload a picture and some details, and you can get it picked up and taken off your hands. You'd be surprised how many people purchase second-hand mattresses. Again, just ensure it's in good enough condition to be used again.
USE RECYCLING CENTRES TO GET RID OF YOUR MATTRESS
If you're looking to get rid of your mattress quickly, you can take it to your local tip. There are usually loads of locations in your local area that will take your waste, but be sure to call ahead to ensure they take specific items. Although this option means you need to find a way of transporting your mattress to the tip, it's usually the quickest way. Don't forget that you're likely to be charged for disposing of a mattress at your local tip, so it may not be the cheapest option.
Choose a HIPPOBAG
HIPPOBAGs are a great way to dispose of your unwanted items. Simply pick up a HIPPOBAG in store or order one online and we'll come and collect it; taking the hard work and heavy lifting out of waste disposal for you - it really is that straightforward. We're big on responsible waste disposal, so if you're like us, order a HIPPOBAG and collection today to get started.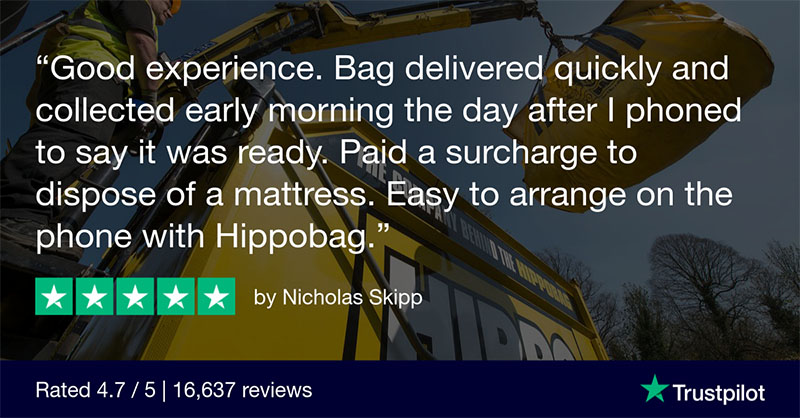 If you want to use a HIPPOBAG to get rid of your mattress, make sure your mattress fully fits within the HIPPOBAG – we've a range of sizes that will help with any sized mattress. Additional charges also apply for mattress collection from HIPPO.
MAKE SURE TO DISPOSE OF YOUR MATTRESS RESPONSIBLY
However you choose to get rid of your mattress, ensure you do so responsibly.
It's important to remember that if someone is taking your waste that they are licensed to do so and that they can provide you with a waste transfer note.
If you want to get rid of your waste yourself then consider the following:
Getting rid of rubbish can sometimes be pretty frustrating and because of this, studies show that some turn to burning their waste. However, it's important to remember that regardless of where you're having a bonfire, this is not good for the environment; it is also dangerous to you and harmful to those in your surrounding area.
Fly-tipping is the illegal dumping of goods in public areas and on land that has no licence to accept waste with the intention of avoiding waste-disposal charges.
We're passionate about preventing fly-tipping, particularly because it's a national problem creating a significant hole in the tax-payers' pocket as well as damaging the environment. In 2018/19 over 1 million incidents were recorded (up 8% on 2017/18) with reported costs of large fly-tipping incidents hitting £12.9 million. The recent surge we've seen in fly-tipping has an effect on us all, so it's paramount that we reduce it.
Looking for more help and advice about DIY projects and waste disposal? We regularly upload articles to our blog to help you at home. Take a look and follow us on Twitter and Facebook for more updates.