Tyre Disposal Guide – How to Get Rid of Tyres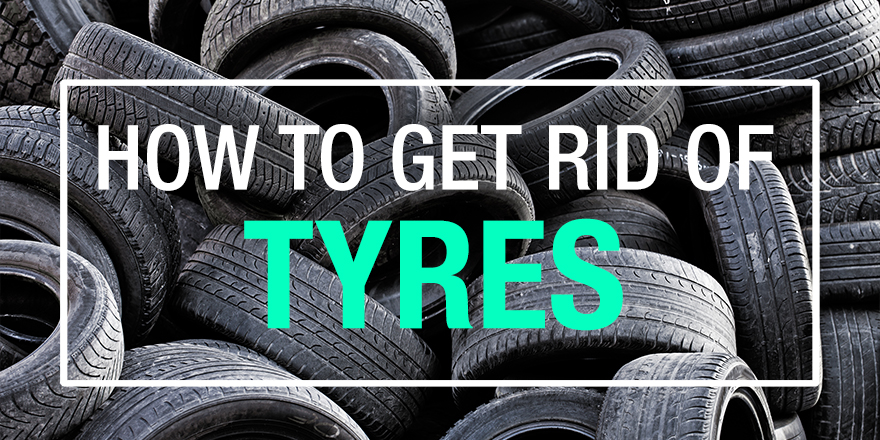 Tyres are a necessary part of many peoples everyday life, whether you give them much thought or not. If you rely on your car every day for your commute or the school run, you'll want to make sure you're having new tyres fitted when necessary. But when you've got old tyres around that you want to get rid of, how do you do it? 
Read our comprehensive guide on how to get rid of tyres and tyre recycling to find out. 
REUSE THE TYRES AS THEY ARE WHERE POSSIBLE
Tyres are amongst the most difficult items to recycle. They're normally made of a mixture of steel, textile and rubber, often having traces of oil and other chemicals present. The 2006 EU Landfill Directive means that tyres are no longer accepted to landfill sites and virtually all end-of-life tyres are recycled or re-used in some way.
The best policy for recycling tyres when they're no longer usable for a vehicle is to reuse them as they are, for things like making a tyre swing, raised garden planters, athlete training tools and boat buffers. National supply of end-of-life tyres is outweighing demand, so if you want to get rid of your tyres and don't have a use for them, there may well be a charge to take them off your hands. The fee will be dependant on the type of tyre you're trying to get rid of. Types of tyre include car, motorbike, wheelbarrow, caravan/trailer, 4x4, van, lorry and tractor.
Up to 500,000 tonnes of tyres enter the UK waste stream every year
ARE TYRE FIRES SAFE?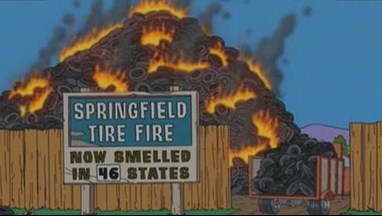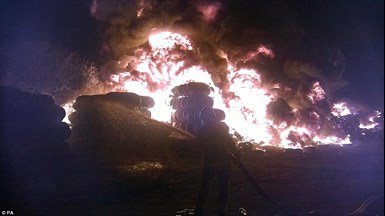 The Springfield Tire Fire is a long-running joke in The Simpsons but in real life tyre fires cause big problems
The difficulties with recycling tyres have resulted in instances where people's hard-earned cash is taken to recycle tyres which catch on fire before they can be disposed of properly. This has led the Environment Agency (EA) to propose new Fire Prevention Plan (FPP) guidelines, which will be published next month (July 2016).
These plans will mean that recycling stations will need to stack their tyres lower and have larger gaps between stacks, meaning a big increase in the space needed to store the same amount of tyres. Combustible materials affected by the new FPP are waste wood, tyres, scrap metal and Waste Electronic Electrical Equipment (WEEE). 
There are concerns that these new guidelines are currently too strict for operators who obey the rules to survive under and some in the industry are worried that if they are implemented, the measures will force businesses to close.
The Tyre Recovery Association (TRA) secretary general, Peter Taylor OBE, has said:

"The Environment AgenCY's proposed new fire prevention guidelines are causing concern as the proposed stack height restrictions and minimum fire break widths are arbitrary and have not been subjected to a proper impact assessment.
Should they be implemented, the costs associated with the substantially increased space required to accommodate waste will make regulated British tyre recycling businesses commercially unviable and force them to close."
Tyre fires put a strain on local fire station crews, can cause harmful fumes and are bad for the environment, so dealing with a reputable company is your best bet to ensuring your waste is disposed of responsibly. Make sure you dispose of waste through an Environment Agency regulated and monitored company/council site. You can ask to see a site's EA permit or current exemption paperwork to make sure they're doing things the right way.
RECYCLE YOUR TYRES THROUGH YOUR LOCAL COUNCIL
Your first port of call when trying to get rid of tyres should always be your local council. Direct Gov can help you find your local council's contact information, with links to the website where you will be able to find their recycling policies.
Each council will have different rules and charges for tyre disposal, but all will dispose of them safely and correctly, making sure they are properly recycled. Some councils will have a quota of how many tyres you're allowed to take to your local recycling centre without charge, so it's well worth getting all the facts before you act.
When you have large amounts of tyres to dispose of, HIPPO can look for a disposal route for you, but as a general rule, most waste transfer stations do not accept tyres due to the cost of handling them.
What happens to recycled tyres?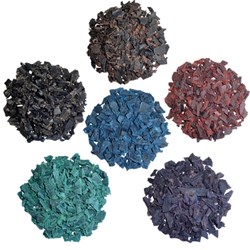 Tyres are shredded in to flakes called rubber crumb (pictured left) which are then used to create things such as:
Sports surfaces and safety mats for children's play areas
Swings for children's play areas
Rubberised asphalt for roads
Equestrian arenas
Carpet underlay
Running tracks