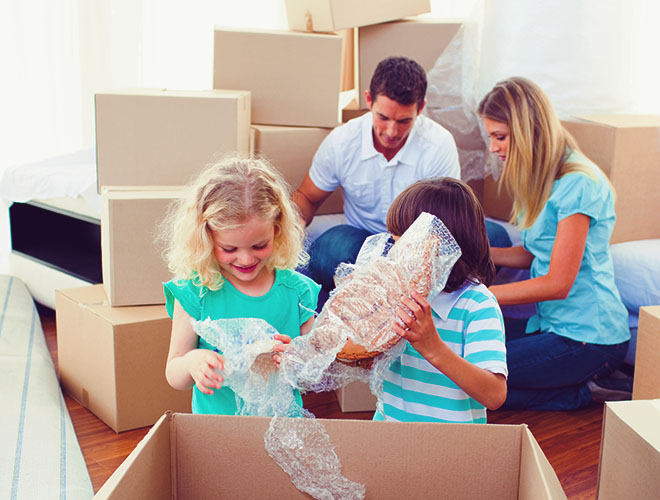 Moving house can be a really stressful experience for you and your family, but if you take the right steps to plan and prepare, you needn't encounter any unexpected problems or inconveniences along the way. To help you with this sometimes daunting task, we've put together a handy checklist to help you from when you first secure your new house, to the week before your move and the big day itself. So let's get started!
De-Clutter Early
De-cluttering can be carried out months before you actually move out, and means that you won't end up paying to move stuff that you no longer want. Getting rid of clutter before you move also means that your new house won't be overloaded with unnecessary things when you move in - there will be enough boxes as it is! Anything that you will be able to cope without for a couple of months should be boxed up at this point, saving you from having to do it later on when you're more pushed for time.
Grab a HIPPOBAG
When you're de-cluttering your house, the best way to get rid of anything that's not going to make the journey with you is by using a HIPPOBAG; the simple way to remove waste. These strong, non-bulky and lightweight bags come in three convenient sizes, meaning that you'll never pay for more than you need - or waste space - as you would by hiring a regular skip. You can buy a HIPPOBAG flat-packed beforehand and fill it up whenever you need it. Once it's full, one of our drivers will pick it up for you within 5 days of booking the collection. Using HIPPO can remove a lot of the stress from the often challenging task of removing clutter and waste from your property prior to moving house.
Inform landlord and utilities providers
If you're renting a house, your tenancy agreement will normally stipulate how much notice you have to give before you leave the property, but the general rule is that the sooner you let them know, the better. Inform your landlord in writing of your move, as this will hold more weight than word of mouth alone as a record of correspondence. In order to receive any deposit that you've paid back, ensure that your landlord arranges a date with you to inspect the condition of the house, if this doesn't happen, disagreements could ensue in future over any damage that may have been done to the property. You will find various sample letters to landlords available online to assist you with this process. You also need to make sure that the companies supplying your gas and electricity know when you're moving home.
Book a removal company
If you plan to use a removal company, search the market for the best priced and the most highly rated removal company in your area. Removal companies are busy, and planning well ahead is essential to ensure that you get the best service for your specific needs. There are price comparison websites available to allow you to select the best value removal company for you, which could save you money. If you opt not to use a removal company, buy your boxes and tape early, as the more that you get boxed up in advance, the easier the final days will be. Book out a van well in advance if you're doing the job yourself, and consider if you will need to arrange extra storage for your things around the time of your move.
Sort out home insurance
Contacting your home insurance company well in advance to ensure that you and your family are covered from the moment that you move into your new house is an essential.
Change your address details
Notify your bank and any other relevant contacts that you are moving residence, this way your statements and sensitive letters won't ever be sent to the wrong address. Sites like iammoving.com are able to notify many companies of your change of address in one go.  It's also a good idea to let your milkman and newspaper deliverers know that you're moving in advance, this way you will stop paying for the services the moment you move. Letting your doctor know you're leaving and registering for a new GP's surgery is another must.
Sort out parking for a removal van
You'll need to contact your local authorities to get any parking restrictions either at your old or your new house suspended when you're moving to allow for a removal van access. In addition, let your neighbours know the date that you will be moving. Removal vans can be very large and if one just turns up outside your house it can cause a lot of inconvenience to your neighbours.
Arrange somewhere for children and pets
Children and pets can really get in the way when you're moving, they are often overexcited or upset, and it can be dangerous having them around with all of that heavy furniture flying around. Pets, in particular, can find this experience very stressful. Drop your kids and pets off early on the moving day and both you and they will be saved a little stress.
Prepare a moving survival kit
There are certain things that you will need readily available on the moving day, things such as bedclothes for your first night in the new house, as well as a change of clothes for the next day. Toiletries should be in the moving kit, as well as emergency first-aid equipment, toilet roll, basic cutlery and crockery, and of course your celebratory champagne for when the job is done!
As the day approaches
There are certain jobs which you simply have to do nearer to the date of your move, but if you've planned properly, these shouldn't be too stressful either. Remember to eat any freezer food in the week before you leave, and defrost the fridge and freezer fully before leaving the property. Get all of your washing done in the last week or so, and pack it all away apart from the clothes in your moving survival kit. Take apart any furniture that you're able to at this time, and get all of your appliances disconnected by a professional. Another essential is to arrange a locksmith to change the locks at your new house once you move in.
On the day
First off, slow down! The chances are that you're running about like a headless chicken on the moving day, so follow these rules, take your time and stay calm - you'll be relaxing in your new home in no time! Make sure that you keep your most precious valuables on your person on the moving day, and have your phone charged, as well as any contact details you might need and your important documents. Check the entire house carefully one last time before you leave and make those final meter readings, then lock every door and window, leaving spare keys at a pre-decided spot in the property.
Once you've said the emotional goodbyes to your old home and moved into the new one, don't stress yourself with unpacking everything at once, just get out the essentials and check that the utilities in your new place are working. Now you can feel that wonderful feeling of fulfilment, looking around at your new house and knowing that you've made it! So sit on that freshly unpacked sofa with your family and crack open a bottle of champagne (and a lemonade for the kids) to celebrate a job well done - you'll never have deserved one more!