New Britain's Best Allotment Judge Announced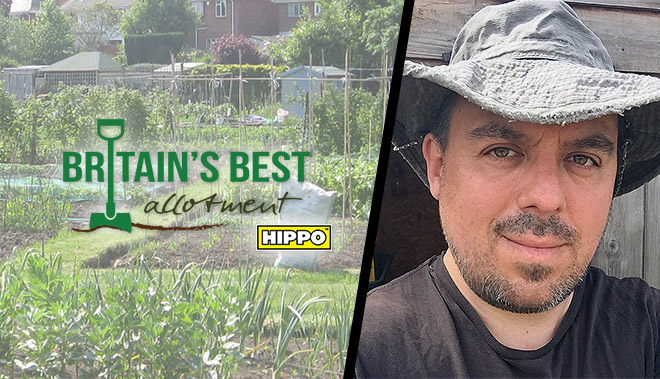 HIPPO are proud to announce that Sean James Cameron, The Daily Mail's gardening curator and founder of The Horticultural Channel will be one of the judges for our nationwide Britain's Best Allotment competition. This competition is run in association with the National Allotment Society and National Allotments Week, and was launched to celebrate British gardening and discover the unsung heroes of the UK allotmenting movement.
What's Britain's Best Allotment?
We decided to create Britain's Best Allotment - not just to find our nation's best allotments - but to discover more about the people involved in the practice through the pictures, moments and stories they share through the course of the competition. Through this initiative, we aim to get allotmenteers together to share advice, guidance and knowledge on the passion which every plot-holder has in common.
We will provide the winner of this unique competition with £1000 pounds of vouchers for their allotment's trading post or a gardening store of their choosing. We've also promised a free allotment clear-up of the winner's entire site; using our strong, sturdy and flexible HIPPOBAGs and our expert collection service, we'll have the whole site spotless in no time! We will also be giving away more prizes which we're yet to announce!
Why Sean James Cameron?
We decided to choose Sean James Cameron as a judge for Britain's Best Allotment because of his 25 years of gardening experience, as well as his particular expertise in allotmenting.  There are few who know more about allotmenting and its benefits than Sean, and we felt that he would be the perfect person to judge the merits of the hard-working allotmenters who've entered Britain's Best Allotment. 
Sean supports the allotment movement in a number of ways; he regularly posts written, spoken and video guidance on allotmenting and gardening online, and plays a valuable role in helping people get the most out of their plots. Cameron's videos and articles are down-to-earth and practical, and are found on his own website 'The Horticultural Channel', as well as on various social media sites and on the Daily Mail's MyMail Garden. If you're looking for allotmenting advice, why not take a look at Sean's hugely popular Allotment Garden Series, which he's been running since 2013.
Why we created Britain's Best Allotment
We at HIPPO care deeply about the environment, and aim to recycle 90 per cent of the waste that we collect. Our passion for sustainability and eco-responsible practices mean that we are proud to support the eco-friendly values of allotmenting, as well as the sense of community which allotment gardening can bring to people around the UK.
The National Allotment Society
We are running Britain's Best Allotment alongside The National Allotment Society, the largest body nationwide representing UK allotmenters. With over 125,000 members, and assisting everyone from small allotment associations, societies and federations to schools, councils, landlords and individual gardeners, The National Allotment Society are an inclusive group for all British allotmenters.
Britain's Best Allotment is also running in association with National Allotment week, which the National Allotment Society introduced to raise awareness of the benefits and pleasures of allotmenting throughout Britain. National Allotment Week promotes all of the benefits of allotmenting, from the improved wellbeing that can arise from getting out on the plot, to the money-saving and health benefits of growing your own food.
Could your allotment be the pride of Britain? Enter our competition to find Britain's Best Allotment, in association with The National Allotment Society and National Allotments Week and you could be in with a chance of winning £1,000 worth of prizes.
n!