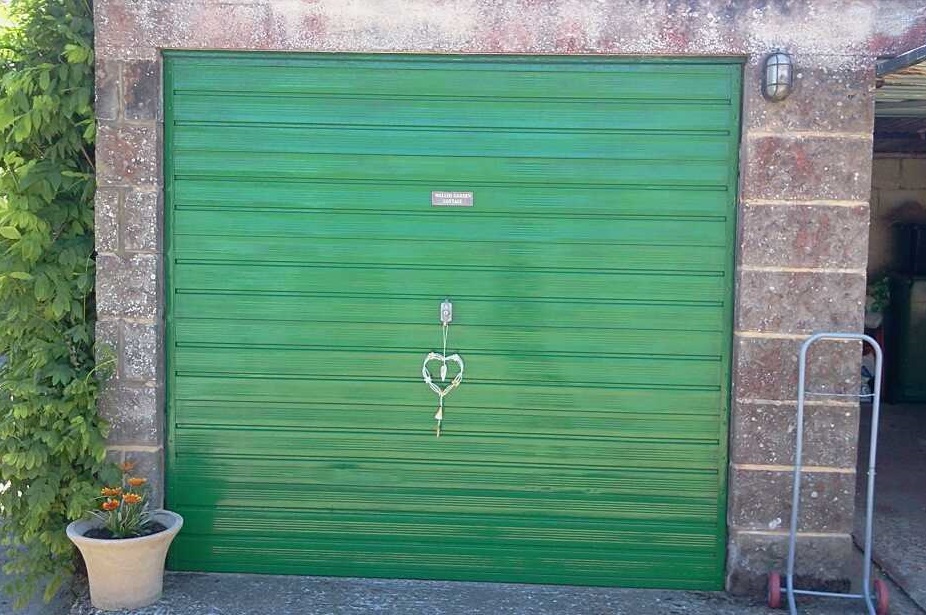 With all the time and work we spend doing up the inside of the house, it's easy to forget the outside, especially as exterior painting can be costly if paying for a professional, and both tricky and time consuming if attempting as an at-home DIYer. 
However one quick trick that will make a real difference is to paint the garage.  This can be done on a very small budget and over a weekend.
So what are you waiting for? Check out the top tips below and see the results for yourself....
Firstly, preparation is key!
Buy specialist paint for metal garage doors – In the photo above, Laura has used Hammerite Garage Door Paint in Buckingham Green
Don't forget to use good quality brushes if you want a professional looking finish, and wear old clothing along with a suitable mask for sanding - it can be a tad mucky!
Firstly you'll need to sand the area, using a block of wood to wrap the paper around (4 inches x 1 inch is about perfect)
Once you've sanded you'll need to wipe the doors down with white spirit to remove any dust and grease
And on to the painting....
Try painting a tin lid to get a feel for the consistency of the paint. If necessary use cellulose thinners in small quantities, to thin the paint in a jam jar. This will create a lovely smooth finish
Don't mix the paint too much and don't paint when the weather is too hot, the paint will thicken and the coverage will be sticky and unmanageable
It's best to start in the early morning as the paint takes approximately four hours to dry
Paint the frames first and then the main door, that way you can have the door down and steady for the main painting
| | |
| --- | --- |
| From this.... | To this... |
| | |
....in 8 simple steps
Once you've finished admire your brilliantly revived garage door. All that's left to do now is dispose of the old paint. Happy painting!
Don't forget ...
Whatever DIY or gardening projects you take on this year, a HIPPOBAG can help you get rid of the waste with no fuss, no hassle and no queuing for the tip.  Buy the bag, fill it up, book the collection and we'll collect anytime over the next 5 working days anywhere in mainland UK.