Small Kitchen Makeover Ideas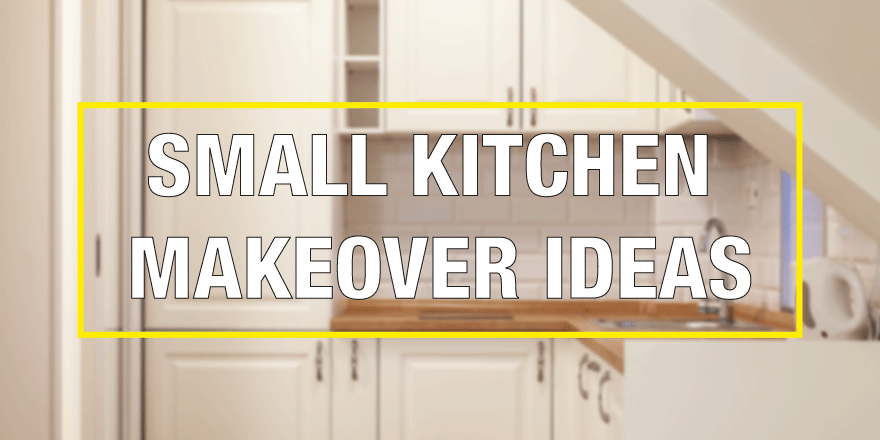 Kitchens can be difficult spaces to decorate, especially if they are small. If you are planning to spruce up your kitchen or even completely redecorate it, check out our tips and ideas for a kitchen makeover where space is limited.
Use Light Colours
Start with a blank canvas – use light colours to bring as much light into the room as possible and open up the space. Using white or colours that are light in shade can make your kitchen appear twice as big and can also help to keep the space looking clean.
Go Open-Plan
If possible, restructuring your house and going open-plan is a great way to instantly transform a small space into a much larger one. One of the most effective changes you can make is to take down a wall to open your kitchen out into the living room or dining room, creating an open-plan area. This isn't always a straightforward solution, however; it can be an extremely messy and complicated process, so do your research before picking up your sledgehammer.
Clever Storage
Get smart with your storage in order to maximise space in your small kitchen. If you are completely redecorating and getting a whole new kitchen fitted, look for kitchen suites that have extra integrated storage, such as added shelves under islands or pull-out cabinets that can provide added counter space.
Installing open shelving and wall mounted cutlery storage is also a great option, as well as hanging pot racks to free up space for bigger items in your cupboards.
Roll-out Island
If you really want an island, but don't have the space, roll-out or pull-out islands are the perfect solution. Not only can they be moved around whilst you cook and be used as an extra counter top, but they can also easily be stored away when not in use.
Tall Tables
Larger square or round tables just don't work for small kitchens. The better choice is to opt for tall, thin tables, which can work as both a dining table and breakfast bar. Chairs or stools can be tucked underneath to save further space too and just pulled out when needed.
Incorporate Glass or Mirrors
Reflective materials such as glass and mirrored glass are great for creating the illusion of more space and light. If you think using mirrors could work for your small kitchen, consider adding them to your cabinet doors or as a backsplash. Alternatively, if you prefer to use standard glass, try replacing your doors with glass ones or enlarging your windows and extending your kitchen into your outdoor space.
Make It Functional
As much as beautiful décor is appealing, it's not always practical. Making a small kitchen functional is extremely important. As with clever storage, hidden lighting in the bottom of cabinets can save space and light up counters, whilst clever hacks like over-sink cutting boards can not only save even more space, but can also make preparing food and keeping your kitchen clean easier.
Removing the Waste
If you're planning a kitchen renovation soon, don't forget to check out our waste removal services to help clear out your kitchen waste. HIPPO offers 3 different sizes of HIPPOBAG, so you can be sure to find the right solution for you. Our largest bag, the HIPPOSKIP is actually designed to handle an entire kitchen rip-out.
Simply buy your HIPPOBAG flat packed online or from one of over 2,000 DIY retailers, take your time to fill it up (you've got 12 months!), then call us and we will collect it for you!
Contact us today for further advice.