How to get rid of an old sofa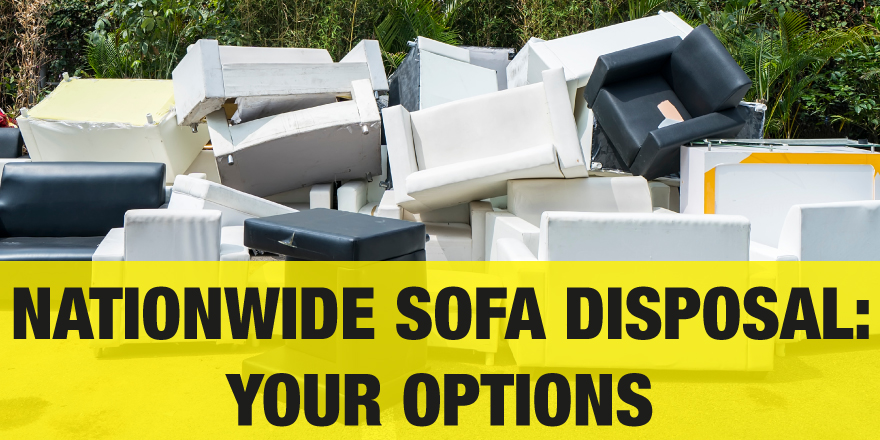 Have you sat on your sofa over the last few months thinking that a comfier replacement is long overdue? Perhaps you have been waiting for the warmer summer weather to finally replace your sofa and dispose of the old one.
Enjoy that sense of achievement by disposing of your old sofa and transform your living room space with our helpful advice.
DONATING YOUR OLD SOFA TO A CHARITY
Enjoy the satisfaction of a comfortable new sofa and benefit a worthy cause by donating your old sofa to charity.
There are numerous charities, upcycling schemes and community projects across the UK that will happily accept sofas, which are in high demand.
Donating your sofa to a charity continues to reuse your furniture, benefits another individual or family, keeps your sofa out of landfill and generates a much-appreciated donation.
It's worth noting that charities selling sofas to the general public for fundraising can't accept sofas that do not have their fire label attached. However, charities that pass the sofas on to people in need may be able to accept sofas without their label attached – contact the charity beforehand to ensure they can accept it.
Some of the national charities you could consider donating your sofa to include:
The British Heart Foundation - This charity has branches nationwide and will accept a variety of household and furniture items including sofas, armchairs and suites. Providing your sofa is in a good enough condition to sell on and upholstered items have an intact fire label, you can successfully donate your sofa to this worthy cause.
Reuse Network - The Reuse Network supports over 150 reuse charities across the UK and accepts household items including used sofas. You can locate a reuse centre near you to donate your unwanted sofa quickly and conveniently.
Freecycle – Freecycle is a rapidly growing network made up of over 5,000 groups and over 9 million members globally. You can use this non-profit organisation to find people in your local area who need a sofa. Each group is moderated by local volunteers, so your sofa is in safe, reliable hands.
CAN YOU TAKE SOFAS TO THE TIP?
If you are unable to donate your sofa to charity, another option is to dispose of your old sofa at your local council's household and waste recycling centre (HWRCs).
It is illegal to dump items like sofas on public or private ground. HIPPO continues to battle against fly-tipping across the UK.
Each local council will have its own guidelines on which bulkier items can be accepted and disposed of at their centres and the process involved. However, sofas are widely accepted, and recycling centres will take your sofa for free.
Dispose of your sofa today
If you are looking to dispose of your sofa, HIPPO's range of HIPPOBAGs, Skip Hire and Man & Van services will provide a convenient and cost-effective solution. From small sofas and sofa beds to larger items, HIPPO's range of disposal options will cater for your sofa disposal needs, no matter what size.
Check out our blog for more advice to help with your household projects or contact us to find out more.