Tips to Make your Home Look New Again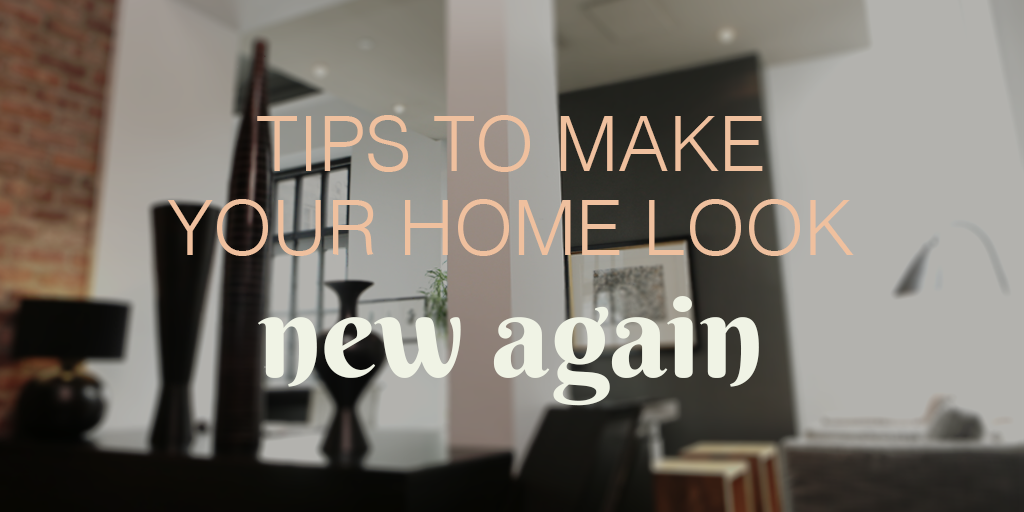 Our homes mean everything to us; not only are they the sanctuary we so desperately look forward to after a particularly rough day at work, but they're also where we watch our families grow, and where we cherish the time spent with our loved ones.
As the years pass, it's only natural that a little bit of wear and tear starts to accumulate, which can give the impression that the old place is getting a bit rough around the edges. Of course the hustle and bustle of everyday life is bound to take its toll eventually, and you might just be looking at your precious home and thinking to yourself that perhaps it's time to spruce it up a bit.
That's not the only reason of course, you may even be looking to sell your property, in which case you'd want it looking spic and span and at its best in order to really make an impression. In any case, here are a few handy tips to help make your house look like it's brand new again.
A QUICK LICK OF PAINT
Breathe new life in to any room of the house by giving the walls, doors and ceilings a fresh lick of paint. The right choice of colour depending on the size and dimensions of the room can make such a difference. Pale and pastel colours are always a safe bet if you're unsure of any bold design changes, and light colours really open the room up, giving the impression that it's larger than it actually is.
SHINE SOME LIGHT ON IT
While you're at it, why not change the lighting? Picking out a new stylish lamp can make a dark room really come alive, changing the feel of the room instantly. For a cheaper option, why not give an old lampshade a dash of paint to add a new shade? You don't always have to spend a lot of money to get a great look.
FRESH, FRUGAL FURNITURE
If you're wanting to change up some of your furniture, then have a look at local car-boot sales, fairs, markets and second-hand shops for unique unwanted furniture that can easily be repurposed. There are plenty of quality items out there that people simply don't have the space for anymore, and wood furniture can be sanded and painted to create something new and eye-catching.
TIPS FOR THE LIVING ROOM
Aside from redecorating, one of the best ways that you can make a living room seem new again is by stripping it down and making it feel larger. De-clutter what's there and make use of the room available by maybe looking to re-organise where the furniture sits. Put mirrors on the walls and put up shelves and bookcases to really open it up and give the impression of more space.
DOORS
If the doors are looking like they've seen better days, you can replace the door knobs, sand the door down and give it a fresh coat of paint - it can make a room feel new again.
ALWAYS ROOM FOR A FRAME
When looking at repurposing stuff of your own, are there pictures and artwork up on the walls without a decent frame? By putting these items in a proper frame, not only does it make the piece look much more professional, but it also keeps the walls neater and makes the pictures or art seem brand new as well.
TIPS FOR THE KITCHEN
Replacing cabinets and appliances in the kitchen is always an expensive job, but it can be done with a tighter budget. By holding out for clearance sales from big named stockists, it can reduce the cost if you absolutely need to go brand new. However, an old appliance can be freshened up by repairing chips and scratches, or even with something as simple as a really deep clean. Cabinets can be easily removed, sanded and painted to give them a new lease of life as well.
WINDOW TREATMENT
Update the windows in the house, either by putting in new ones, or by making the much less expensive choice and giving the frames a good paint. Be sure to surround the frame with tape to protect the walls (as well as on the glass itself) and, once painted, peel off the tape to reveal the good-as-new frames - guaranteed to liven up the room.
FLOOR BECOMING A BORE?
If your carpets are worn, consider replacing them, but if you feel like a bigger change, why not have the carpet removed and replaced with laminate flooring? Many stockists offer flooring bundled packs in various styles at a fairly affordable cost so you could consider tackling the job yourself. Laminate flooring not only looks contemporary and fashionable; it is also designed to last for many years.
MAKE THE OUTDOORS GREAT AGAIN
Update the outside of your property by looking to landscape the garden, or by replacing the driveway. Both of these tasks are a lot of work, and can be quite expensive, but there are ways to do things yourself on a budget that can make a big difference. Replace the house number and door knocker for a cheap means of making the front of the house look new and give the driveway a blast with a pressure washer to bring it to life once again. Lastly, some simple garden maintenance can make the garden feel fresh and new.
DE-CLUTTER, DE-CLUTTER, DE-CLUTTER
Nothing makes a house feel new again than a good old-fashioned clear out. Be brutally honest, if it's not being used and you can live without it, let it go. By clearing out unnecessary junk and clutter from the house, you'll notice the difference immediately. It doesn't need to be a stressful task either, simply use a HIPPOBAG by either purchasing one online or via one of our stockists, fill it with whatever you need taking away (they come in three sizes, so it doesn't matter how much you're chucking away - HIPPO can take care of it), then arrange a collection time that's convenient for you. Within 5 working days of your order, a collection vehicle will be there to take it off your hands.
Making your house feel new again needn't be as difficult (or as expensive) as it first seems. Give some of these tips a go and you might find the results really speak for themselves. Give us a tweet @HIPPOBAG for ideas of your own on how to make your home feel brand new.