What Makes Compulsive Hoarding a Problem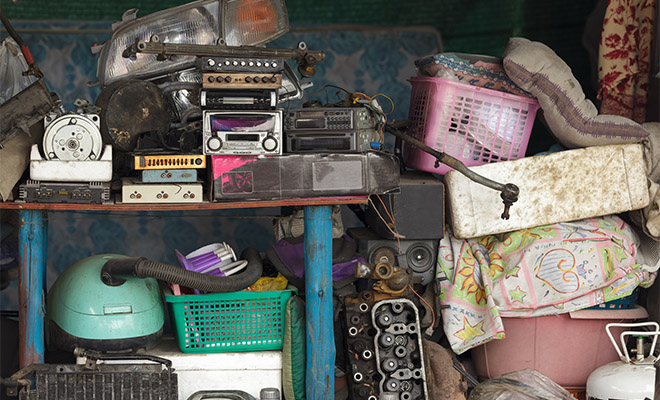 We're all guilty of keeping items that we no longer use anymore with the hope and intention that we will use them again one day.
However, there is a significant difference between keeping hold of your favourite jumper in case it comes into fashion again and having a compulsive hoarding problem.
What is hoarding?
Hoarding is a disorder that affects millions of people around the world. It is a persistent difficulty in discarding or parting with possessions, regardless of their actual value or condition.
For those who hoard, the disorder can have devastating social, financial, physical and emotional impacts on the hoarder as well as the hoarder's family and friends.
What type of items do people hoard?
People hoard all manner of everyday items, but commonly hoarded items include:
Clothing
Magazines
Food
Household supplies
Paper and newspapers
Although this may not sound like a big problem, compulsive hoarding can lead to compulsive buying, or the compulsive search for certain items that can have a significant impact on an individual's emotional and physical health and wellbeing.
There are many symptoms and behaviours that have been linked to this disorder, such as:
The inability to throw away possessions
Severe anxiety when it comes to discarding certain items
Obsessive thoughts and actions
Functional impairments
Research has also linked hoarding to compulsive personality disorder (OCPD), obsessive-compulsive disorder (OCD), attention-deficit/hyperactivity disorder (ADHD) and depression.
Why do people hoard?
People hoard for a variety of reasons, but mostly because they believe that an item will be useful or valuable in the future. Another reason people hold onto items such as clothing, photographs and newspapers is that they believe that if they dispose of certain items that jog their memory of significant events, they will forget a person or important occasion in their life.
Hoarding not only has a huge impact on a person's emotional and physical wellbeing, it can also cause a diminished quality of life, especially if a person's ability to part with certain items has become out of control. Excessive hoarding can result in many individuals living in unhealthy conditions, with broken appliances, malfunctioning systems and even food items that are out of date.
The good news is that problems with hoarding can be resolved as long as you have a desire to change. However, it's important that you have a plan of action that is realistic. After all, tackling any large-scale cleaning projects can feel extremely overwhelming.
What to do if you suspect someone is hoarding
If you are concerned that someone you know is hoarding, the best thing to do is to speak to them about it and encourage them to go with you to see their GP.
Remember that many hoarders don't recognise that they have a problem, so it's important to be sensitive and make it clear that you are concerned for their health and wellbeing. It's also important to reinforce that seeking help won't result in someone throwing all their possessions away or going into their home without their consent – it's just an informal chat about what's happening and what can be done.
The NHS website offers lots of useful information about hoarding and how you can help someone you suspect is hoarding.
Disposing of your waste? HIPPO can help!
Once you have determined which items you no longer need, HIPPO can help you to dispose of your rubbish. No matter how much home or garden waste you have, for reliable and responsible rubbish removal, HIPPO can help.
Our friendly and helpful team is always on hand to answer any of your questions, so please do not hesitate to get in touch.
Awareness and Support
If you want to find out more about the issues around hoarding, then OCD UK, the NHS and HoardingUK.org all work hard at raising such awareness and are an invaluable source for further information.