What Makes Compulsive Hoarding a Problem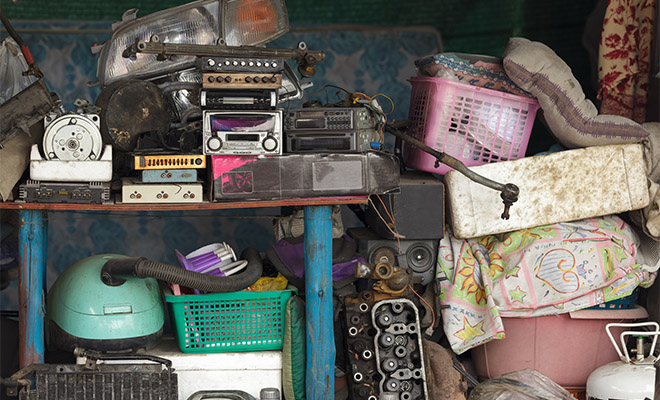 'Hoarding' is when an individual finds it difficult to throw anything away. Sufferers' homes become packed to the rafters with everyday refuse and waste, and the situation can become serious enough that it stops people from functioning around the home. Extreme cases have led to life-threatening diseases and even fatalities.

The severity of hoarding and the underlying motivations for it can often be dismissed as someone being messy or untidy. Luckily, established coping techniques and clinical support means it doesn't always have to take over completely and folks can get about their day to day with some relief.
  
It is a little known fact that hoarding is recognised by the NHS and associated charities as an associated branch of OCD (obsessive compulsion disorder). The personal factors that can bring about the need to hoard include forms of depression or anxiety. So while you may think your neighbour is just being lazy when it comes to taking out the rubbish, it may actually be out of their control.
Here are some case examples of when hoarding becomes a problem. Awareness of this condition is of the upmost importance to ensure that people sharing this behaviour have the support that they need.

Richard Wallace

Richard Wallace, 65, of the village of Westcott in Surrey was dubbed 'Stig of the Dump' by his neighbours. The extent of the waste on his million-pound home was sensationalised in the national press as being visible from space! Images taken from Google Earth showed the eccentric homeowner's collection of junk including; six rusting cars, 34 years' worth of newspapers, pallets, pushchairs and kitchen sinks.

Mr Wallace fought complaints from the community and after the local council served a notice for him to remove it all, he went on to win the case in the crown court arguing that it was his 'human right' to hoard on his own property.

Richard did eventually work hard to clear his property with the help of the community that he had once been in dispute with.

Noel Rainer

For one hoarder, his compulsion led to being helplessly trapped in his own home awaiting rescue for over 30 hours. 85 year old Noel Rainer of Halstead, Essex tripped on a 2ft pile of old newspapers and became lodged in a pile of debris unable to reach the phone to get help. His daughter eventually discovered him, and with the assistance of the emergency services, set him free.

For over 20 years, Mr Rainer couldn't help but keep hold of everything and anything brought in to his house. His collecting habits escalated after getting a divorce and retiring, leading to his home being filled with stockpiled food, washing powder and even magazines dating back to the 60s!

The former engineer, described as 'fiercely independent' by his daughter, recovered well after his ordeal, and with the help of a professional cleaning company sorted the clutter and made his home a safer place to be. 

Homer and Langley Collyer

An early, widely-published account of hoarding comes from the story of Homer and Langley Collyer of New York in the 1940s. What began as a well-meaning gesture eventually led to the two brothers' deaths.

Homer Collyer was blind and Langley collected years' worth of newspapers and books in the hope that his brother's sight would one day return. This hoarding compulsion escalated to the point that when police gained entry to their home years later, they discovered close to 100 tonnes of rubbish - including furniture boxes, newspapers, hundreds of yards of unused fabrics and more than 25,000 books. Tragically, the brother's bodies were found amongst the debris, having both been crushed to death.

Awareness and Support

The examples above are extreme cases that affect sufferers of behaviours like hoarding. To a degree, everybody is guilty of holding on to too much clutter than is necessary, but it could be considered a serious problem if it affects your ability to function on a day to day basis.

Awareness of hoarding and associated OCD conditions is of the upmost importance in understanding people's various needs and getting help where it's needed most.

If you want to find out more about the issues around hoarding, then OCD UK, the NHS and HoardingUK.org all work hard at raising such awareness and are an invaluable source for further information.