Winter Garden Ideas for Sustainable Growth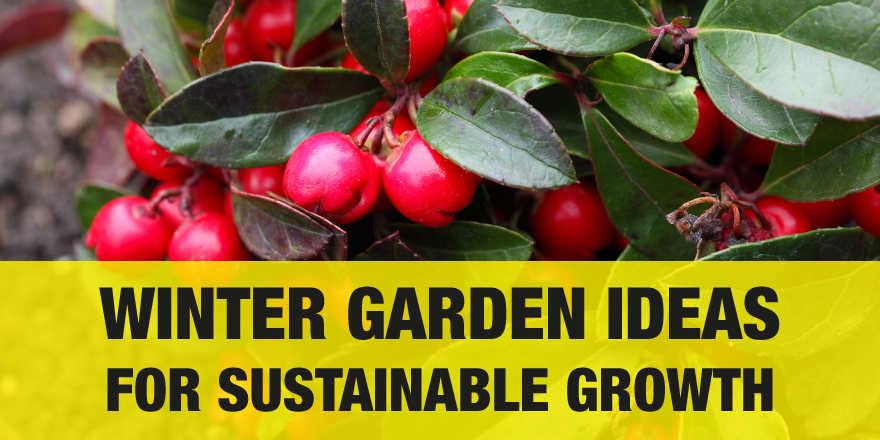 Our gardens are often associated with the spring and summer months, but as the winter arrives and colder months draw in, you don't need to let your garden go bare or dormant while waiting for the following year.
There are many ways to keep your garden looking alive and fresh during the colder seasons with many winter-flowering plants providing interest and colour to the gloomiest of days.
How to protect your garden against the cold?
Gardening doesn't come to a complete halt in the winter and, if you want to make things easier for yourself when Spring comes around again, there are some steps you can take to leave your garden resting but protected when the heavier frosts and cool temperatures approach.
If there is snowfall, it is worth using a broom to brush the snow off plants before it freezes and causes branches to break under the weight. Of course, you can't rescue every plant, as some naturally have their life span over the summer months and wait for the warmer weather to arrive the following year, but for some plants, such as tender succulents like aeoniums and aloes, you can move them into a heated greenhouse, conservatory or onto a windowsill. They don't require a great deal of watering as they enter a rest period during winter, so be mindful of how often you're watering them.
If your grass is covered with frost, it is best not to walk on it as it will break and can lead to frozen soil being compacted. The colder months are also a great time to remove invasive weeds and prepare your soil for spring. If you want to add compost, manure, rock phosphate etc., winter is a great time as they will have plenty of time to break down and nourish the soil just in time for spring.
What plants are good for winter?
Wintergreen, Gaultheria procumbens
A festive looking plant with beautiful red berries, deep evergreen and some red toned leaves as it becomes colder.
Winter-flowering pansy
A winter-flowering pansy will continue to flower in the cold weather, presenting deep purple, white or yellow faces.
Phormium
Featuring deep purple and pink shades, a phormium is a colourful evergreen with long leaves and striped patterns, perfect for brightening up a winter garden.
Hardy Sedums
Great for structural planting, hardy sedums have purple/blue leaves, adding a wonderful depth of colour to a garden.

Garden activities for the winter months
You may be thinking of other ways to enjoy using you garden during the winter months and, once you've prepped your plants for the colder months, it is a great time to tidy up your greenhouse or shed in preparation for the new year. Whether its organising messy shelves, sharpening your tools or maintaining your mower, you'll thank yourself come the spring.
The winter is also a great time to welcome wildlife into your garden and help can go a long way to helping them survive the colder weather. Leaving bird food out or creating small leaf piles for shelter can be extremely beneficial for wildlife.
Clearing up
However you choose to inject some life into your garden, you'll need to dispose of your garden waste. HIPPO's range of HIPPOBAGs, Skip Hire and Man & Van services means that there's always a convenient, cost-effective, and reliable option for disposal that works for you - no matter how much garden waste you have.
For more help and advice on your project, check out our blog, and don't forget to order your HIPPOBAG to help with any garden clear-up.