10 Small Lockdown DIY Projects that can Make a Big Difference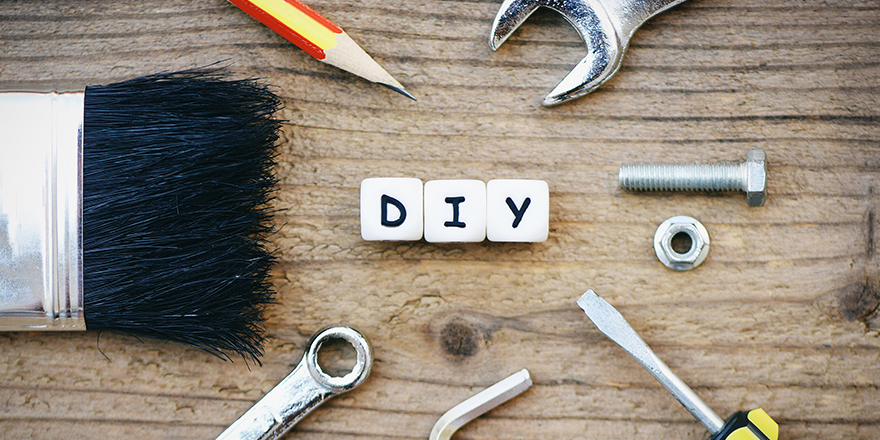 With many of us spending significantly more time at home, it's the ideal opportunity to tackle all of those DIY projects that have been on your list of things to do for years.
There are plenty of small lockdown DIY projects that will keep you busy and enhance the aesthetic appeal of your home, without costing the earth.
Here are some of our favourite small DIY projects that can make a big difference to your home during lockdown and beyond.
1. A fresh lick of paint
When it comes to enhancing the spaces you spend the most time in, a fresh lick of paint can really breathe new life into a room. This is also one of the quickest ways to revitalise a living space. Just don't forget to paint your ceilings and skirting boards too!
2. Rearrange your furniture
Rearranging your furniture can completely change the look and feel of a room. From moving your coffee table through to changing your sofas in order to create an imaginative and inviting social area, rearranging your furniture can make your room feel like a brand-new space.
3. Picture walls
Picture walls are a great way to add personality and interest to a room. The possibilities are endless when it comes to creating a feature wall personal to you and your family.
From family pictures and photographs of happy times through to artwork and quotes that inspire you, there are lots of ways to create a unique picture wall in your home. You'll have lots of fun doing it too!
4. Swap your cushions
Cushions are a key accessory in any living space and can completely change a room's décor in an instant. Whether you mix up your colour scheme or add interesting seasonal accents, changing cushions can make a room feel like a completely different environment. The same applies to curtains, throws and other soft furnishings.
5. Rearrange your shelves
Restyling the shelves in your home with photo frames, plants, interesting objects and decorative items can create an attractive and exciting focal point. And you don't have to spend a fortune to achieve an effective look.
In fact, you don't even need to buy anything new – by simply reorganising your shelves, you can create a brand-new feature.
6. Tidy the garden
With us all spending an increasing amount of time at home and being encouraged to social distance as much as possible, giving your garden a fresh lease of life is a great way to enjoy the outdoors at home.
From creating a new patio area through to mowing, tidying and planting, there are lots of ways to get your garden summer ready.
7. Repurpose furniture
There's never been a better time to repurpose old pieces of furniture and give them a new lease of life. From giving old drawers a fresh coat of paint through to adding fun new upholstery to a chair, upcycling projects are extremely rewarding. 
8. New lighting
Lighting can completely transform the look and feel of a room, creating an inviting ambience and also helping to create clear zones in your home for working, relaxing and entertaining.
9. Tile a splashback
Ideal for adding functionality and style to kitchens and bathrooms, a newly tiled splashback will not only protect your walls but will also add instant aesthetic appeal to your home.
10. Have a clear out
Whether it's leftover rubbish from a Garden or Household DIY Project, or the junk in your utility cupboard or garage you've been meaning to get rid of for months - check whether you can recycle it locally using Recycle Now's great recycling location finder. If you need to get rid of a large amount of rubbish and your tip is looking increasingly hard work, there's a better way.
Here at HIPPO, we provide a range of HIPPOBAGs, Skip Hire and Man and Van services that offer convenient, cost-effective and reliable options for waste disposal that works for you - no matter how much waste you have.
Learn more about responsible and reliable waste disposal and recycling from HIPPO here and don't forget to order your HIPPOBAG to help with any DIY clear up.